"As we move our bodies in prayer, we root those prayers deeply within the fiber of our being, creating a prayerful muscle memory."
Why a Prayer Loom?
As a visual learner and an artist, I often engage in visual forms of prayer. I believe prayer can have a feel, a smell, a look, a sound, and a taste, if we allow ourselves to be open to the experience.
This was my core assumption as I planned our Lenten cross-generational offering this year. The Lenten Artist's Workshop would be a place where prayer and story had a visual manifestation. We would have five weeks to imagine, play, and create.
The most powerful expression of visual prayer is "the prayer loom." This six-by-eight foot wooden frame with nails hammered around the edge has become the central gathering place of the workshop. Baskets of yarn lay at its feet just waiting to be picked up and offered as prayer.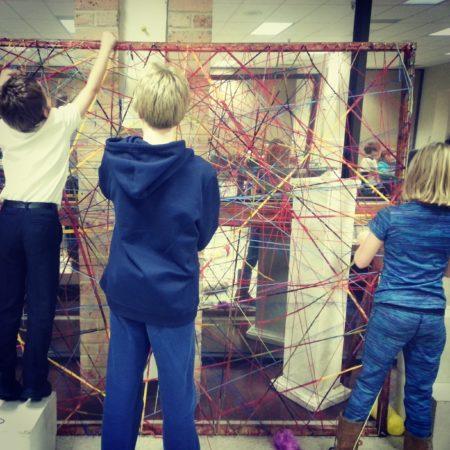 How Does It Work?
Start with intention: this is a prayer. Breathe. Choose a skein of yarn. What color or texture speaks to you? Tie a skein of yarn to one of the nails, then wrap the yarn from nail-head to nail-head, back and forth across the frame, over and under each other's weavings.
With each directional change, offer a prayer. The motion of your body, reaching and ducking to reach other points is a way of dancing with God. As we move our bodies in prayer, we root those prayers deeply within the fiber of our being, creating a prayerful muscle memory.
Bearing Fruit
The prayer loom is only a few months old and already it has been in heavy use. It was part of the prayer space at the 2015 Forma Conference, a women's retreat with Becca Stevens, and now in our ongoing prayer space during Lent. I have watched the loveliest dances with God in front of that loom – some purposeful and bold, some fluid, but also halting. Within the first night of the workshop, the loom was filled with prayers of every color and direction. It is wonderfully meaningful to see these prayers overlapping time and time again on the loom. So it is with us – our lives and prayers are always overlapping with one another.
My favorite story from the prayer loom took place a few weeks ago, during our Wednesday night Artist's Workshop. At the end of the evening, the loom was filled with the prayers of a whole room of people. One of the more active boys started to bounce his body against the loom, over and over again. My first temptation was to stop him, but instead I hung back and watched. William leaned all of his weight onto those criss-crossed yarn. When our eyes met, he announced with delight, "Look Emily! All these prayers can hold me up!" That was it. William totally got it.
Prayers offered up with love and connection can hold all of us up, literally and figuratively.
Materials for A Prayer Loom:
4 pieces of wood (length/height based on your particular need), notched at the ends
4 wing nuts and bolts
Flat-head nails to be hammered with 1-inch spacing, on which the yarn is looped
Yarn of many colors and textures
Scissors
Instruction/invitation poster – see example below
Materials for a Smaller Frame Prayer Loom:
Picture frame with the backing and glass removed
Smaller flat-head nails hammered around the opening
Yarn to string across the open space of the frame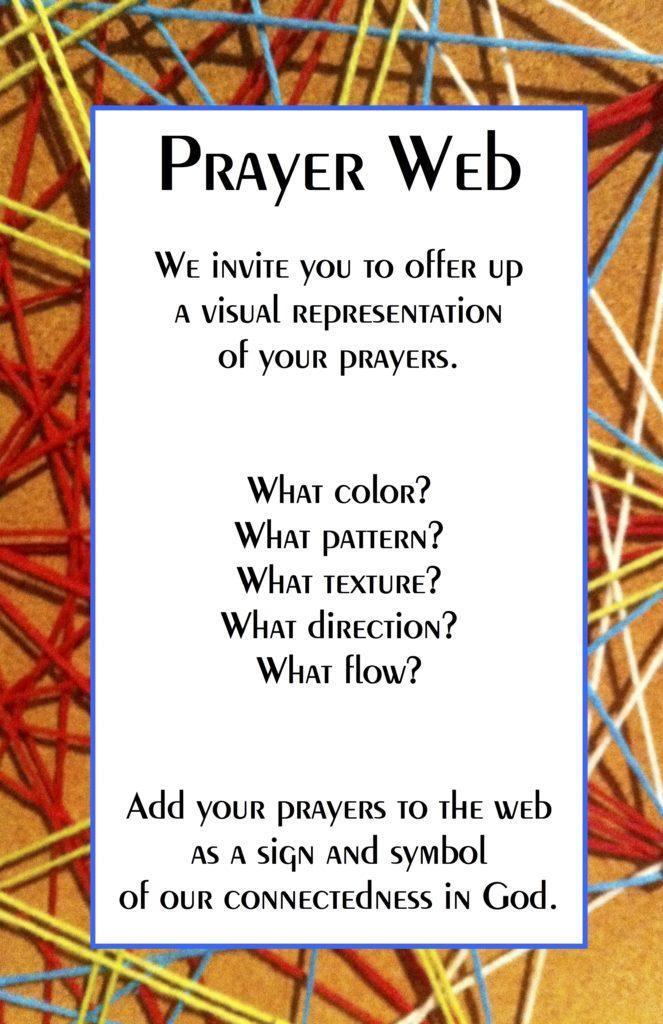 ---
Emily Given is the Director of Children and Family Ministry at Saint Michael and All Angels Episcopal Church in Dallas, Texas. Emily has worked on both the congregational and diocesan level for over 15 years. She is a mixed media artist and the author of Building Faith Brick by Brick: An Imaginative Way to Explore the Bible With Children.