"The overall message of Kids and Prayer is that people can pray to God at any time, in any place, and in many ways."
What is Kids and Prayer?
Kids and Prayer is a new DVD for elementary-age students that teaches children an overall concept of Christian prayer in a fun and engaging way. The DVD is divided into four sessions, each about 10 minutes long. The topics are: "What Is Prayer?",  "Why Do We Pray?", "How Do We Pray?", and "Where Do We Pray?"
The publisher, Paraclete Press, has created two versions of this DVD – a Roman Catholic version, and a Protestant edition. I reviewed the latter, which features pastor Rachel Hackenberg as the opening and closing presence in each session.
Who is this Resource For?
Kids and Prayer is not a curriculum, and the short sessions are not intended to be used as entire lessons. Rather, Kids and Prayer makes a terrific supplementary resource. Ministry leaders could use the DVD in a variety of settings, such as a Christian Traditions class at a faith-based school, or as part of a Sunday school lesson at church.
In terms of age range, 6-10 year olds will likely get the most out of this DVD. Written words often appear on the screen (prayers, verses, and recaps), so a non-reading audience would miss that. At the other end of the range, kids 10 and older may find the presentation too juvenile. In terms of children identifying with the content, there is a wonderful segment in which on-screen kids answer questions about prayer. These lovely students – a diverse group in race and gender – are of various elementary ages, and young viewers will connect with them immediately.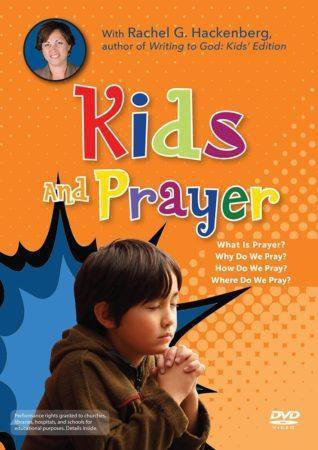 Content and Theology
The overall message of Kids and Prayer is that people can pray to God at any time, in any place, and in many ways. Phrases such as, "God is always there," and "God is always listening," are consistently repeated. The sessions emphasize that the 'point' of prayer is to develop and deepen a relationship with God. As Hackenberg explains, "Prayer helps us become better friends with God."
I was pleased that Kids and Prayer has an underlying depth to its understanding of prayer. One session points out, for example, that silence is a large part of prayer. Children are then assured that, "even when we can't see or hear God, God is still there and God is still our friend." In addition to this conceptual teaching, the DVD offers practical application. For example, each session concludes with a slowly spoken prayer that children can repeat or memorize.
Perhaps the strongest content features are the "field trips" included in each session. These short vignettes bring viewers to real-life locations such as a lighthouse, a vineyard, a Trappist monastery, and (my favorite) Gillette Stadium, home of the New England Patriots. In each trip, viewers meet live persons describing prayer in their lives, and making connections and analogies about the spiritual life (e.g. God is like the trunk of a vine, supporting and nourishing us). On a production note, the footage, sound, and editing of the field trips are high quality and well done.
Advice to Teachers and Leaders
My only small critique about Kids and Prayer is that the teaching segments move at a rather brisk pace, often switching from one idea or theme to another. The makers of the DVD clearly had a lot they wanted to include, and sometimes the Bible stories, for example, are introduced so quickly that children may have trouble absorbing the meaning, or making the connection to prayer.
I advise teachers and leaders to carefully watch each session at least twice through before showing it to your group. That way, you can give your children a pre-show "set up" by drawing their attention to certain themes that will appear. Then, during viewing you might even pause the action several times to let ideas sink in. In terms of re-cap and reflection, the DVD includes a small leader guide with various prompts and questions.
Conclusion
I would recommend this DVD. The overall message is so important for our young children to hear: prayer is a powerful, yet completely accessible part of the Christian life. Anyone can pray… you can pray. Furthermore, prayer is ultimately not about the words we say (although words can be important), but about the relationship we build with the living God, who will always hear our prayers.
Did you enjoy this article? Consider subscribing to Building Faith and get every new post by email. It's free and always will be.  Subscribe to Building Faith.