I believe that if you are going to celebrate a feast day in church, you better feast.
Festa!
I am not normally a jealous person, but lately I have been jealous of my mother's childhood surrounded by her Portuguese family. You see, they are a people who really know how to feast, and they're all Catholic so when you feast, you're feasting with a saint. When I found out I was preaching on my parish's patronal feast day and in charge of coordinating the celebration, my inner Portuguese woman came out screaming, "FESTA! FESTA! FESTA!"
I believe that if you are going to celebrate a feast day in church, you better feast.
Feasts have three main elements: worship, food, and community.
Worship
A good festa has worship. In a traditional festa, priests take to the streets and have big parades with a statue of the saint. We did not have a parade, but we did engage our saint in worship with sermon and song.
Our patron saint is Saint James the Apostle, the very same Saint James for which the Camino de Santiago is dedicated. I used the opportunity to set a Camino theme for our feasting, as a way to make the event more special. I preached about pilgrimage and the Way of James, both as the Camino but also as a way to reflect on the identity of our parish and our Christian lives.  This year our worship was fairly usual for us, but I hope in years to come we can make a real parade out of it.
Food
All the while I was preaching, smells of chorizo and torta and fresh pan con tomate were wafting from the Fellowship Hall where a Pilgrim's Breakfast was being expertly prepared by volunteers. Our announcements for the event read, "Come be refreshed from your 'earthly pilgrimage,' your daily life and work, with Communion and a pilgrim's breakfast this Sunday." All were fed for their journeys. Neither a soul nor a belly left hungry.
We used the opportunity of our patronal feast both to celebrate the specialness in a big way, but also to show that feasting together is actually a really easy thing to do. It's the hope of the fellowship team that we can use monthly Parish Breakfasts (in place of our regular formation hour) to develop a more regular pattern of fellowship. Luckily, there is a big calendar of saints and other feasts to give us excuses to do so. Just in August, we will have the Transfiguration, Mother Mary, and St. Bartholomew to choose from.
I've been told that I'm a different person when I eat. I am much more pleasant and happy, according to my loved ones. Christians are different when they eat too. Our whole faith is patterned around eating – our Christian identity grounds itself in life-giving bread and joyous wine. Our Christianity is different, richer, when we feast and fast with the spiritual tides of our life together. What is Lent without Mardi Gras, after all? We are discovering that feasting as a parish community is an inroad to discovering and celebrating all the parts of our identity.
Community
Another thing about Portuguese festas – they are never quiet affairs. There are children chasing each other, mothers and grandmothers yell at you to eat more, men laughing, music playing. And EVERYONE in the neighborhood is invited. Nothing is exclusive.
I, unfortunately, had to keep our feast a little more demure because we were rained out, but I wanted to be sure that we all had a chance to feel the same joy in the whole community sitting around tables talking to one another, no matter what worship service you "belong" to. We asked for donations to offset the cost of the food, but worded our signage to be sure that everyone knew they were invited to our tables.  "All are welcomed to eat with us this morning. Those who are able are invited to make a small donation toward their meal."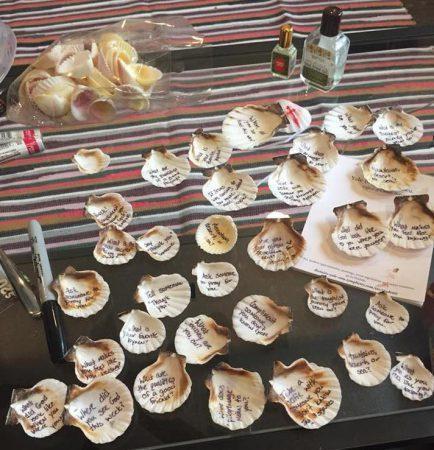 Following the Camino theme, I crafted scallop shell decorations for the tables. I painted the cross of Saint James on all of them and hot glued string to them. They were a hit – all of the acolytes and choir at the following service wore them over their robes. I also crafted conversation starters out of little scallop shells to help grease the awkwardness of sitting with people you did not know well yet and create some noise and chatter for our feast. It seemed to work – there was a dull roar of stories being shared, children raucously running around being tended to by non-biological mothers and grandmothers, and the sweet music of laughter floating around it all. This was the happy, inclusive noise I was hoping for!
Conversation Prompts
Despite my personal pilgrimage through the tendrils of Google's results for "intergenerational ministry ideas," I found myself disappointed as I searched for intergenerational conversation prompts. Even ministry websites listed prompts that felt superficial. I took to the other part of the internet–social media–and picked my friends' brains for questions with spiritual depth. I tried to make them on theme with the day and with my sermon, and to have some spiritual engagement in each one without them being "ouch!" deep. I wanted them to be questions of faith, but friendly enough for conversations with strangers. Here is what we used:
If Jesus was coming to your house, what would you cook?
What did God look like when you were young?
Where did you see God this week?
What makes you feel like you belong? (This one actually pulls language from our new mission statement).
What are the qualities of a good friend?
What is your favorite hymn?
What journey are you on?
What does "pilgrimage" mean to you?
Ask someone to pray for you.
Quick! Compliment someone you don't (yet) know!
Tell someone "Thank you."
Take a selfie with someone you don't know yet. Tag #stjames.
Mountains, desert, or sea?
What is the toughest journey you've been on?
Have you given up something for Lent? How did it go?
What is the most sacred thing you own?
I Love Us
The best comment I heard from the day sums out how it all went, "I had forgotten how much I loved us. Thank you for helping us all come together." By really feasting on our feast day, we were able to remember who we are as a community, we were able to be filled in body and spirit around good bread and coffee and sausage, and young and old had space at the table to share their stories and feel raucous joy.
---
---
Caitlyn Darnell is the Director of Parish Life & Christian Education at St. James' Episcopal Church in Leesburg, Virginia. She faithfully serves on the United Thank Offering Board where she has developed a bad Thank-you-card-buying habit. Caitlyn loves a good party and spends her time still trying to decipher her great-grandmother's massa sovada recipe.