"When we finally arrived at our seating section, the smiles and helpful direction from the ushers absolutely made my day."
A Trip to Ballpark
Last week I took my three-year-old daughter Maria to her first baseball game.
It rained.
Like they say in Bull Durham, "Sometimes you win, sometimes you lose, sometimes it rains." While the hour-long delay wore on my nerves, Maria could not have cared less. She had a hotdog, crackerjack, and ice cream. And to be honest, it wasn't that bad for me either. Looking around Nationals Park, I asked myself, "What are the elements of this setting that make it welcoming, engaging, and enjoyable, even in a downpour?"
5 Things Churches Can Learn From Baseball Parks
It did stop raining, and we enjoyed a few terrific innings. Coming out of the experience, here are my five things that the church can learn from a ballpark.
 1. Well Marked Bathrooms
Kids need potties. Grownups who drink coffee (or other beverages) need them too. Nationals Park has the advantage of being designed with dozens of restrooms, along with dedicated "family restrooms" (very handy). But beyond the number of bathrooms, the fact that they are well marked with multiple signs and arrows is critical.
While most churches don't have the budget to add more bathrooms, creating additional signage is relatively easy. A note in the worship bulletin indicating the nearest bathrooms is even easier.
2. Good Food
As you may have guessed, we spent more on ballpark food than we did on our outfield tickets. But at least it was REALLY good. The hotdogs we ate, for example, came from a local DC area chain called "Hard Times Cafe."
Now I'm not suggesting that churches start selling food. Furthermore, I don't think churches should feel obligated to feed everyone breakfast on Sunday morning. But whatever we do serve at church, it should be good.
Instead of off-brand coffee in bulk, how about a nicer brand – or even better, a fair-trade or mission brand of coffee which helps the coffee growing communities? If you make a sign that reads, "Proudly serving _______," you are sure to get a good response, and many folks will be happy to donate a dollar or two to cover your costs.
3. Clear Sound
Stadiums have multi-million dollar audio systems, and they often show them off by cranking the volume and playing obnoxious music at every turn (can you tell I have a pet peeve here?) But the sound is crystal clear; they've obviously made it a priority.
For churches, audio systems can be a consistent thorn in the side. We often spend good money after bad, even with the best of intentions. First, let's give ourselves a break – we're not sound engineers. But next, when budgeting and planning time rolls around, we might consider the resources (both financial and human) that we devote to microphones, speakers, and tech. If we value strong preaching and inspiring music, we must also value the systems that allow people to hear them.
4. Ushers!
Pushing a stroller through a crowded concourse, while holding a water bottle and a souvenir baseball is no easy task, even for a #1 dad like me. When we finally arrived at our seating section, the smiles and helpful direction from the ushers absolutely made my day. The best part: these folks were everywhere! Ushers, park staff, vendors, all wearing identifiable uniforms and ready to help.
Most churches have ushers and/or greeters, and these unsung heroes are the first line of Christian love and hospitality that parishioners and guests encounter. Celebrating ushers, training them, and reminding them of the crucial importance of their ministry are all steps in creating a culture of welcome that prepares people for worship. Finally, I find it an absolute must for all church ushers to wear nametags AND badges which say "usher" or "greeter."
5. An Outstanding Product
None of the trappings of Nationals Park would be of much interest if the product itself were not attractive. There is nothing quite like watching a live baseball game in the open air. The only confusion for Maria was why she wasn't allowed to jump down onto the grass and join the fun.
The church has a great product too: the love of God through Jesus Christ! Every parishioner and visitor should know that that's what we are all about. In other words, everything we do must point to Christ. And in turn, Christ must feed every aspect of our worship and ministry.
Author Stephen Covey once said, "The main thing is to keep the main thing the main thing." Kind of sounds like Yogi Berra. See? Baseball has been teaching us lessons all along.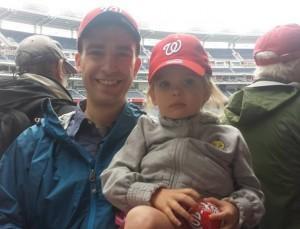 ---
Matthew Kozlowski manages, edits, and writes for Building Faith. He lives in Alexandria, Virginia with his wife Danielle and two young daughters. Throughout his career he has been a teacher, camp counselor, school chaplain, camp chaplain, Sunday school teacher, parish priest, and Alpha course coordinator.