"After working with children for 16 years, I've learned the importance of breaks. Sometimes all children need is a quick, structured activity that can shake out their wiggles and tame their giggles."
Quick Games = Better Learning
Anyone who has been in a Sunday school or youth group room knows the balance between attention and movement. Often, the presenting issue is kids who sometimes can't sit still or focus. Like many educators, Jolene Roehlkepartain discovered that taking a break for a quick game or activity can actually improve focus. The key is being prepared with fun, structured, movement-filled games. Jolene has written many books with games and activities for children. As she explains in her book Wiggle Tamers:
"After working with children for 16 years, I've learned the importance of breaks. Sometimes all children need is a quick, structured activity that can shake out their wiggles and tame their giggles. That's what Wiggle Tamers is: a book with 101 age-appropriate, sure-fire, easy-to-use activities to get the wiggles out."
Example Game: Cotton Ball Collection
This game, suggested for grades K-3, comes from Wiggle Tamers by Jolene Roehlkepartain (Group, 1995).
Cotton Ball Collection
You'll need cotton balls. Choose a volunteer to stand in the middle of the room with hands cupped together. Next, have the other children form a line. Give each person in line one cotton ball, then place the rest of the cotton balls on the floor at the end of the line.
Say: Let's see how many cotton balls our volunteer can hold. When I say "go," take turns carefully placing a cotton ball in (name)'s hands. Then return to the end of the line and get another cotton ball. We'll keep stacking cotton balls until one finally falls. Remember, we need to do this very carefully because we need to balance as many cotton balls as we can in our volunteer's hands.
When children are ready, say "go!" and let the activity begin. Keep a running count of how many cotton balls are balanced in the volunteer's hands. When a cotton ball falls, the game is over. Thank your volunteer and announce the total number of cotton balls balanced. Then say: You all did a great job! Give yourselves a round of applause before we get back to our lesson.
Free Books: Wiggle Tamers Fidget Busters
The game above comes from Jolene's Wiggle Tamers. This book, along with its predecessor Fidget Busters (Group, 1992), is filled with fun and easy games for a range of ages. Most of the games are for children – but with some creative adaptation, some games would be a hit with youth. You can download these books for free – see below!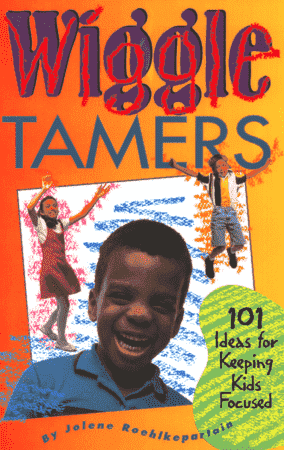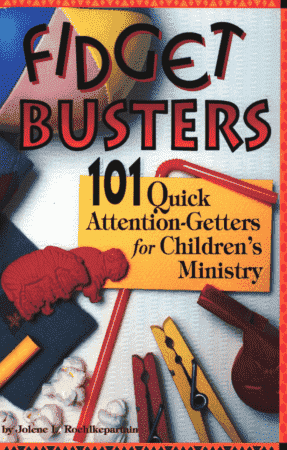 Special thanks to John Roberto at Lifelong Faith
About the Author
Jolene Roehlkepartain is a writer and an educator. She has written more than 30 books including Doing Good Together, Parenting Preschoolers with a Purpose, and Spark Student Motivation. See her books at booksbyjolele.com. Her books have been translated into a number of foreign languages, including Chinese, Hindi, and Bahasa Indonesian, and are sold internationally.
When she's not writing, Jolene Roehlkepartain presents workshops and gives speeches. Jolene focuses on the power of stories and the overall healthy development of individuals. She has previously been featured in publications including The Washington Post, Time, Psychology Today, Glamour, Ms. Magazine, Women's Day, and the Dallas Morning News. She also has appeared on TV and radio programs, including National Public Radio.