As the church enters a new normal with COVID and people are moving back into the busy-ness of life, how can we be meaningfully present to one another? One way is to celebrate!
This year my church is marking its 100th anniversary, and the community has decided to focus on the gift of celebration. We are developing monthly ministry events that follow the liturgical calendar to grow in our faith and celebrate as a community. The resource we are using for these events is Traci Smith's book Faithful Families: Creating Sacred Moments at Home. Here are a few of the celebrations that we have held.
High School Graduate Send-off
In the summer, we organized a time during worship to celebrate a recent high school graduate. We used the "Moving Out/Going to College: Taking the Essentials" selection from Faithful Families as our guide. Smith invites families to cut out circles and write notes on the back for the graduate to take with them. Our congregation decided to take this idea and make it a corporate act of blessing.
We printed signs with the words "faith," "hope," "perseverance," "gratitude," "compassion," and "love" and gave them to six members of the congregation. In the worship service, the pastor asked our graduate and the six church members to come forward. The six members formed a semi-circle around the graduate while holding the signs. Then they took turns leading the congregation in prayer, using the words and prayers from Smith's chapter. Joy exuded from our graduate as well as the congregation. It was a meaningful way to send her off to college and into the world as a disciple of Christ.
Prayer Basket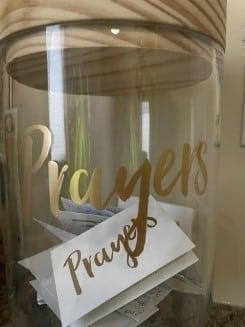 My family has often used a prayer bowl or basket in the center of our dinner table to gather our prayer concerns. When I noticed this practice in Faithful Families, I decided to include it in the gathering that we hold with families to brainstorm and plan events for the church year.
We invited families of all ages to a BBQ at one of our church member's homes. Over food, fellowship, and fun we used the Prayer Basket practice to center ourselves and to share our joys and concerns. Everyone gathered in a circle, and we put a glass prayer jar in the middle of our circle. We passed out sheets of paper with two fill-in-the-blank sentences to each child and adult: "Today I am thankful for _________" and "Today I would like to pray for ________." Then everyone had a chance to finish the sentences and share their prayers with the group. Prayers expressed thankfulness for family members, the church community, the warm sun, and even the resident guinea pigs.
Though many were initially hesitant to participate, this vulnerable act of communal prayer bound our group together. Before everyone departed, we gave families extra blank prayer cards so that they could take this practice home and create their own prayer basket or bowl.
Advent Trees
To celebrate the beginning of the new church year, our community came together for an intergenerational Advent party. Using the "Advent: Make an Acts of Kindness Tree" activity from Faithful Families, we gathered over a hot cocoa bar and homemade treats.
Each household picked a small tree, which I found at our local dollar store (see picture). Participants also took small tin buckets to collect 25 mini wooden ornaments for their trees from an assortment in a pile. We provided some additional accoutrements to decorate the trees such as battery-operated mini light strands and jingle bells. Once participants chose their decorations, they went to their tables and numbered, decorated, and placed tree hooks in their ornaments. We also gave each household a laminated copy of the "25 Acts of Kindness" that Smith lists for this activity. We invited participants to take their trees, ornaments, and acts of kindness lists home so that they could hang an ornament on the tree and do an act of kindness each day during Advent.
This was such a wonderful ministry event and a meaningful way for our community to focus on preparing our hearts and minds for the birth of Christ.
Using Faithful Families in a Congregation
What I particularly appreciate about Smith's book is the adaptability of each tradition, ceremony, and spiritual practice. Smith's activities are creative, flexible, and interactive, and they lend themselves well to church use, especially for intergenerational formation. The activities create entry points for people of various ages to work together on a focused purpose and to connect over God's mission, whether by making Advent trees, reciting prayers, or blessing young people. Depending on the size and age of your congregation, you can take each sacred moment and transform it to fit your community. I have served both large and small congregations and could see the book's activities being used in both settings.
Conclusion
As we seek to find something different together in this period of our lives, my hope is that these monthly gatherings for fellowship and faith have helped church members receive the gift of Christian community. However you and your congregation choose to use this amazing book, may you be centered in the God who invites us all into sacred moments at home and in community.
---
Book Cited
Smith, Traci. Faithful Families: Creating Sacred Moments at Home. St. Louis: Chalice, 2017.
Featured image is by Jess Bailey on Unsplash
Photos of Prayer Jar and Advent Tree are by Krista Sickert-Bush