"The modern-day Jesse Tree connects Isaiah 11:1 to the birth of Jesus and our salvation, through scripture and symbolic decorations."
Something New From Something Old
Two years ago, the faith formation leadership at Grace United Methodist Church set out to create a new Advent service. We wanted the service to include people of all ages, reinforce our fall faith formation lessons, require less practice time, and offer an opportunity for visiting children to participate. Of course, we also wanted it to be high quality, biblically-based, and engaging! As a bonus, we hoped to add some new decorations to our dwindling supply. To accomplish all this, we turned to the Jesse Tree, a very old Christian illustration of the ancestors of Jesus.
What is a Jesse Tree?
The Jesse Tree tradition comes from the imagery found in Isaiah 11:1; "A shoot will come from the stump of Jesse; from his roots a branch will bear fruit." Jesse, the father of David, is the great ancestor of Jesus, and the Jesse Tree symbolizes Jesus' family tree.
A modern-day Jesse Tree is simply a small tree or branch with a collection of ornaments, each of which symbolize a Bible story from Christ's lineage. Readings and ornament ideas for a Jesse Tree can be found online. My Pinterest page has many options. For a printed resource, I suggest Dean Lambert Smith's The Advent Jesse Tree.
Making Jesse Tree Ornaments as Formation
The Jesse Tree at Grace was the culmination of our fall Old Testament studies. The children had spent two weeks on each of the following stories: Creation, Abraham, Isaac and Rebekah, Joseph, Ruth, and David. They created a corresponding ornament for each lesson. Of course, a complete Jesse Tree has one ornament for each day of Advent. Making ornaments during our formation time gave us a head start on our Tree, as well as connected Sunday school lessons to Advent and Christmas.
Reading the Jesse Tree scriptures and creating ornaments is a perfect at-home activity, as well. The readings become the basis for a devotional, and the ornaments the reflective activity. Many websites offer pre-printed ornaments, or you can make your own! At our house, we created a Jesse Tree Centerpiece.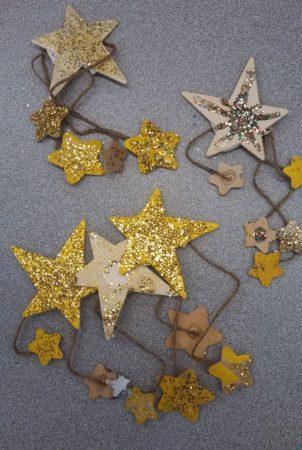 Tie It All Together With a Skit
Traditionally, the children at Grace have presented an Advent skit – much like a traditional Christmas pageant. This time around, we wanted to do something new, and the Jesse Tree was again part of our answer. A Jesse Tree skit would help us connect the Old Testament stories we learned at formation time with the birth of Jesus.
We found a Jesse Tree skit by Dineen Dowling, which provided the inspiration we needed. We adapted Dineen's skit to work with the stories we focused on. Building Faith has received permission to post and share this skit:
"Jesus' Family Tree" Jesse Tree Skit – Click for Free pdf
During the skit, all children are invited to the front of the performance space. As the skit develops, the grandmother carefully unpacks a trunk of ornaments with her grandchildren.  A few children have planned speaking parts, but there is room for improvisation, as the grandmother asks questions that all can respond to. Even first time visitors are able to participate by hanging ornaments on the Jesse Tree. As the ornaments are hung, youth read the scripture passages corresponding to each ancestor. We projected slides with the text and pictures of the ornaments, so that everyone could see what the children had created.
Conclusion
Using the Jesse Tree as a guideline for our fall formation time helped teachers to integrate Old Testament stories with the New Testament arc of salvation. It also allowed us to be more flexible during the weeks of Advent, when we have many visitors. In addition, fewer speaking parts in the skit gave all children present the opportunity to participate, even if they hadn't been at church every Sunday. It was also more fun and less stressful for adult volunteers!
---
Christine V. Hides is the Director of Ministries with Children and Youth at Northbrook United Methodist Church in IL. She writes about Christian education at Bless Each One.