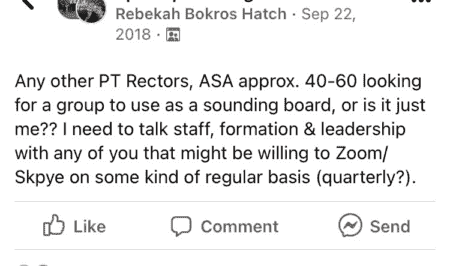 Two weeks into my new position as a half-time priest-in-charge of a small church, I saw a Facebook post that completely changed my ministry:

"Any other PT Rectors, ASA approx. 40-60 looking for a group to use as a sounding board, or is it just me?? I need to talk staff, formation & leadership with any of you that might be willing to Zoom/Skype on some kind of regular basis (quarterly?)."
The Small Churches, Big Impact Collective
Rebekah Bokros Hatch posed this simple question in an Episcopal clergy group and, by the end of the day, a dozen priests expressed interest in joining the conversation. Soon enough, we were indeed meeting on a regular basis like Rebekah hoped, but not quarterly. So great was the need for this community that we gathered on Zoom bi-weekly to ask questions, share best practices, and collaborate on resources. We quickly realized our shared love of small church ministry and our shared frustration that we were woefully underprepared for this type of work by our seminaries and continuing education experiences.
Thanks to a generous College of Pastoral Excellence grant from Austin Theological Seminary's Education Beyond the Walls program, the Small Churches, Big Impact Collective (SCBI) was born. SCBI exists to reimagine new ways of engaging small church ministry and new ways of measuring 'successful congregations.' Following a year of conversation and trying on new leadership styles, collaborative ministries, and practices in our own churches, we launched the Small Churches, Big Impact podcast to share some of our stories.
Four Things I've Learned
Small churches are not baby big churches.
It isn't effective to take the structure of a bigger congregation and then shrink everything down to a smaller context. Yes, annual budgets, staff size, and ministry offerings are smaller; but that doesn't mean small churches are smaller versions of a typical big church. Small churches are wholly separate systems with their own unique challenges and joys.
Parish vibrancy cannot be determined by average Sunday attendance.
The myth of successful church ministry is a powerful one, and it must be dismantled. We've talked to too many small church leaders (both lay and ordained) who describe their ministry in self-deprecating ways because the wider Church seems to only value numbers. "We only have 25 people attend Sunday morning worship." "I'm just part-time." Numbers are not an adequate way of measuring parish health.
Relational ministry is at the heart of this work.
In the last episode of season one of the SCBI podcast, Kit Lonergan speaks to the value members of small congregations place on relationships. Because we cherish the relationships shared with children, there is grace for the acolyte who fidgets throughout the entire service or the toddler who cries in the sermon. Likewise, there is grace offered to the priest who forgot the healing prayer after communion or for the typo in the newsletter. We value people for who they are, not what they produce or how they behave. We understand that relationships hold immense value, and because we are small in number, we are able to better appreciate each individual person.
Small church ministry is an excellent context for priest parents of young children.
The flexibility offered to me as a half-time priest-in-charge of a small church is unparalleled by any other position I've held in my fifteen years of ordained ministry. Also unique are the intergenerational relationships my two children have formed with fellow members.
I write this understanding that privilege plays an unfortunate yet realistic role in my ability to serve half-time. My church cannot afford to pay what I would make in a larger church, nor can it provide benefits like health insurance for my family. The SCBI podcast hopes to explore compensation and funding from the larger Episcopal Church in a future podcast season.
On A Personal Note…
The ministry I share with my congregation is more fulfilling than anything I could have imagined. There is room to be creative and try on new ministries that would be nearly impossible in a larger setting. I definitely feel the big impact this small church is making in my own life and priesthood.
---
To learn more about the Small Churches, Big Impact Collective, visit their website, follow them on social media (Facebook or Instagram), or find the podcast where ever you listen to podcasts!
Photo of St. Stephen's Episcopal Church in Hurst, TX.