"This was experiential, it gave the youth participants an opportunity to engage with others and make a contribution to the broader discussions happening at the conference, and it provided a physical memento of the event."
Collaborative Art
Collaborative art projects are a great way to engage tweens and teens as they explore a topic. The tactile act of creation appeals to hands-on learners in a group. Furthermore, these projects provide an alternate way of sharing a conversation that might otherwise be dominated by extroverts. All styles of learners participate, as the project has many different facets, and different aspects require different skills.
Nourishing Stories
At the Kanuga Christian Formation Conference this past June, artist and educator Heather Annis and I offered a collaborative art workshop for young people that reflected the theme of the conference "Take. Break. Bless. Give." We wanted youth participants to engage in a conversation about the Eucharist, asking them to consider why Jesus chose the specific act of consuming bread and wine as the way to remember Him. After all, there are an infinite number of other ways he could have offered a recollection of himself – thumping hand to heart to symbolize love, throwing oneself face down in reverence to God, jumping up and down on one foot…. just because? Why bread and wine, consumed at table with friends?
To help tweens and teens answer this question, Heather and I created a four-part program. We talked about food, community, and the Eucharist; we gave our participants a hands-on project that was both artistic and thoughtful; we asked the youth to physically put together the art installation; and together we invited the larger community to participate through stories, viewing, and participatory disassembly.
Introductory Discussion: Personal, Communal, Christian
First, we talked about food in general. What was its purpose in our lives? Clearly it is essential for life, for sustenance, health, and growth. Just as clearly, food and the act of eating represents much more. I posed a theoretical question to the group: if you could take a magic pill today that would, for the rest of your life, provide perfect nutrition, exactly what your body needed to be healthy and fit – but you could never eat again – would you take it? Of course, the universal answer was "No!"
We began to unpack the reasons why the thought of giving up food and eating was so unappealing. Food is more than fuel. The act of eating is one of primal pleasure, reflecting back to our earliest instincts as infants to sooth ourselves by nursing, consuming our mother's milk. The tastes and smells of the meals we consume feed our senses as well as our bodies. Eating is a communal pleasure. As a group, we considered why sitting alone in the cafeteria or dining alone in a restaurant seemed disproportionately lonelier than other solitary activities. We talked about how families, friendships and first dates often bond over food.
We talked about food traditions – those memorable meals that shape our individual and family identities. It might be food associated with a particular holiday gathering or a meal reflective of an ethnic heritage. It might be a family recipe passed down, lovingly recorded in a grandparent's hand-writing.
We turned then to the Eucharist. What did the Bread and Wine of Holy Communion have to do with nourishment? How did the act of eating it together impact the ritual? What makes it a tradition for so many Christians and does it matter that the traditions are different for different communities? Having better analyzed all that food and the act of eating represented in our lives, how did this reflect the nature of our relationship to Christ?
Setting Up the Project
When the discussion tapered off, we switched into project mode! Our young participants were tasked with writing a "nourishing story" – a particular family food tradition or ritual, a memorable meal, a recipe, or a favorite grace or blessing. These were written with permanent marker either on Heather's extensive collection of "bread tags" – those utilitarian little plastic rectangles, color-coded by date, used to secure bread bags – or on fluorescent note cards. (Her congregation had been dutifully collecting them for years. See below for other ways for your congregation to connect.)
Community Engagement
After writing their own thoughts, participants were dismissed with the assignment of collecting similar stories from their families and everyone else they encountered at the conference. The youth made announcements at every meal explaining the project and invited responses from all who gathered in the dining hall.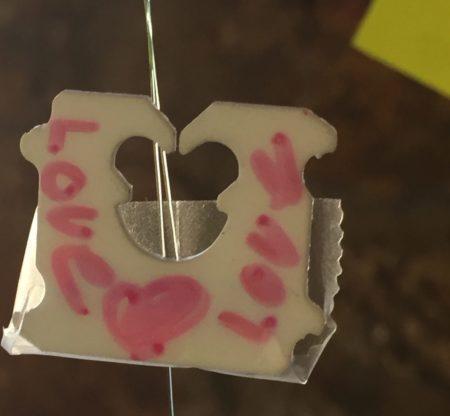 Collaborative Art for the Community
Three days later we assembled the project. We wanted to display it somewhere in relation to the dining hall – a place full of memorable meals, friendships, blessings and traditions. As a group, we scoured the area and debated locations. Finally, we suspended all of our nourishing stories from fishing line near the entrance to the dining hall, a place where they were sheltered but that had a nice breeze.
Participants created suspensions of dangling cards, bread tags and bread baskets, creating a mobile-effect. Heather and I were vague about exactly how the tags and tales should be hung; we gave very loose directions as to how to integrate the materials. Thus we ended up with a variety of streamers of bread tags with cards interspersed; some participants made chains or daisy shapes out of the bread tags, some taped the bread tags onto the cards, some decorated the bread tags with permanent markers.
During the assembly process, some kids cut lengths of fishing line, some taped and tied bread tags and cards, and some climbed stepladders strung the whole thing across the dining hall breezeway. Those who weren't cutting, drawing, taping or stringing it all together helped by either running back and forth with materials or taking pictures to document the process.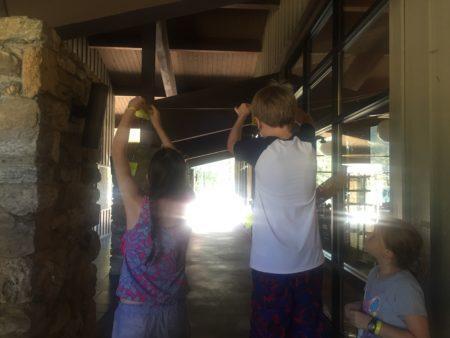 Thoughtful Disassembly
On a night when 200 people came to the dining hall to experience "dinner church," our completed art installation provided an opportunity for inspiration and reflection. The next morning, when everyone gathered for a last meal together before departing, we invited people to disassemble the piece by snipping off a strand or memory that was not what they had written but that spoke to them in some meaningful way.
The project was a success far beyond any classroom discussion of the Eucharist we could have had. It was experiential, it gave the youth participants an opportunity to engage with others and make a contribution to the broader discussions happening at the conference, and it provided a physical memento of the event.
Tips for Doing Collaborative Art Projects

Stay open: Use a theme that is both broad enough and open-ended enough for participants to have a variety of ways to live into it. Be receptive to suggestions or inquiries by participants asking "can I do it this way?"
Collect materials from many sources: Found objects are a great source of inspiration. Prior to the creation of the work, participants and their families can search for and collect materials. Parishes can also be asked to collect or save items, increasing the likelihood they'll ask "what are you going to do with these?" Some examples of materials I've used include bottle caps, "junk drawer finds" and bread tags.
Invite others in: Consider how you can invite others to share in the project. Empower participants to elicit input – this helps to increase their sense of ownership in the project.
Be creative in the construction: Go into the construction phase with an open mind! Allow the participants to determine aspects of how and where the project will be assembled.
Describe the project to observers: Have a strategy for starting conversations about the assembled and displayed project. How art is seen is an important aspect of its message. Signage and take-away cards displayed near the project are important. Enlist project participants in the creation of these conversation prompts. What is the story they want to share? What do they want observers to think about? Are there ways to invite observers to be active contributors to the project?
Share online: Is there a way to digitally share the project? Can images be shared? Is there a conversation prompt that invites people to reply via social media? Make sure to clearly designate and communicate a unique hashtag so that you can collate responses!
Have a deconstruction strategy: What happens to the project when it's finished is always an important question! Should your project end up in the back of a closet or the trash? Are there ways participants or viewers can take a piece of the project with them?  What does it mean to take a piece that wasn't their own contribution? How your project is disassembled is meaningful and might be part of the entire project. Regardless of what happens to the physical structure, be sure to engage your youth in a conversation after the project is finished.