Many churches offer a Blessing of the Animals in honor of the Feast of St. Francis, on or near October 4th. We bless our pets because we love them. This blessing can be more far-reaching and impactful if extended even further: to stuffed animals.
Including Children & Households Without (Living) Pets
Many children are not able to have pets because of allergies or family situations. However, the vast majority of children of every age have a favorite stuffed animal or comfort toy. By including these inanimate creatures, we offer that invitation of blessing, inclusion, and respect to every member of God's family. It shows children that the church cares about the things that they care about. And, since stuffed animals are highly portable and very low maintenance, kids can bring them on a Sunday morning to church. This invitation of blessing can be extended to the whole church community. It is likely that some teens and some adults will present stuffed animals for blessing and that same message of inclusion and love will be amplified.
Blessing stuffed animals can be integrated into any Sunday morning service or take place at the same time as the Blessing of the Animals. The beauty of offering this blessing on Sunday morning is that more children are able to participate and they have another reason to be joyful about coming to church.
The Blessing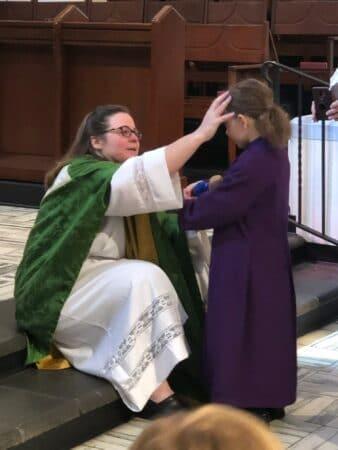 At the Cathedral of St. John in Albuquerque, New Mexico, children in the congregation as well as those in our Chorister program, brought stuffed animals to the morning Family Service. After the homily, children were invited to come up to the altar rail with their stuffed animals.
I asked for the name of the animal, then blessed it with this prayer:
May God bless this sign of love to (name of child). May it always be a reminder of God's love and care for you.
I trace the sign of the cross on the "forehead" of the stuffed animal. After blessing the stuffed animal, there is an opportunity for a sacred moment: to offer a blessing for the child.
It is such a wonderful opportunity for a stuffed animal, both beloved and ordinary, to be a reminder of God's presence in all aspects of our lives.