"We know that engaging the Bible requires tangible experiences. That means water, soil, plants, rocks, and seeds!"
Taking Christian Education Outdoors
Sunday school attendance drops off at our suburban church, so we offer a simplified program for June and July with time for free play outside. Last year our side yard was under construction, leaving us with a small brick courtyard. But that small space offered big opportunities. Classic activities like bubbles, sidewalk chalk, clay, gardening and painting were surprisingly engaging for the younger elementary class. Reflecting back, I believe that the outdoor time offered children something that they are often lacking: unstructured play.
Nature Deficit Disorder
Eleven years ago, the book Last Child in the Woods by Richard Louv introduced the concept of 'nature deficit disorder.' While much has been written about the physical and mental effects of less time outdoors, I haven't found much on the spiritual effects. Yet, I believe that Christian educators know the importance of connecting God with nature. From the Creation Story, to the Parable of the Sower, we know that engaging the Bible requires tangible experiences. That means water, soil, plants, rocks, and seeds! We also know that time outdoors can provide a calming place to nurture reflection and prayer.
So the question is: How can we provide authentic opportunities to practice faith outdoors? Below are a few very simple, inexpensive ideas for taking children outside for faith formation this spring and summer. The activities are not new. But last summer taught us important lessons: children crave time outdoors, and this time is a valuable opportunity to connect with God.
5 Ways to Take Faith Formation Outdoors
1. Plant
A church garden can be created almost anywhere: a neglected corner of the grounds, recycled containers, or even the wall pockets we used last year (see picture). Just be sure to water them often as they dry out quickly. Easy-to-grow vegetables like cucumbers, squash, and lettuce could be shared with the local food pantry. Milkweed seeds can be grown and then replanted as a host plant for threatened monarch butterflies. Even a small space offers big gardening opportunities.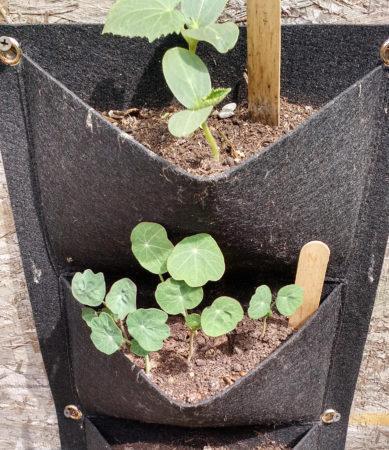 2. Create and Paint
At our church, one of the most popular outdoor activities last summer was painting. All we needed were big pieces of paper, brushes, tempera paint and a few rocks to hold the paper down. The kids enjoyed painting their version of the day's story. If paint is too messy for your group, consider using brushes with water as 'paint,' making a picture that disappears when it dries.
3. Pray Outdoors with Chalk & more
Many outdoor activities can be turned into prayers. Sidewalk chalk prayers at the church entry are a wonderful, visible reminder of children's prayers and presence. Plastic landscape fencing can be used as a prayer loom and woven with sticks, ribbons or scraps of fabric. One of our favorite outdoor prayers is to blow bubbles after each person shares their prayers.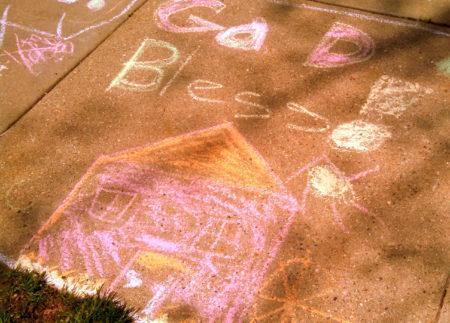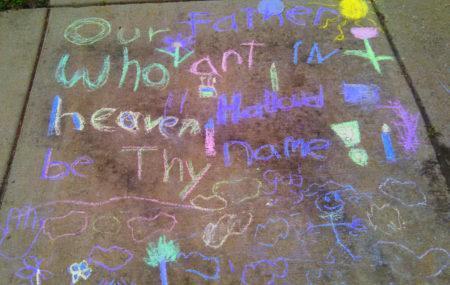 4. Discover God's Creation
We learned that magnifying glasses are a very popular tool for examining God's handiwork. What a different view of the world we get when we look closely at the cracks in the sidewalk, under leaves and on a tree trunk! Consider providing paper and crayons to record discoveries.
5. Experience Bible Stories with Water, Sand, and Clay
Many preschools and kindergartens have abandoned a former staple: sensory tables. We find that because they don't use them in school, children look forward to tactile activities at church. To make sensory tables, we use under-bed plastic storage bins which are inexpensive, stackable and shallow. Spilled sand, water, rice and even playdough are no problem outdoors.
When we read the stories of Moses, we fill the tables with sand. Children are fascinated when we fill the tubs with water – they use measuring cups, a few shells, and plastic boats for water stories (Jesus' baptism, calling the disciples, and Jonah, to name a few). Rice is appropriate for the parables which mention seeds. When we read any stories with bread we use a simple homemade salt dough, which provides lots of tactile rolling and cutting fun. We find that the children often don't want to stop when our time is up!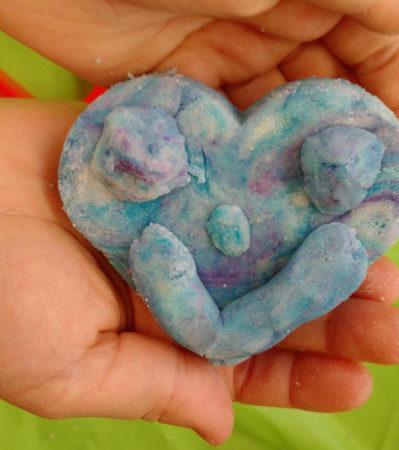 A Prayer for Outdoor Formation
God of All Creation,
open our eyes to your wonders around us.
Help us to embrace a bit of mess,
that we might lead children to the beauty,
peace and joy that exist in your amazing world.