There is no standard Godly Play program…. Each setting has a unique context, so they each need a different story schedule.
"Watch where I go to get today's story." We say that every time our circle is ready to hear a story in a Godly Play® room. But what story is going to be told? Does Godly Play provide a standard story schedule? How do I create a schedule that fits my context?
Each Program Is Unique, Each Godly Play Context Needs Its Own Schedule
Godly Play does not offer standard story schedules, because there is no standard Godly Play program. Some churches have one Godly Play room, it is their first year using Godly Play and they practice three weeks out of the month. Another church may have four Godly Play rooms, have been practicing for twenty years, and they practice nearly every week. Another may be scheduling stories for presentation in a school. Each setting has a unique context, so they each need a different story schedule.
The Three-Year Cycle of Godly Play Stories
We believe it takes three encounters with a lesson for children to engage the creative process, to understand its patterns and begin the life long journey to find insights. Meeting a lesson three times gives children the confidence and competence to use it artfully to make meaning. But we know we are not telling Godly Play stories every Sunday of the year, so how can we possibly present lessons three times, including all 30 Core lessons and not miss out on important aspects of the curriculum? The answer is a three year story telling cycle. Planning up-front rather than picking each week, will allow for a program to effectively apply Godly Play's spiral curriculum as well as allowing Godly Play Mentors to prepare thoroughly and strive for excellence as we nurture the spiritual lives of the children in our circles.
There are four variables that need to be considered when establishing the story cycle for your program:
The age make up of your Godly Play room(s)
The liturgical calendar for the year and your setting's liturgical practices
Your setting's Godly Play session schedule
The story materials available: your inventory by Godly Play room
What You'll Need: As you begin, gather a planning calendar (like this one from Christian educator Sharon Ely Pearson/rowsofsharon.com), your setting's calendar of events, last year's story schedule (if applicable), and a full list of Godly Play stories. Appendix B of the Complete Guide to Godly Play lists the stories by genres (Sacred, Parable, Liturgical, and Silence) and notes which stories are Core, Extension, Enrichment and Synthesis. This appendix is available in the revised volumes 2, 3 and 4.
A Three-Step Process for Creating Your Schedule
First, take your setting's story inventory and the full story list and make a note of which stories are available for scheduling by class.
Second, note which days there will be Godly Play stories and what liturgical season those days are. For reference, this PDF contains suggestions on which Godly Play stories are generally told in each liturgical season. For example, this calendar from St. Stephen's which includes the volunteer schedule for each class.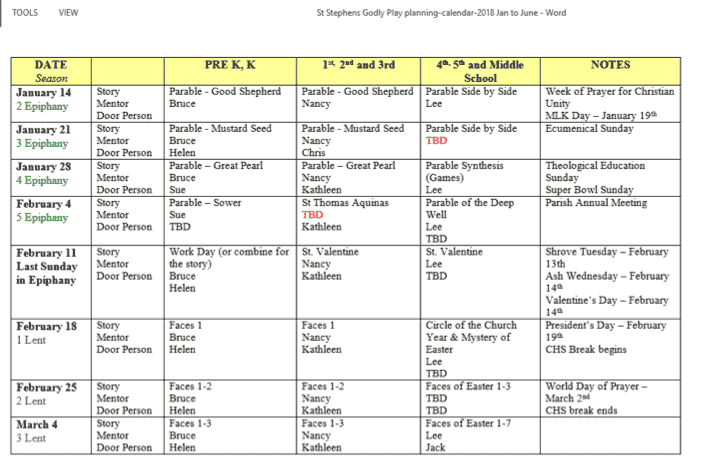 Third, for each season of your program year, review the list of available stories. Compare this list to the list of stories told last year, asking, "have the children been able to experience core lessons three times?" Then, decide what stories should be told this year. Think about stories such as Baptism, Good Shepherd and World Communion, and Circle of the Church Year, where in the church year are they most appropriate for your setting to tell?
You do not need to have the same story told in all of your classes the same week. Perhaps the first day or when key stories such as Baptism are told or at important days during the year such as Palm Sunday, it would be good for all siblings to hear the same story.
Planning Three Years Out
Once you have planned for the current year, you are ready to plan for the next two years using the same process. Here is an example of stories that might be told in a late childhood classroom in the fall over the course of three years:
Year A– In addition to Old Testament Core stories, tell several of the Old Testament extension stories deepening the early stories such as Abraham, Sarah, and Moses
Year B – Tell the later stories of the Old Testament such as Exile and Return, augmenting with extensions for the later prophets such as Job, Isaiah, and Ezekiel
Year C – Tell Core stories only, in sequence
Additional Resources
For more information, we hope you will check out:
---
W. Lee Dickson is honored to serve as the Executive Director of the Godly Play Foundation. The Godly Play Foundation is the non-profit organization that supports Godly Play mentors and programs through training, workshops, materials, publications, research, and international development. Lee has been a Godly Play mentor at her home church, St Stephen's Episcopal Church in Cohasset, Massachusetts, for 20 years, currently wondering with children in grades 3 to 5.