"Read the story of the Jesus Feeding the 5,000, and ponder how Jesus was able to create resources out of nothing."
Fundraising for Youth Ministry
Youth ministry and fundraising projects go together like peanut butter and jelly. Whether funds are being raised for a mission trip, or to support the work of a local service agency, creativity is key.  Of course, relationships form the network of funders, but creative, innovative and entertaining plans are more likely to attract people's attention… and their wallets.
Through my work both in parishes and Episcopal Relief & Development, I have been collecting and devising creative youth fundraising ideas, which I want to share. But before handing over my crib sheet, I want to stress the importance of thinking local when you do fundraising.
Consider Your Context and Involve the Youth
Don't just borrow someone's generic plan and think it will necessarily attract attention and funds. Develop creative fundraising plans that emerge from your context, and task your young people to come up with their own ideas.
The point is: youth ministry is about respecting the agency of young people and empowering their creative minds to meet the world. So never forget to make time for youth brainstorming… even if you prime the pump, their involvement is essential. It is their creativity and vision that is going to change the world.
When you look into your local context, think about what resources your community/parish/young people have within their grasps. This is always a good segue into a conversation about stewardship. Read the story of the Jesus Feeding the 5,000, and ponder how Jesus was able to create resources out of nothing.  It was no doubt a miracle, but it also involved Jesus' creative marshaling of resources that inspired others to share. A good fundraiser might be just as miraculous.
11 Fundraising Ideas for Youth Ministry
Here is a list of successful fundraisers in which I have participated. Obviously your local context will make some of these ideas do-able, or not do-able. But adaptation is always possible! Feel free to add your own ideas in the comments below.
1. Holy Bat Guano:  Bats almost universally live in Church steeples, and what they leave behind is black gold.  Bat guano is an expensive, powerful fertilizer – and fun to buy as a gift.  Take care when harvesting, as all fecal matter may carry disease.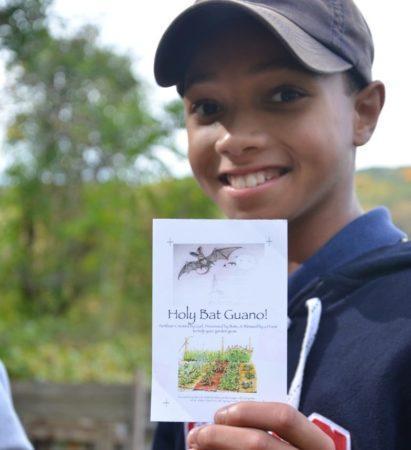 2. Super Bowl Snacks: Do some simple cooking and make spreads and snacks to be sold after church on Super Bowl Sunday.
3. Pink Flamingo Protection: Let out your inner mafia and buy a bunch of plastic pink flamingoes; then offer protection from them appearing in people's front lawns. If members of your church don't buy protection, then the flock descends and the only way to have it removed is to pay the Flamingo Removal Fee.
4. Themed Bake Sale: If you are going somewhere special on a mission trip, then consider selling themed bake good from that location (e.g. Indian Fry Bread if you're going to a reservation; beignets if you're going to New Orleans; etc.)
5. Make a Movie: Grab your youth group and other friends to make a movie. Then charge admission for family members and parishioners to watch it. Don't forget to sell popcorn!
6. Music Fest: Contact local (garage) bands and create a music festival at your church. Secure food donations from local vendors and charge admission to the event.
7. Clamming for Christ: If you happen to live near the coast, you might have some fun going clamming, and then making clam chowder to sell as a fundraiser. For other geographical areas, consider a similar local product that you could turn into a sale.
8. Bike/Run/Kayak-athon: This is the ever-popular sponsorship based activity where someone asks friends and family to sponsor at X dollars per mile. Why not set up a course that includes multiple churches?
9. Stage a Talent Show: Invite everyone to come and share a talent at the talent show. Then do an auction of additional talents (babysitting, yard work, etc.) to the highest bidder.
10. Carwash: The ever-popular carwash.  Enough said…
11. Stained Glass Window Coloring Book: Use photos of your church's stained glass windows (or other art/architecture) to create a beautiful coloring book that you can sell.  Click here for instructions."
These are just the ideas that I have participated in. There are MANY more.
---
The Rev. Luke Fodor is the Rector of St. Luke's Episcopal Church in Jamestown, New York. The article above was written while he served at St. John's Episcopal Church, Cold Spring Harbor. Having spent nearly 5 years working at Episcopal Relief & Development, Luke believes in empowering children and youth for God's mission in this hurting world.