"He was both a source and a recipient of affection for personnel who were expected to maintain military bearing at all times and otherwise had no outlet for emotional expression toward another being."

Working with Zac
"What's his job? Can I pet him?"
Wherever I go with Zac, these are the first questions I get from Soldiers, Airmen, Sailors, Marines, Department of the Army civilians, U.S. contractors, Aussies, Brits and other coalition force members.
"Yes, you can pet him. That's his job," I reply.
Zac is the Unit Ministry Dog I shared with Chaplain Josh Morris, another Army Reserve chaplain from California, while I was deployed to Kandahar Airfield, Afghanistan from April to November 2014. Zac and I are now home in Sacramento. Zac comes to work at the church with me every day. In addition, he continues to minister with me to Army Reserve soldiers.
Senior Airman Zac is named in honor of Airman First Class Zachary Cuddeback, who died in Germany in 2011 when a terrorist attacked a busload of Airmen headed to Afghanistan. The Labrador retriever was donated by the Women's Auxiliary of Millerton, NY to honor Cuddeback and his family.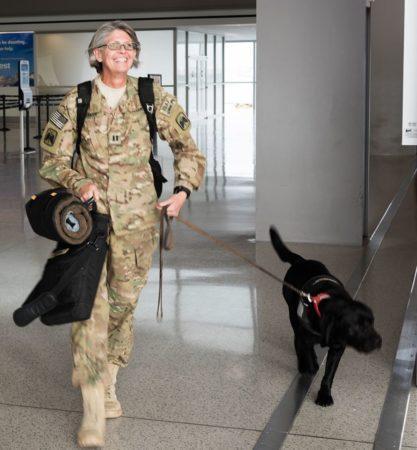 Zac was trained for over two years in the Otisville, NY Correctional Facility by an inmate, under the guidance of Puppies Behind Bars. Puppies Behind Bars trains inmates to raise and train puppies to become service dogs for veterans suffering from Post-Traumatic Stress Disorder. The program helps wounded warriors heal and be transformed with the aid of well-trained canine companions, while helping inmates heal and be transformed by nurturing and training a dog that will one day serve others.
I knew nothing about military ministry dogs until I met Chaplain Karen Hallett and her Unit Ministry Dog, Sergeant Zoe, when I mobilized for deployment at Ft. Bliss. Chaplain Hallett had deployed to Bagram in 2012 with Zoe. Two years later, Chaplain Hallett and Zoe saw my group off on our flight to Afghanistan. Chaplain Hallett handed me a cross made of nails that I carried in my pocket every day during deployment. She also told me she could probably get me dog like Zoe. I didn't know anyone in the unit I would be joining, and I didn't know how they would feel about a ministry dog, so I kept Chaplain Hallett's words to myself.
Blessings upon blessings
God's grace and sense of humor continually amaze me. A few months into my tour, my commander LTC Barrett asked me to arrange for the Behavioral Health Morale Dog from Bagram to visit our soldiers. When I mentioned I thought we could get our own dog, LTC Barrett told me to make it happen.
Six weeks later, I was in Kuwait to meet Chaplain Hallett, who had helped us acquire Zac from Puppies Behind Bars. I returned to Afghanistan with Zac on September 1, knowing Zac would be an asset to my ministry. How deep and broad his impact would reach in less than three months was a surprising blessing.
Zac went everywhere I went. Zac has flown in helicopters to visit MEDEVAC crews at forward operating bases, traveled all over Kandahar Airfield on foot and by bus to visit other units and patients and staff at the hospital, walked the flight line and maintenance hangars at all hours, attended worship services, and greeted all who visited our unit ministry center. He loved to sleep on the sofa in my office with his head in the lap of a soldier, both completely content.
I've seen young soldiers as well as seasoned officers and non-commissioned officers act like giggly kids when Zac saluted them on command or licked their faces when they directed, "Kisses, Zac, kisses!" He visibly changed the countenance of those he encountered. Zac was both a source and a recipient of affection for personnel who were expected to maintain military bearing at all times and otherwise had no outlet for emotional expression toward another being. I am certain there was a chemical reaction in the brain when people interacted with him. Again and again, I heard, "Zac, you just made my day."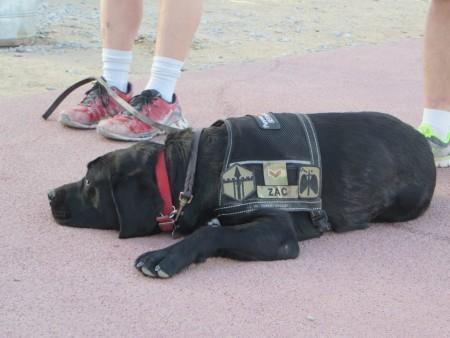 Chaplain's Best Friend
Zac is the best ministry tool I have. I am shy and introverted by nature; Zac opens doors of communication far more quickly than I ever could on my own. In many cases, he helped initiate casual conversations that turned into pastoral conversations that never would have happened without the presence of sweet, mellow Zac. I never imagined so many people carried photos of their dogs on their smart phones, which they readily shared with me when they met Zac.
What most people don't know is how important Zac's ministry to me has been. Deployments can be hard on relationships and can also be opportunities for intense spiritual and personal growth. With our commitment to privileged communications, chaplains can be the safest people for soldiers to confide in and explore issues they've never talked about.
After long hours of multiple counseling sessions with soldiers, Zac became my safe outlet to release the hurt and pain I was privileged to hear. No doubt his special training to work with veterans suffering from PTSD enabled him to sense when soldiers, to include me, most needed his snuggles and kisses. I like to say the chaplain now has a chaplain. I understand the sense of unconditional love he offers that soldiers are quick to point out when I ask what Zac's presence does for them.
The seven months I spent deployed with 1-52 Aviation, the "Flying Dragons," were some of the most richly professionally rewarding months of my life. Serving soldiers with an incredibly dedicated team of officers and non-commissioned officers made it so. Zac the Unit Ministry Dog was at the center of many of my most memorable moments downrange. I am blessed to continue to serve with him.
---
The Rev. Andrea Baker is an Associate Rector at Faith Episcopal Church in Cameron Park, CA and an Army Reserve chaplain. You can read more about her work in a previous Building Faith article: Chaplain Downrange.
Did you enjoy this article? Consider subscribing to Building Faith and get every new post by email. It's free and always will be. Subscribe to Building Faith.