"This challenge is examining my mind, quenching my thirst, and digging deeply into my inner being."
I wanted to share something my parish is doing that is breathing a lot of life into our adult formation. It is easy to do, and the congregation is loving it. Also, in terms of planning, I am not having to create new topics every week. It is based in Bible reading, but has some advantages over the Bible in a Year challenge.
Have I piqued your interest?
Our New Testament Challenge
Essentially, we broke the New Testament down by weeks from August to May. Here is a calendar: Bible Challenge Schedule.
Then we revised our adult Sunday School. It is a place to come and discuss the readings. I do make handouts for each book, but mostly it is discussion. We have grown to having about 20 people (we are a church with an ASA of about 50) in adult formation.
The final piece: blogging feature. Midweek before Sunday's class, a post is put on our blog, usually written by a parishioner. (They email the content, and I post it on the blog.) Our blog is episcopalcordova.blogspot.com
It has been a very life giving journey so far. We are creating a common conversation in the parish and a way for those who can't make it on Sunday or who are in the choir to be able to participate without being at Sunday school, as they can still read and write reflections and comment on other posts.
How it all started…
During Lent, I challenged the congregation to do Morning Prayer every day. We provided links to the Mission St. Clare podcasts, and readings, offered Morning Prayer twice a week, and then had MP followed by Eucharist on Sundays to show the congregation how to use the Prayer Book in that way. We even set up our church like a medieval church choir which is well suited for reading the psalter.
On those Sunday mornings, instead of topical conversation, we talked about the reading. It was a huge hit. The congregation loved it, and we hoped it would spin into a group that made a rule of life around the Daily Office. Now that didn't happen.
So we were brainstorming how do something similar. The vestry liked the idea of working through the New Testament, and one vestry member who teaches at University of Memphis, and therefore familiar with online teaching tools, asked if we could set up some sort of blackboard for online conversation. The easiest way for a pretty non-techy church to do that was a blog.
The blog was was free. We put a link to each post in the weekly e-newsletter. The church has responded well and will talk about what each person has shared in the weekly blog on Sunday mornings.
Also, we have a few snowbirds in the congregation, and people who have moved away but are still part of our congregation. The blog allows those folks to connect. Formation becomes more than just a 45 minute conversation on Sunday morning. Formation becomes week-long.
Pictures from Church of the Annunciation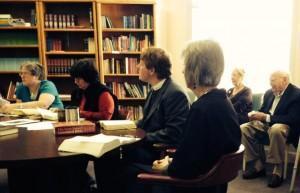 ---
Here is what some of the participants are saying about the program:
"What an exciting opportunity to read together and discuss the New Testament with a diverse and knowledgeable group of people.  I've never read the New Testament from beginning to end and love not only the challenge it brings, but also the wealth of information and ideas I've heard on Jesus' teachings."
– Mary Lou Brown.
"The Bible Challenge is so much more than a group meeting together for 45 minutes on a Sunday morning.  It is enriched by my reading and reflection of the week's passages that I carry with me after our group discussion."
– Janice Green
"This challenge is examining my mind, quenching my thirst, and digging deeply into my inner being." 
– Mary Ann Isaac
It is a daunting task to sit among a group of people who know the Bible far better than I ever will. One of my most encouraging quotes has helped me keep reading. From Thomas Merton: "You do not need to know precisely what is happening, or exactly where it is all going. What you need is to recognize the possibilities and challenges offered by the present moment, and to embrace them with courage, faith, and hope.'"
– Sally Balzer
"I have enjoyed our Bible Challenge because our community has risen to the challenge with passion and intention." 
-Craig Balzer
---
Did you enjoy this article? Consider subscribing to Building Faith and get every new post by email. It's free and always will be.  Subscribe to Building Faith.