"Inside this box you will find opportunities for laughter and fellowship, to praise God, pray, learn God's word, give thanks, and serve…"
Take Out Church
Last summer, United Methodist pastors Toni Ruth and Wes Smith created "Take Out Church" for their church families to use at home or while traveling. Each piece inside the pizza box helps households deepen spirituality and practice their faith. The materials are also a reminder that even when families are outside the walls of the church, they are still members of the family of God.
The Smiths included prayers, discussion prompts, and activities. Finally, a Flat Jesus and the prompt to take pictures and post to social media using #takeoutchurch. You can read more about their Take Out Church on Toni Ruth's website or click the photo below.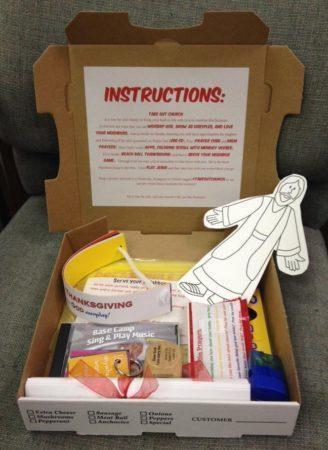 A Good Idea Spreads
St. Cuthbert's, Houston, TX, is just one church trying "Take Out Church" for the summer of 2016. Family Formation Coordinator Gail Jackins will send each box off with these words of instruction inside the flap:
"In this box are ways you can build God's Kingdom while on vacation. Just as we do on Sunday mornings at St. Cuthbert, you will have opportunities for laughter and fellowship, to praise God, pray, learn God's word, give thanks, and serve. Through it all, we want you to remember to take Jesus with you. He is the most important thing in this box. Color Flat Jesus and then take him with you everywhere you go. Snap a picture and email it to church so we can see where Jesus vacations this summer!…Have fun, be safe, and take church with you this summer!"
St. Cuthbert's will hand out boxes on the last Sunday of the academic school year. There is a box for every family enrolled in the formation program, for single-child homes as well as those with multiple children. The latter include extra colored pencils and small toys. In addition, there will be boxes available for other households, guests, and grandparents!
Take Out Church offers opportunities to connect summer fun with church life and Christian living. Boxes contain silly games for long car rides and quiet activities like finger labyrinths, as well as table graces, conversation starters, bedtime prayers, and ways to serve others. An important part of the boxes is instruction sheets. These flyers offer short explanations, and each sheet is clearly marked as being sent, with love, from the people of St. Cuthbert.
What's In the Box?
Click the following links to see pdfs of items that can go in Take Out Church boxes.
In addition to these print outs, St. Cuthbert's Take Out Church box also includes colored pencils and pencil sharpener, a small notebook, a cross to color, a doorknob hanger to color, key chain, bookmark, and a glow-in-the-dark cross to light up dark tents or hotel rooms!
Church to Go?
Of course, boxes like this are not a substitute for active participation in a worshipping community. Rather, they are a supplement; and a tool for deepening faith. Engaging families during the busy summer months means meeting them where they are, which often means helping them to "keep church" at home or when away. What's more, with social media, all members of a congregation can stay connected, when photos are tagged with the name of the church and a hashtag like #takeoutchurch.
"These commandments that I give you today are to be on your hearts.
Impress them on your children. Talk about them when you sit at home
and when you walk along the road,
when you lie down and when you get up."
-Deuteronomy 6:6-7