"Sometimes our story—our piece of the puzzle—doesn't make sense in the moment. It's hard to figure out what we're even looking at, to see the big picture. This project literally asks participants to step back every now and then and be reminded of the larger picture."
For years it's been a personal practice of mine to explore scripture and spirituality through images. I've met a lot of people who seem intrigued by the idea, but aren't sure where to start. This community collage project is guided enough to encourage folks who may be venturing into new territory, but it's open-ended enough that people can make the experience their own.
Created using recycled materials, this is an affordable hands-on communal art project that invites participants to complete their own color-by-numbers style cardboard canvas and then join those pieces together to become a larger communal collage. While there is a fair amount of prep work, the time spent together serves several functions. Framing the activity with relevant scripture and ensuring a well-framed conversation after the creation is complete will enrich participants' faith. My own experience is largely with young adults, but this is certainly adaptable to other ages too.
There are a couple of ground rules for this endeavor. First, use what you've got. Every time I've done this with a group, almost all of our materials were already in either my house, a church's resource closet, or someone's recycling bin. Secondly, when it comes down to it, the rules are, there are no rules. What follows are suggested materials and steps, but don't be afraid to leave room for that pesky Holy Spirit to move as it will.
Before you collect your materials, decide on the image for your finished collage. You'll want at least a handful of colors to keep things interesting, but the design itself need not be overly detailed.
Suggested Materials
Backing for your collage (repurposed vinyl banners work well)
cardboard
box cutter
pencil
permanent marker
scissors
glue
magazines and newspapers
recyclables in the colors of your design
paint in the same colors
paint brushes
black acrylic paint
Preparing Your Cardboard Canvas
Lay out flat pieces of cardboard, placing them edge-to-edge until you have a size fitting for your finished project. If you packing is bigger than your cardboard canvas, trim the backing to size.
Sketch your design onto the cardboard. It's helpful to use a pencil at first, but you'll want to go over the lines with a thicker marker.
If needed, cut your cardboard into smaller pieces. Each participant needs one.
Number the back of each piece, so you'll easily know where it goes in the finished product.
On your backing, trace each cardboard piece and add the corresponding number.
On the front of each piece, write a color in every outlined space. (This is how your people will know what colors to use without seeing the whole picture.)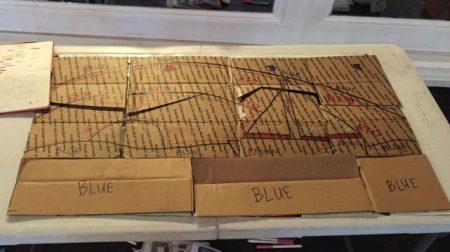 The Workshop
Before participants arrive, mix up the prepared cardboard pieces, so the complete design isn't obvious.
Invite participants to choose a cardboard piece.
Give participants their assignment: following the color labels, use whatever materials you want to fill in your piece of the puzzle. If there are spaces right next to each other that have the same color, make sure we can tell where the line that separates them is.
As people finish their pieces, use the sticky dots to stick each piece to its corresponding place on the backing.
When everyone's done, outline the entire design with black paint.
Engaging Scripture
A project like this is even more fruitful with some discussion framing the making itself. Consider offering a particular Scripture as a prompt for the pieces. For example, with some college students in Davidson, NC we read Romans 12: 3-8 together, considered our own gifts, then chose materials or images that represented those gifts. In anticipation of Advent and the Christmas season, perhaps artists could reflect on how they will prepare they way for God in their own lives, and let that inform their creativity. I frequently comment that, in the moment, all we can see is the individual piece in front of us, but we're all part of the bigger story — one that wouldn't be complete without each of us.
One of my favorite things about projects like these is that I never know exactly what the finished product will look like. Even after facilitating communal collages multiple ties, there's always a certain degree of "welp…I hope this works!" Making art like this may lead some people to be (understandably) skeptical. But there's something I love about asking the question—offering an outline—and then leaving the process open to whatever answers we may find. Not a bad practice for life, either, I'd say.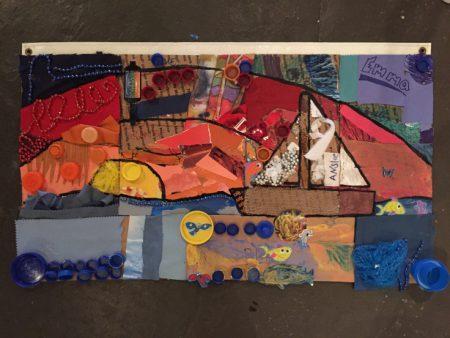 ---
The Rev. Allison Wehrung lives and works in Oxford, MS, where she spends most of her time as the campus minister at UKirk Ole Miss. She is passionate about local coffee shops, exploring Scripture through art, and the messy work of being a human who follows Jesus. You can follow along at girlandgluestick.com.