Children's spontaneous prayer—connecting to the wonder and love of God—is a gift for the whole family to explore.
The season of Lent lends itself to creating opportunities for faith exploration in the home. Prayer practices are particularly Lenten, as they re-connect us with God and lend themselves to self-examination. Children's spontaneous prayer—connecting to the wonder and love of God—is a gift for the whole family to explore.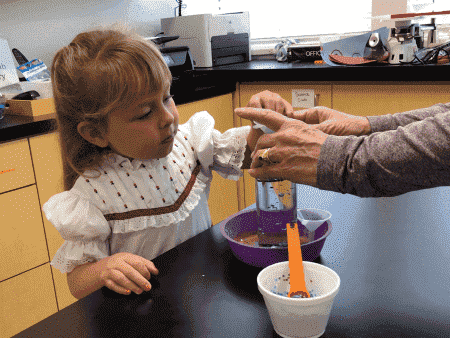 Making Prayer Bottles
This prayer bottle takes a simple item (a sensory bottle) and uses it to opens a connection, within the family and most importantly, with God.
We made these during our children's program the Sunday before Ash Wednesday. The response has been tremendous. Families who were absent have stopped by the parish office to create bottles during the week and adults have emailed asking for the instructions so that they could make their own at home!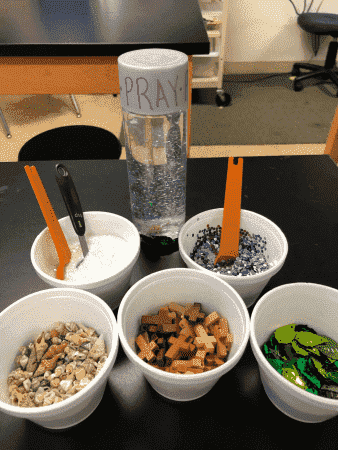 Supplies
Water bottles (Remove the labels)

Clear liquid soap

White iridescent glitter

Small mirrored glitter (or something similar)

Palm leaf confetti

purple sequins

small shells

small cross
Instructions
Fill the bottles 2/3 full with warm water

Add 2 tsp white glitter, 2 tsp mirrored glitter, 3 pinches palm leaves, 3 pinches purple sequins, 10-12 small shells, 1 cross.

Fill the container the rest of the way (all the way to the top) with liquid soap.

Use hot glue to secure the lid in place.

Write Pray

, or I Pray on the lid of the bottle.

Shake the bottle to combine everything inside.
The prayer on the attached card is below and on a printable pdf.
Dear God,
When I look in this bottle I see lots of things. I see sparkles that remind me that Jesus is the Light of the world. I see tiny mirrors that remind me that I am made in your image. I see shells that remind me that when I was baptized I was marked as yours forever. I see palm leaves that remind me to shout, "Hosanna!" and give thanks for all of my blessings. Most importantly, I see the cross, which reminds me that you loved me so much that you gave me Jesus, and through that love all things are possible.
(find the Cross) Where did I see God's love today?

(find a palm leaf) What am I thankful for today?

(watch the mirrors) Where did I see God in myself today?

(see the sparkles) Where do I need to shine my light to help someone?

(find the shells) Say the Lord's Prayer.
AMEN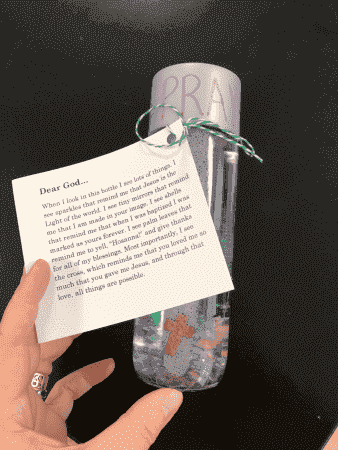 ---
Charlette Preslar is the Director of Youth and Family at Christ Episcopal Church Coronado, the chaplain at Christ Church Day School and the youth missioner for the Episcopal Diocese of San Diego. Charlette loves hiking, digging in the dirt, and is most happy creating giant messes and adventures with youth of all ages.