For the last two and a half years my congregation has been putting together seasonal "faith-at-home" bags to support and equip members of all ages in their faith development.
Adapting Seasonal Practices
Before the pandemic, one of our practices was to set out tables with seasonal materials for Advent and Lent. People could pick up resources to use during those holy seasons: calendars, sticker books, devotionals, and more.
When the pandemic lockdown hit in 2020, "faith-at-home" became a priority in a new way. One of the ways we chose to support this ministry was to adapt our previous practice into seasonal "faith-at-home" bags, expanding it in the process. Instead of just Advent and Lent they became Advent, Christmas, and Epiphany, and Lent and Easter bags. If we couldn't celebrate the circle of the church year together in our building, we wanted people to be able to build that rhythm in their homes.
From there we set up special days and times for people to stop by and pick up their bag. An outside table in our front circle made it easy for folks to drive up, and it was a great opportunity to chat with and catch up with people. When we paired this practice with things that drew from our wider community, like drive-thru imposition of ashes and our drive-thru Christmas pageant, this was also a great way to share faith with those outside our congregation.
Iterating As We Re-Gather
We expected to continue offering faith-at-home materials only during Advent and Lent going forward. But in the summer of 2021, we did a survey of all of our households with children to gather data on how best to support them at church and at home. The one thing we heard back from nearly everyone was they loved the faith-at-home bags and hoped we continued sharing them, even as we were beginning to gather more fully in-person. That got us thinking, why not expand this formation opportunity outside of Advent and Lent? Fall, and the start of the program year, seemed the natural place to start.
Building a Fall Faith-at-Home Bag
So what do you include when you don't have a liturgical theme to build around?
Saint Days & Holidays
First, we sat down and looked at the calendar for September to November and picked out special days and holidays: St. Francis, Halloween, All Souls' Day, All Saints' Day, and Thanksgiving. We wanted to make sure we included something for each of those feasts, like activity pages, prayer cards, placemats, and candy.
Church Communications
Second, we thought about things we wanted to communicate to our congregation. We created a graphic calendar of fall events, formation opportunities, and outreach activities. We included office forms for things like updating the directory, signing up for altar flowers, and the form to collect names for the litany of the faithful departed on All Saints' Day.
Devotional Materials
Finally, we wanted to include devotional materials of some sort. Since we didn't have a church season to focus on, we thought about things that supported daily reflection. We went with copies of Forward Day by Day, Sabbath Notecards from Traci Smith's Faithful Families, and encouragement cards with quotes and scripture passages.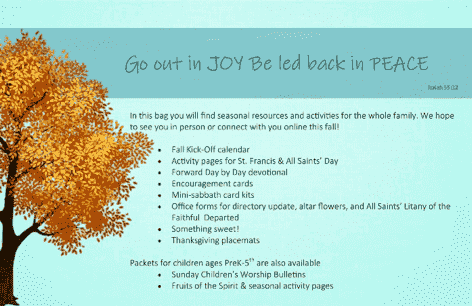 All of those things were included in every bag, along with a label on the front (see image).
In addition, we had packets of Sunday children's worship bulletins (geared for ages 5-10) and packets of fruits of the Spirit and other seasonal coloring pages (geared for preschoolers) that we included individually as needed. Because we were fully regathering for in-person worship last fall, we set these out for people to pick up when they came to church, but also invited people to stop by during regular office hours if they were continuing to join us for worship online.
Our takeaway is that people are hungry for ways to develop and practice faith in their daily lives. This is not new, but through the practice of creating faith-at-home bags, we are better meeting people where they are and inviting them into deeper relationship with God.
---
Photo by Providence Doucet on Unsplash.