Editor's Note: The following article is reposted with permission from Interfaith America.
On Monday, Queen Elizabeth's state funeral and burial was conducted with the full solemnity of the Church of England, borne of nearly 500 years of solemn Anglican tradition. As a bishop in the Episcopal Church, I mourn the Queen as a sister in Christ, and honor her long reign as a woman of deep faith. She was an inspiration to me and to many Anglicans across the globe. But this Anglican tradition we share is not a simple one, and it contains much that I grieve and seek to dismantle.
The Anglican Communion is a loose confederation of churches around the world that share a history with the Church of England, which was founded by Henry VIII in 1534. Anglicanism began traveling around the world with British invaders, missionaries and colonial rulers almost as soon as the English church separated from Rome. But even as colonial ties dissolved beginning in the 18th century, Anglican bonds have remained, sustained not by shared doctrine or a single spiritual leader, but by shared worship traditions, music, and relationships that span the globe. This summer, I spent two weeks at Canterbury Cathedral in England with more than 650 other bishops from across the Anglican Communion for a meeting called the Lambeth Conference that takes place once a decade. Gatherings like this foster mission partnerships and shared priorities among Anglicans around the world.
Our shared history and worship mean that, even when we harbor deep grief and concern about the violence, racism and injustice perpetrated by the British Empire, Anglican eyes are often glued to television screens when the Royal Family and the Church of England are in top ceremonial form. The liturgies offered for Queen Elizabeth in Scotland, Northern Ireland, and England in the past week have contained elements familiar to Anglicans everywhere, even as they have illustrated the Anglican gift for adapting our traditions in our own countries and contexts.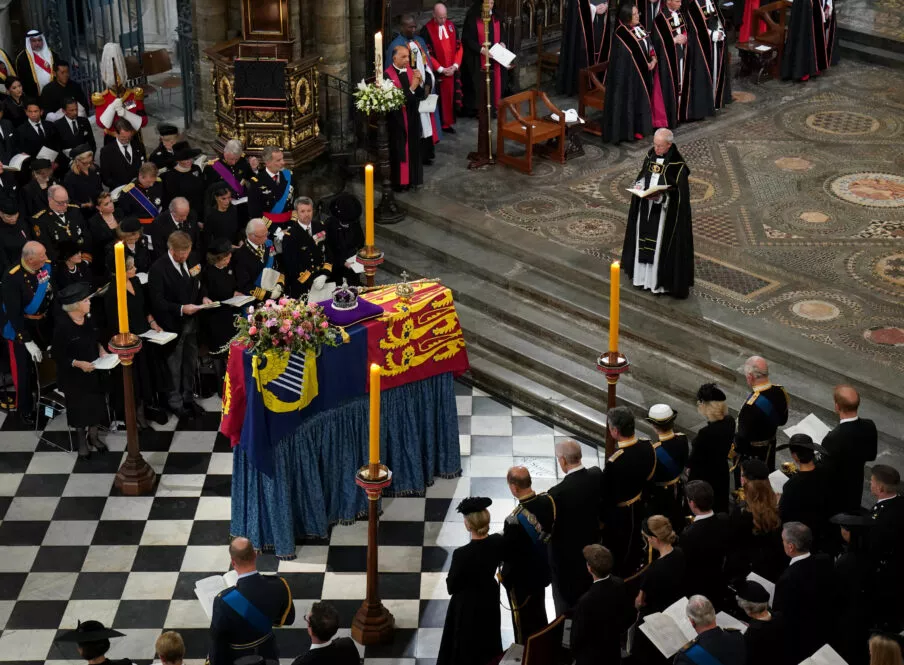 Archbishop of Canterbury, the Most Reverend Justin Welby, speaking during the State Funeral of Queen Elizabeth II, held at Westminster Abbey on September 19, 2022 in London, England. (Photo by Gareth Fuller — WPA Pool/Getty Images)
These rituals unite us in prayer and song, providing a familiar pattern in which to express our grief, our hope in the resurrection of Jesus Christ, and our belief in our radical equality before God. The Queen's funeral service, which was led by the Archbishop of Canterbury at Westminster Abbey, is fundamentally similar to the service that any priest of the Episcopal Church leads when one of our members dies, or when a faithful Anglican from Africa, Asia, or Oceania enters eternal life. "We therefore commit her body to the ground, earth to earth, ashes to ashes, dust to dust; in sure and certain hope of the Resurrection to eternal life," we say, as we sprinkle the casket with dirt and return our loved ones' bodies to the earth.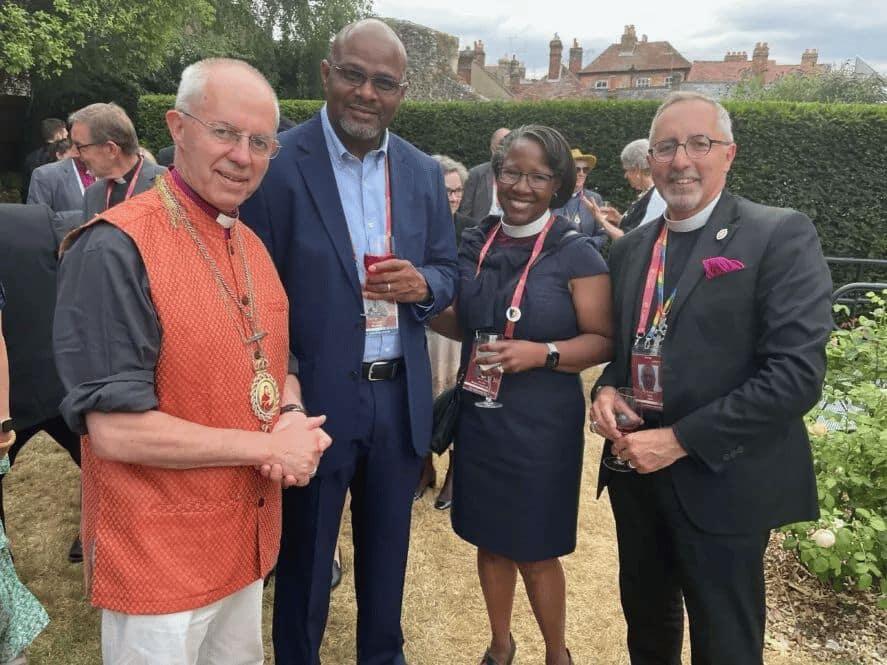 At the Lambeth Conference in England this summer, Bishop Jennifer Baskerville-Burrows with (l-r) Archbishop of Canterbury Justin Welby; her husband, Harrison Burrows; and Bishop Keith Riglin of Argyll & The Isles in the Scottish Episcopal Church. Archbishop Welby officiated at Queen Elizabeth's state funeral in Westminster Abbey in London on Sept. 19, 2022.
But while these rituals connect me to the story of the Queen's long life and service to empire, the bonds we share are not simple ones. As a Black woman in the United States, descended from enslaved Africans and subjugated Native Americans, I will never be able to map my family tree or tell the story of my ancestors in the way that the global news media has recently scrutinized the Royal Family's lineage and historic lines of succession. My ministry as a bishop is challenged at every turn by the legacy of slavery and racism that has shaped the United States' cultural and economic systems in ways that, even today, we struggle even to see. As bishop of a diocese with the privilege of historic financial endowments, I seek ways to be faithful to Anglican mission partners in Haiti and Brazil through mutual relationships in Christ that must navigate the vast disparities in our economic circumstances. And as a straight woman who is completely committed to the full equality of LGBTQ+ people in our churches, I must stay in relationship with my fellow Anglican bishops who do not affirm the humanity of these beloved children of God, even as I work to end homophobia and transphobia across the globe.
Once upon a time, the sun never set on the British Empire. Today, we understand that those colonial structures, often constructed and maintained by Anglican missionaries, left deep scars in every country where they were found. But while I do not pledge fealty to the Queen or answer to the Archbishop of Canterbury, I believe with all my heart that the shared Anglican rituals and traditions on display during this time of British national mourning are a crucible for relationships, borne of a shared history, that can help transform the world. As our graveside liturgy proclaims, "Even at the grave, we make our song. Alleluia."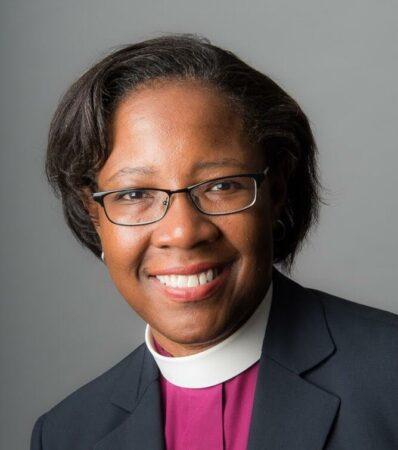 Bishop Jennifer Baskerville-Burrows serves as the bishop of the Episcopal Diocese of Indianapolis. She is the first Black woman to lead a diocese in the Episcopal Church.
A native of New York City, she holds a bachelor's degree in architecture with a minor in urban studies from Smith College, an M.A. in historic preservation planning from Cornell University, and an M.Div. degree from Church Divinity School of the Pacific (CDSP) in 1997. Before being elected bishop in 2016, she served in the Dioceses of Newark, Central New York and Chicago.
---
Featured image is of Bishop Jennifer Baskerville-Burrows, Episcopal Bishop Indianapolis, left, with the Reverend Cathrine Ngangira of Zimbabwe in England this summer at the Lambeth Conference, a gathering of Anglican Communion bishops from around the world. Photos of Bishop Baskerville-Burrows are provided by the bishop and republished with permission.