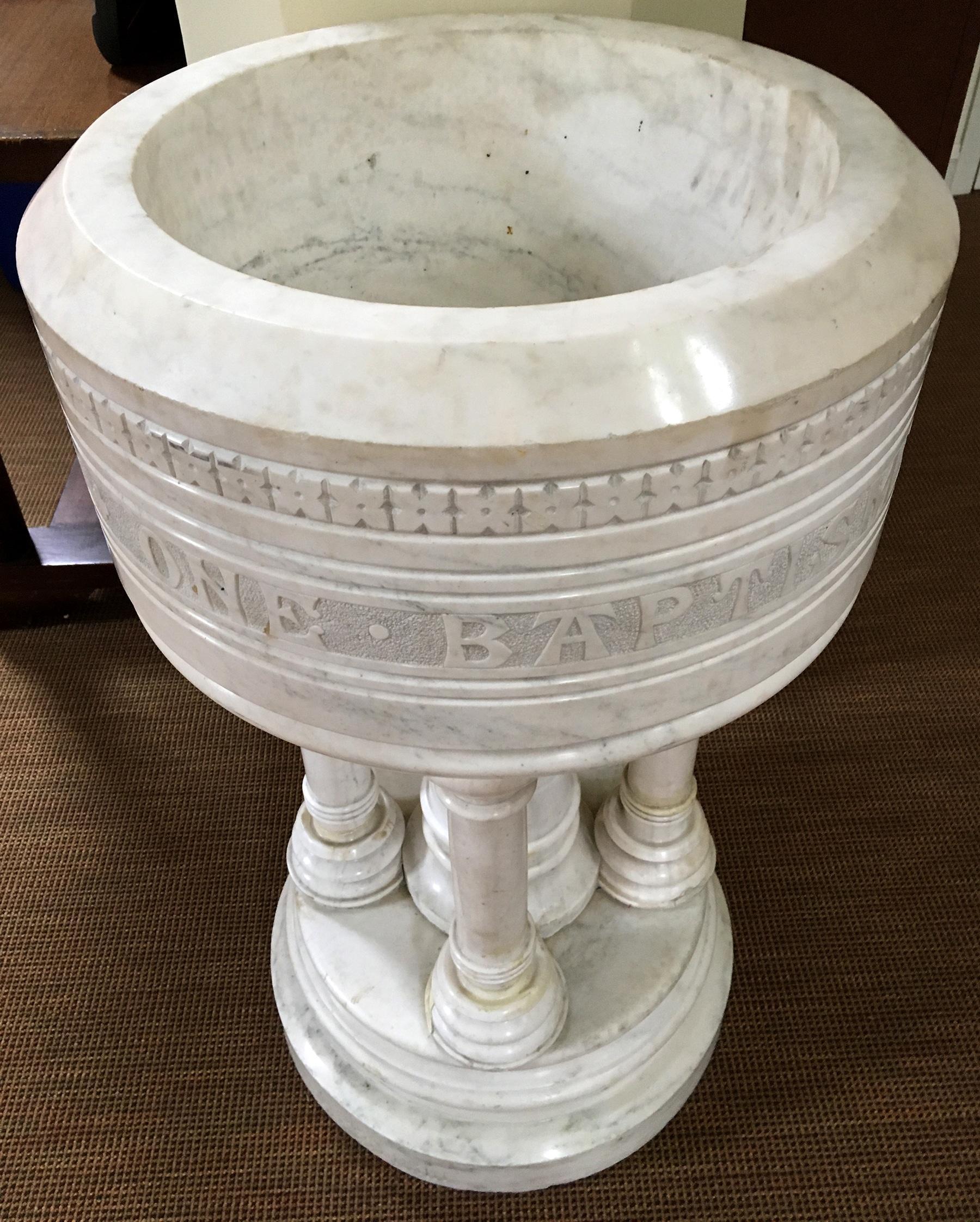 Editor's Note: The catechumenal process described in this article by Josh Hosler comes from some of the oldest practices of the early Church. Ironically, the way this process approaches the passing on of faith embraces more recent understandings of how we learn and the way that learning is influenced by the human brain. Leaders of the early church understood the value of mentors, of individual and corporate prayer and worship, of letting ideas "incubate," and of embracing mystery. Rev. Hosler suggests that offering the Catechumenate in parishes will address the issue of getting "buy-in" for our teaching and replace easy answers with "fluid" dogma.
"Therefore we proclaim the mystery of faith," intones the presider in Eucharistic Prayer A. How do we proclaim a mystery? It is truly countercultural to do so. To proclaim a mystery is to reveal a faith that is liquid, not solid. When it comes to teaching the basics of the Christian faith, a revival of the ancient catechumenal process is an effective way to present a faith that is as fluid as the waters of baptism.
Clichés and Platitudes
Do you ever hear clichés and platitudes at church? They are simplistic statements that fail when applied in real life. They are often well-meant ideas that have hardened into thoughts so solid that you can stub your toes on them—stumbling blocks. That we hear them at church is evidence that we live among millions of baptized people whose faith has never grown beyond about a fifth-grade level. When adults come to us inquiring about baptism, we owe them information, but it had better not be mere platitudes.
For those seeking faith in this postmodern world, the worst enemy is the voice that insists, "Stop asking questions." The fact that people are asking questions is good news. It means that more people who are different and diverse are coming to a personal faith on their own terms, not just blithely accepting someone else's beliefs.
On the downside to the questions people are asking about faith is their distinct distrust of the wisdom of ancestors. In some circles, "dogma" has become a dirty word because it sounds suspiciously like it might be made up of clichés and platitudes.
But distrusting the wisdom of ancestors is a mistake. Dogma is not hard and unyielding, but flowing and shifting. Dorothy Sayers said, "The Christian faith is the most exciting drama that ever staggered the imagination of man – and the dogma is the drama." (Sayers) Until we realize this, we will fail to teach the actual content of Christianity. Our faith is not a rigid set of rules, but a story that we must keep telling, always inviting new generations of people to locate themselves within it.
Liquid, Not Gas
The Bible, the Creeds, the Sacraments, and prayer can all be taught in liquid form, as Rowan Williams did in Being Christian. Most importantly, we need to keep the liquid flowing. We cannot assume that any newcomer knows the first thing about the Christian faith.
If avoiding inflexibility is one challenge, the corresponding challenge is to keep our faith from evaporating into steam. Anyone can form a social club or a social justice movement. But belief in Jesus Christ is the central component of all that we do. It is touchable – not just vapor to chase in vain and not hot air. We really do have significant content to teach.
If avoiding inflexibility is one challenge, the corresponding challenge is to keep our faith from evaporating into steam. Anyone can form a social club or a social justice movement. But belief in Jesus Christ is the central component of all that we do. It is touchable – not just vapor to chase in vain and not hot air. We really do have significant content to teach.
The Catechumenal Process
At St. Paul's Episcopal Church in Bellingham, Washington, we bring adults to the waters of the baptismal font through the catechumenal process. The Book of Occasional Services provides a rough sketch of the rhythm of the catechumenate. It includes a series of liturgical rites and their place in the church year, the basic content that should be taught, the importance of sponsorship, and the freedom to allow people to learn and grow at their own pace.
Paul Hoffman's book Faith Forming Faith elaborates on the process and describes best practices from the Evangelical Lutheran Church in America. The North American Association for the Catechumenate (NAAC) is another sound ecumenical resource.
After several years of offering the Catechumenate at St. Paul's, we have improved our sponsor-recruiting skills, involved a wider swath of parishioners, and trained more catechists. Each year contains both minor disappointments and major joys. We are learning that staying liquid can be joyful work.
The Bare Minimum
Some may feel that their congregations lack the resources to offer a catechumenal process, but size and money are not the issue. What do you really need?
An unbaptized adult.

For now, you're still more likely to find adults who want to be confirmed or received, but remember that the word

catechumen

refers specifically
to an adult preparing for baptism. It is good for those seeking a renewal of faith to learn and grow in community with catechumens, but if everyone in the room is baptized, it's technically not a catechumenal process.
A sponsor for each catechumen.

The sponsor should be central to the process, not an afterthought. I believe it's best for a clergy person to handpick a mature Christian to walk alongside a catechumen. Ideally, the role of a sponsor is not to teach content, but to serve as a model of the Christian faith who lives the content. This person should be prayerful, giving, humble, and willing to commit time and energy to listening and deepening a new friendship. A sponsor doesn't need to have all the answers but should know where to go to find potential answers.
Liturgical rites in the presence of a supportive congregation.

In most contexts, the catechumenal process will be a learning process not only for those directly involved, but also for everyone who hears about it. Catechumens should never be prepared anonymously, simply because nobody can be a Christian in a vacuum. Using the liturgical rites in The Book of Occasional Services create support in a congregation. Additional resources from the NAAC are also helpful.
A weekly meeting.

If you lack the resources to hold weekly sessions, a wise, well-trained sponsor can do the bulk of the work that would happen at a weekly meeting. In other words, liturgy in the presence of the congregation trumps the need for an established weekly "program."
The Pre-Catechumenate: Hot and Nourishing
The catechumenal process is big on prayer and community-building, but light on the teaching of content. This is something St. Paul's has wrestled with. Last year a young couple with literally no knowledge of Christianity came to us seeking baptism. They missed half the weekly meetings and didn't communicate with their sponsors. Immediately after their baptism they announced that they were getting divorced, and we haven't seen them since. Their faith—and their marriage—were mere steam, but they didn't know how to ask for what they needed. This couple needed formal, pre-catechumenal training.
This fall St. Paul's will add to the adult formation schedule a weekly meeting in which newcomers will be invited to learn about the Catechism in The Book of Common Prayer. Through open discussion of the most basic beliefs of the Episcopal Church, we hope to discover potential catechumens and confirmands and to be able to pair them with sponsors. When our catechumenal process begins later in the year, those who do commit to it will at least have engaged the basics of faith on some level.
Walking the Walk
We will not fill our time with seekers teaching them clichés and platitudes. Our fluid faith is made up not of hard pronouncements but a wide-flowing range of possibilities. We don't say, "God said it, I believe it, that settles it." Instead, we embrace a theology that helps us understand how God speaks to us through the Bible today.
The ancient Catechumenate links a commitment to learning with a hunger for liturgy. Hopefully, this combination will help develop the newly baptized and the congregation that supports them into disciples of Jesus who will keep learning new ways to proclaim the mystery of their faith.
This article first appeared in Episcopal Teacher:
Fall 2017, Vol. 29, No. 4, page 6-7
---