"The first time my grandmother ever saw a white person was when she was a young girl. She saw them coming and she ran and got her father who went to greet them. Before they left they burned down the sweat lodge where we prayed. A year later they came back for my grandmother and took her away to boarding school."
Unheard Stories Are Surfacing
The stories we began hearing from the elders and others in our community regarding the residential (boarding) schools that were set up over a century ago were often terrible, abusive, and deadly. When the news first came out about 215 unmarked graves found on the site of what was once Canada's largest Indigenous residential school near Kamloops, British Columbia, it felt like a dam was broken and many here started sharing their own family stories.
Time to Lament, Grieve, & Acknowledge Our Sin
On the Cheyenne River Reservation that we serve, we know that the Episcopal Church had two boarding schools at one time but those buildings along with many others from the old agency now lie at the bottom of Lake Oahe (Missouri River) because of the Pick–Sloan Missouri Basin (flood) Program of the 1960s.
So how do we grieve and lament for what has happened? We began by selecting resources from the Episcopal Church and the Anglican Church of Canada to use liturgy to help us with this. It seemed natural to use the collect (adapted) and the scriptures assigned for the Holy Innocents Day of December 28 (which we also used after the Sandy Hook Massacre in Newtown, CT in 2014).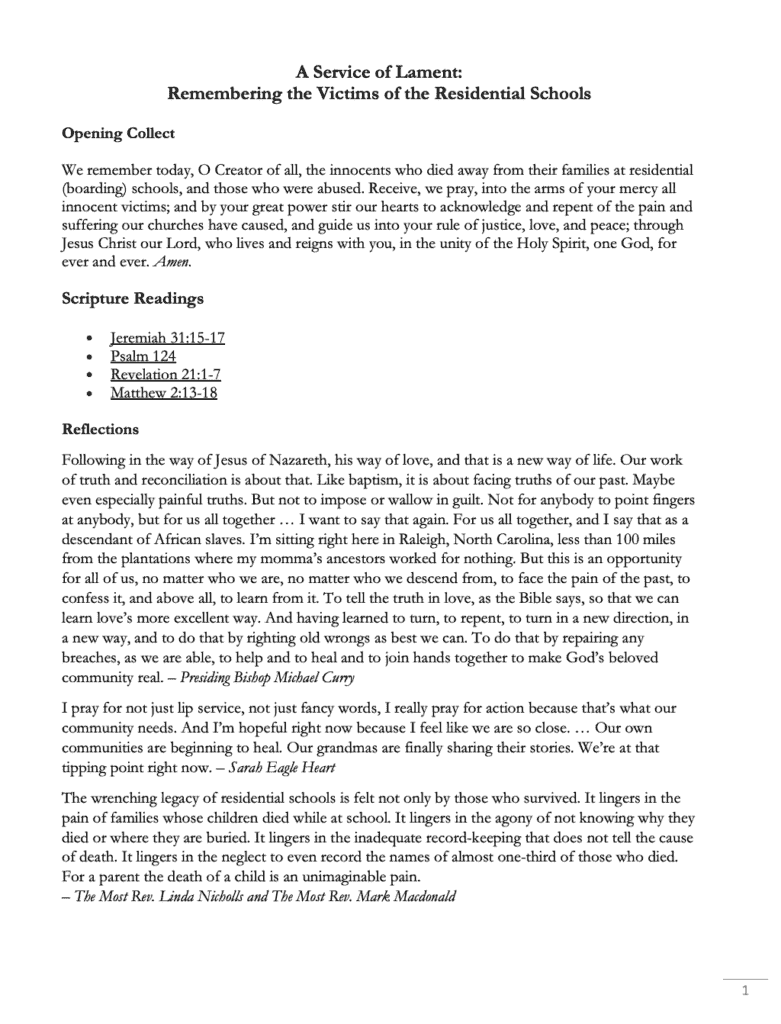 We designed the service to be used at any of our churches here and to be a resource as a service for any clergy or lay leaders at any parish that wants to lament the boarding schools and to remember the victims. Sadly, the church played a large role in the residential schools. It is time we acknowledge our sin of genocide against Native Americans and play our part in the healing of the nation.
To download A Service of Lament: Remembering the Victims of the Residential Schools, click here.
To watch a video of the service, click here.
Photo provided by The Rev. Kurt J. Huber and the Rev. Ellen B. Huber.
---
The Rev. Kurt J. Huber and the Rev. Ellen B. Huber are the superintending presbyters of the Cheyenne River Episcopal Mission, 12 churches, in the Cheyenne River Lakota (Sioux) Reservation in South Dakota. Cheyenne River is the 4th largest (by land) reservation in the United States (about the size of the state of Connecticut).
Cheyenne River Episcopal Mission is in the planning, building and fundraising stage for a day camp experience that will provide much needed activities for children and youth, support the repair of institutional and historical damage, and foster reconciliation between the Episcopal Church and the Lakota community by building relationships through actively integrating and uplifting Lakota centric activities. Click here for details or click here to give.