They will beat their swords into plowshares, and their spears into pruning hooks. Nation will not take up sword against nation, nor will they train for war anymore. –Isaiah 2:4
This November 11th marks the 100th anniversary of the end of World War I. Called 'The War to End All Wars,' it sadly has not. Below you will find a prayer and a short lesson for honoring those who served. I hope you also find them a way to honor the call of the prophets to build a lasting peace among all nations.
Praying with Poppies
The prayer below comes from a Church of England website that engages parents and godparents in the sacrament of baptism and encourages them to continue faith at home practices after baptism.
You can make paper poppies ahead of time or as a part of the lesson. Poppy designs can be elaborate or simple, there are two linked below.
Give each child a poppy and ask them to look at the parts of this striking flower.
Poppies are bright and cheerful flowers:
Say thank you to God for the lives of those who have died in war, remembering all the joy they brought to families and friends, and all the good things they did for their home and their country.
Then look at the red petals:
Red reminds us of danger and harm. Ask God to be close to those who are still facing danger each day, to give courage to the armed forces, and compassion to all who help others.
Place your whole hand over the poppy:
Poppies are also fragile and need to be handled gently. God cares for those who are hurting and those who are sad. Ask God to comfort all who are grieving the loss of someone they love.
Finally place a finger on the centre of the poppy:
Ask God to help you play your part in working for peace in the world.
©The Church of England, please cite when using
Playdough Poppies
Flame Creative Kids offers a lesson on poppies. Flame is a rich resource for scripture-based lessons and sensory prayer. Resources are usually tied to the liturgical year or the lives of children, and not necessarily to the Lectionary. Lesson plans frequently include a play dough mat that reinforces scripture with experience. Please click above for directions for this one, based on Revelation 21:4.
This lesson uses a poppy as a prop, and bubbles, if you want to add another level of sensory experience. Please note that while the author connotes "blood shed" with the red of the poppy, you can easily adjust it to "danger" or "harm" as in the prayer above. The complete lesson can be found here.
Point out the different parts of the poppy:
The color. Red petals are a reminder of the blood that was and is spilled in wars and the sacrifice of others.
The flower. Poppies grew on the battlefields and are a sign of new life and hope for the future.
The leaf. On many craft poppies, the leaf is set at 11 o clock position to remind us of the 11th hour of the 11th day of the 11th month when the armistice that ended the war was signed.  This is the day and the time we remember those who have died.
The dark centre. This is where the seeds are held- planting the seeds brings hope of new life.  We can help to bring about this new life, this vision of peace that God has.  We might think that we are remembering things from a long time ago, but actually this is something that we can be involved in now.
This verse describes a world with no more sadness, pain, war or suffering.  This is a place of peace.
Ask questions: What do you think peace feels like?  Looks like? How can we help to bring peace? In our families, in our school, in the world.
Say each line of the following prayer to the children:
We think of/ pray for all who are angry—bring them peace
We think of/ pray for all who are jealous—bring them peace
We think of/ pray for all who are greedy—bring them peace
We think of/ pray for all who hate—bring them peace
We think of/ pray for all who are afraid—bring them peace
Amen.
If you want to stretch your creativity a bit, Fifi Colston, a New Zealand multi-media artist, offers a poppy tutorial.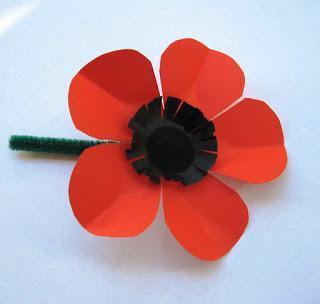 ---
Charlotte Hand Greeson shares her passion for formation as a manager, editor, and writer for Building Faith. In addition, she assesses curriculum for Lifelong Learning at Virginia Theological Seminary and speaks on formation on behalf of Lifelong Learning. Charlotte takes seriously Paul's injunction in his letter to the Romans to "Rejoice with those who rejoice, and weep with those who weep," living this out in social media ministry. A 23-year military spouse, she currently lives on Guam.