"With the Sunday School in the hall, members of the congregation saw the children every Sunday. Soon they starting asking the children questions about what they had done that day."
Renovations on the Education Wing
Like many churches, ours has Sunday School space in the basement. Like many churches, our Church School space has unhealthy mold. And in the way most things happen in the Church, we found this out just before Church School began last fall. Our only option was to combine our 6 year olds through 5th graders and gather them in our fellowship hall – a big space with a stage, and an adjacent kitchen.
We knew that others use the space throughout the week and that coffee hour takes place in the hall at the end of Sunday School. After our initial "how can we make this work?" reaction, my Christian Education Team and I tried to figure out how we might use the space effectively to engage our children and deepen their formation experience.  Here's are five things we learned:
1. Dream BIG
The stage became our focal point for the theme of the month's lessons. While it took effort on our part to do stage set-up, we created a visual space that invited the kids to actively engage the lesson.  They made a Creation mural using different media, walked a labyrinth of prayer (See "Praying Obviously"), went to jail with Paul, and "fished for people" from a wooden boat.
2. Worship is Portable
As many other groups use this same space both on Sunday and during the week, we could not always be guaranteed a space to worship with the children. A portable cabinet on wheels became our altar. We stored everything we needed in the cabinet.  "Worship-to-Go" allowed us to not only worship in whatever portion of the hall was available, but also to roll down the handicap ramp and worship outside when the weather cooperated.
3. Visibility Builds Relationships
With the Sunday School in the hall, members of the congregation saw the children every Sunday. Soon they starting asking the children questions about what they had done that day. They watched our Creation mural develop over several Sundays, read the words written on the doves of hospitality placed in the tree with Zaccheus, and watched us turn a sword into a plowshare.  Members of the congregation took more initiative in connecting with the kids.  New relationships were built.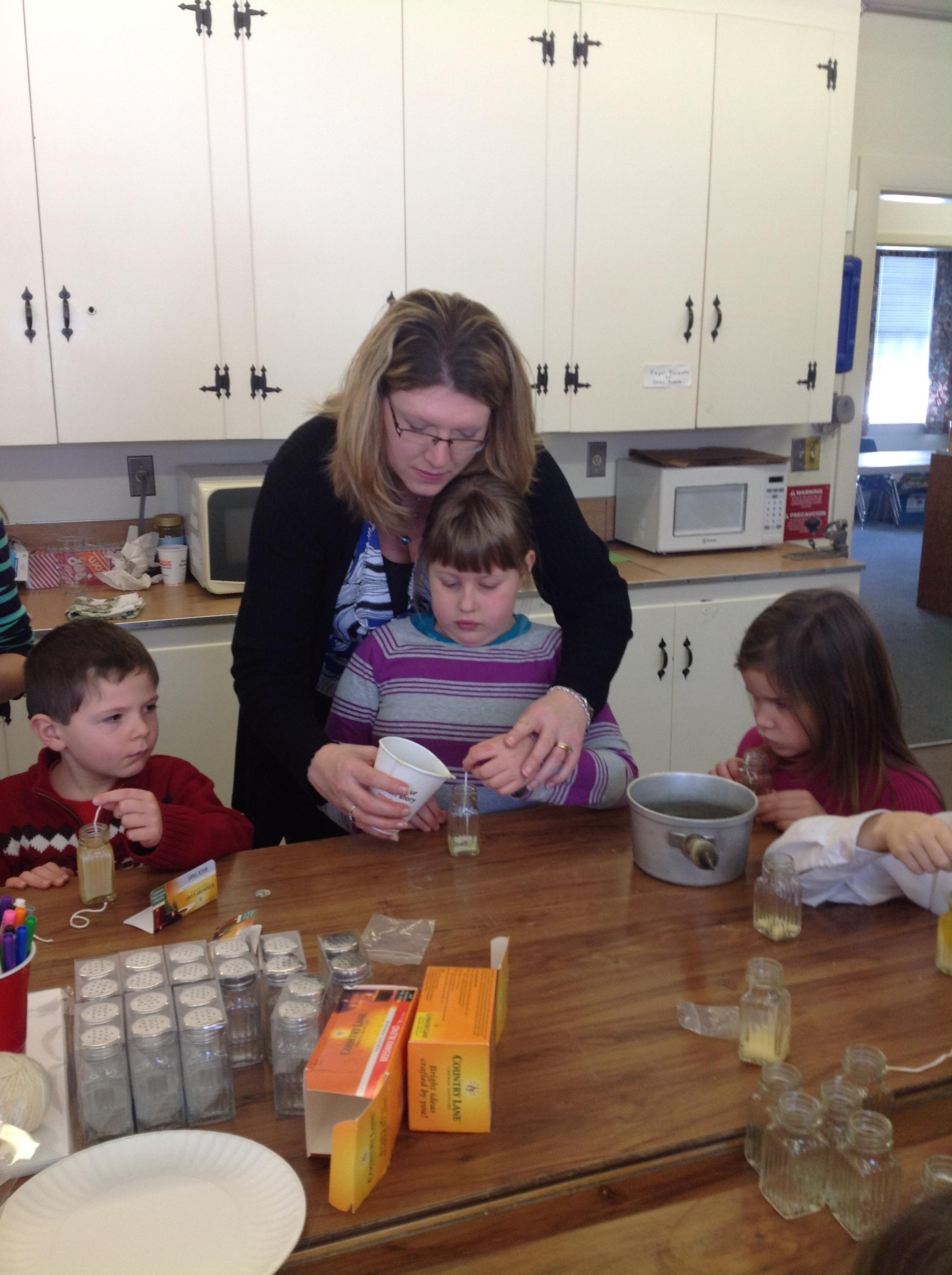 4. Be Open to New Possibilities
We were nervous about the kitchen, as other groups use it on Sunday before worship and Sunday School, but it turned out to be an asset.  We expanded the ways in which we invited the kids into more creative exploration of the lesson.  In the lesson about being "the light of the world" and "the salt of the earth," we made candles in salt shakers – something that would never have occurred to us had the kitchen not been in view.  We baked earth-shaped cupcakes to celebrate creation and shaped "pretzel prayers." Plenty of adults on hand kept kiddos safe around the oven and stove.
5. Embodied Learning is Empowering
The open space of the Hall allowed us to invite kids to use their bodies in ways our classrooms never permitted.  The kids walked a path of Christian words, played blob tag, prayed with their bodies, and had space to sing and dance.  They loved creating big movement to go with the music we sing each week. We were able to use stations for age-appropriate crafts while intentionally engaging our kinesthetic learners. It also worked well for those with sensory integration disorders through deep-pressure activities (rolling the altar into place each Sunday and returning it to storage space became the valued contribution of one child with Asperger's), and other sensory movement.
The Benefits of Bringing Sunday School Into the Open
What began as "making-do" quickly became our preferred way of doing Church School.  Our children had an amazing year of faith formation, and the congregation came to know and value what our children experience in Church School. Adults who were not comfortable teaching felt they could melt candle wax, lead a game, or build an Epiphany star of yardsticks.
Plans are underway to renovate our building.  Sunday school space will eventually be re-claimed. But as a result of this year's experiment, we know we want a space that allows us to engage all of our children's senses in exploring their relationship with Jesus.  When told that much of the space we used this year will also be renovated, and that Church School will be regularly relocated for the next few years, our response was, "Wow – Church-School-to-Go!  We can do that!!"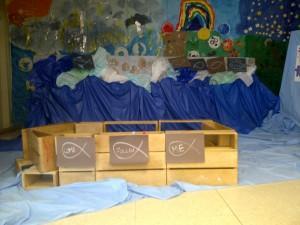 ---