Across the church formation professionals have done an incredible job adapting to our new ministry realities in light of the COVID19 pandemic. Many of us have gained technological skills we never knew we would need. There are many good and effective ways to form faith in digital spaces, but with so much of our daily lives moving online from work to school to socializing, many folks are looking for off-screen ideas for faith formation. The ideas below were shared during a webinar with panelists Samantha Clare, Imani Driskell, and Sarah Bentley Allred.
Handwritten Notes
Pandemic Pen & Prayer Pals (P4) – Pair up folks in your congregation to serve as prayer partners and pen pals. You could do this for a season (like Advent) or have it be ongoing. Here's a sample introduction letter you could provide the pairs. Thanks to Rachel Sosebee for this sample letter.

Intergenerational

Write to Young Children – When you send notes to children, don't forget the infants & toddlers! Imani Driskell suggests when you write to young children, call the parents and asked them to read the notes aloud. Imani was a little hard to hear on the webinar, here's a transcript. Children

& Family

Round Robin Letters – The first person writes a letter and sends it on, the second person adds their letter and sends both on. The third person adds their letter and sends it on, so too the fourth. The fourth person sends all the letters to the first person, who removes their old letter and writes a new one, beginning a new cycle. As each person receives the letter they replace it with a new one. Thanks to Linnae Peterson for this idea! Youth

/

Intergenerational

Send Jesus or Saint – Create a picture of Jesus or a Saint and have him visit with a household for a week. Include a journal for the household to tell what Jesus did with them that week. Send it back to the church or ask them to send it on. Thanks to Linnae Peterson for this idea!

Children & Family

Outreach Oriented Letters – Vicki Zust worked with local nursing homes to provide her congregation with a list of names and addresses of folks who would enjoy receiving a letter. Read more here.

Youth

/

Intergenerational
Faith At Home Boxes
Sacred Space Box – Candle, small wooden cross, prayer/scripture card, fabric.

Intergenerational

Rosary Making Kit – Instruction sheet, beads, wire or string, prayers.

Children & Family

/

Youth

/

Adult

/

Intergenerational

Table Talk Kit – Family Conversation cards, small box to decorate to hold cards, meal time prayers or prayer cube. Thanks to Dana Yates Hale for this idea!

Children & Family

/

Youth

Gratitude Kit – Strips of paper (red, orange, yellow) to write daily gratitudes and create paper chain, tape, tea bags, hot chocolate packets, mulling pieces for apple cider. *Gratitude Café – gather once a week with a special beverage to write gratitudes (from Faithful Families by Traci Smith p. 18). Thanks to Dana Yates Hale for this idea! Children & Family/

Youth

/ Adult /

Intergenerational

Godly Play Response Materials – Construction paper, glue stick, chalk, clay, stickers, tissue paper squares, contact paper. Links and more information here.

Children & Family

Way of Love Box – Journal, The Very Best Day book, clay, strips of paper and glue stick, and wooden hearts. Prompts and curriculum from Vicki Zust.

Youth

Mission Oriented Box – Households could work together to create blankets for the Linus Project or send cards to nursing homes. Box could include a trash bag so households could pick up trash in their own neighborhood. Read more here.

Children & Family

/

Youth
Print Resources
Mac Packs – Envelopes sent to seniors on Monday including announcements, a CD or DVD of worship, etc. to help them feel connected.

Older Adults

Spiritual Practices Booklet – A 13-page guide to at home spiritual practices for adults. Includes Lectio Divina, centering prayer, Daily Office, Ignition Examen, Anglican Rosary, labyrinths, and recommended reading. Thanks to Samatha Clare for this resource!

Adult

/

Older Adults

Book Lists – Offer curated book lists, for example, children's books for All Saints Day, a list of devotionals for teens, or adult devotionals for Advent.

Children & Family

/

Youth

/

Adult

/

Older Adult
Activities for Church Campus
Paint Prayer Rocks – Set up a prayer rock painting station at church. Perhaps for deceased pets. It can be as simple as a plastic container with smooth rocks and a plastic container with paint pens, baby wipes, hand sanitizer, and a laminated prayer card.

Children & Family

/

Youth

/

Intergenerational

Prayer Ribbons or Board – Set up a space and physical way for folks to offer their prayers on your church campus. This might look like a big chalk board, prayer ribbons tied along a fence line, or prayer ribbons attached to string which is tied to tree branches and anchored to ground with tent pegs.

Intergenerational

Scavenger Hunt – Set up a scavenger hunt on your church property

Children & Family

/

Youth

/

Intergenerational

For

All Saints Day

you might laminate 5-10 images of Saints, tape them to steaks, and hide them around your property. You could include a few sentences about each Saint under the picture or a trivia question.
Love Hunt from the One Thousand Days of Love Campaign by Episcopal Relief and Development.
During

Creation Season

you might create a list of natural things to search for around your church/neighborhood. You could print out the scavenger hunt and leave it in a plastic box with pens and hand sanitizer. Ideas here!

Gardening – Create a church garden and have households sign up in pairs to plant, water, and weed.

Children & Family

/

Youth

/

Adult

/

Intergenerational

Rock Carins – Rock cairns are human-made stacks, mounds or piles of rocks. They are used in many ways, including on burial sites. You might invite your congregation to create one or multiple cairns on your church property to mark the losses of this season. Intergenerational
Labyrinth – Create a labyrinth on your church property, it could be temporary or permanent.

Adult

/

Older Adult

/

Intergenerational

Parades & Church Drive Through Events – Many churches have already hosted celebratory parades (for example to mark the end of the school year) or Drive Through Events (for example to hand out materials for the beginning of the program year).

Children & Family

/

Youth

/

Intergenerational

Such events would be a great way to celebrate

Halloween

or facilitate a physically distanced

Blessing of the Animals

.
Consider inviting folks to decorate the parking lot with chalk drawings or prayers before the event.
Stations seem to work well for this type of event.
A drive through event would also work well for an

outreach

event like a food drive (canned food, diapers, hats/gloves, etc.).

Luminaries – Invite members to decorate white paper bags and then set up luminaries at the church and invite members to drive by and look at them.

Children & Family

/

Youth

/

Intergenerational

Little Free Library – Reach out to to your neighbors through a Little Free Library. You can build your own or purchase one from the website! Thanks to Annalise Castro Pasalo for this idea!
Physically Distanced Outdoor Activities
Walking or hiking – Small groups could gather for a masked, physically distanced walk or hike.

Children & Family

/

Youth

/

Adult

/

Intergenerational

Lawn Games – Outdoor games and activities such as croquet, frisbee golf, chalk drawing, and bubbles could be facilitated in physically distant ways.

Children & Family

/

Youth

/

Intergenerational

Drive In Movies – An inflatable screen costs about $250 from Amazon. Do make sure to follow licensing guidelines.

Children & Family

/

Youth

/

Intergenerational
More Ideas!
Quilt/Altar Cloth – Have any quilters in the parish? Send out blank quilt squares and have folks mail them back to the quilter. This could be a meaningful way to celebrate a long-time church staff member, create a piece of collaborative art for your building, or collaborate on an altar cloth for a particular season.

Children & Family

/ Youth/

Intergenerational

Parish Cookbook – Gather favorite recipes for folks in your congregation and create a parish cookbook.

Adult

/

Older Adults

Trek or Treat – Resource for a socially distanced Halloween celebration.

Children & Family

/

Youth
Webinar Recording
Panelists & Host
Imani K. Driskell was born and raised in the Flatbush neighborhood of Brooklyn, NY. While growing up, Imani thought of Prospect Park as her personal backyard because it was only six blocks away from her home. Currently, Imani serves as the Director of Children's, Youth and Family Ministries at St. Michael's-in-the-Hills Episcopal Church in Toledo, Ohio. Imani enjoys leading ministry with children and youth from pre-K through high school. When not engaged with others, Imani likes to read, run 5Ks and try out new recipes.
---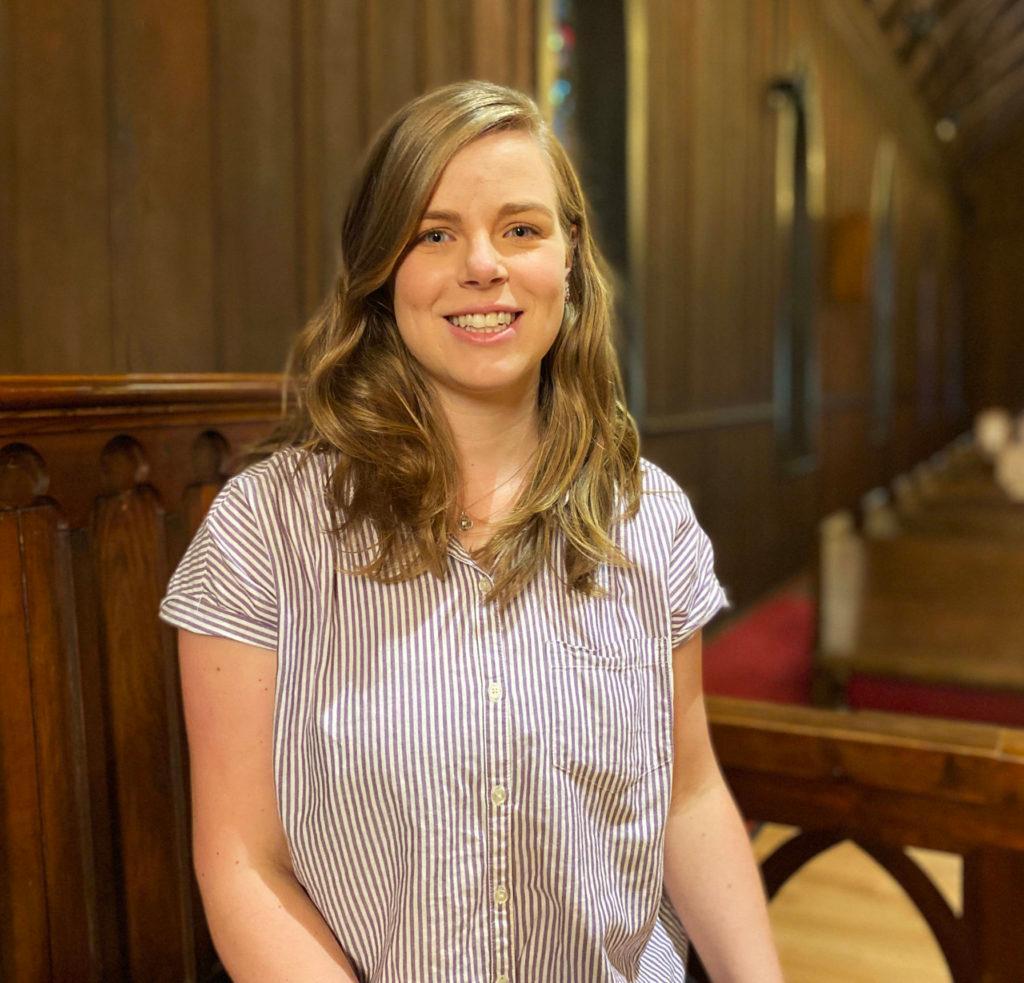 Samantha Clare coordinates formation programs across the whole life-span at St. Paul's Episcopal Church in Fayetteville, Arkansas. She collaborates with the staff and parishioners to develop opportunities for members of the congregation to grow in faith as disciples of Jesus. She is passionate about equipping people to live full and authentic lives as the hands and feet of Christ in the world. She serves on the Diocese of Arkansas Commission on Ministry, is an active member of Forma: The Network for Christian Formation, and is a collaborator on a variety of church-wide and denominational initiatives. Samantha lives a full and beautiful life with her husband, step-daughter, baby, two dogs, a cat, and a beautiful garden at their little house overlooking the White River.
---
Sarah Bentley Allred received her MDiv. from Virginia Theological Seminary in May 2019. She now serves as Director of Children and Family Ministries at St. John's Episcopal Church in Wake Forest, North Carolina and as the Associate for Christian Formation and Discipleship for Lifelong Learning. Sarah is passionate about children's spirituality, intergenerational worship, and small church formation. She loves local coffee shops, board games, the beach, and exploring new places with her husband, Richard, and their dog, Grace.