Here's an idea worth considering—host a reading camp for children in need of reading assistance.
This summer St. Martin's-in-the-Fields in Columbia, South Carolina hosted the inaugural day-camp version of an established reading camp held at our diocesan summer camp. Camp AIR, or Adventures in Reading grew out of our bishop's public education initiative. (The effort involves a network of South Carolina bishops who have committed their denominations to partnering with South Carolina's public schools through camps, tutoring in Title I schools and other efforts.)
The day camp was designed specifically to reach more children, many of whom are reluctant to attend an overnight camp even when scholarships are provided. A day camp eases them into a relationship with your congregation, and, we are learning, greater comfort in attending the overnight camp later.
Creating a Day Camp: Staff, Kids, and Structure
St. Martin's committed to one week in the summer.
We hired four certified teachers in order to ensure ongoing support from the local school districts. Our teachers also included a certified elementary school librarian. This is not essential, but our congregation is lucky to have one among us. She read dozens of the books we offered in our library ahead of time and gleefully told the children about each book.
Children were recruited through community schools with whom our diocese has a tutoring relationship.
We prepared for 25 campers but had 12. In the end, that wonderful biblical number of 12 was just right. Our students needed a lot of special attention; perhaps if we'd had any more than 12, we would have been in over our heads.
The five days of camp were structured the same.
Each day was organized around a breakfast snack, three hours of morning instruction time, lunch, afternoon reading and rest time, and activities overseen by parishioners. All instruction and activities centered around the book chosen for both camps—ours and the overnight camp. Wishtree by Katherine Applegate provided a perfect opportunity to talk about nature, relationships, and how a community comes together when it listens to its children. Activities throughout the week included creating our own wish tree (a tree upon which wishes are tied), nature walks, building bird feeders and creating masks—because we all wear masks in our lives.
Our last day included special food and the opportunity for campers to pick books from our library to take home and start their own libraries. The last day also included tears and hugs – after a long, hard week, we had become friends, just like the families in Wishtree.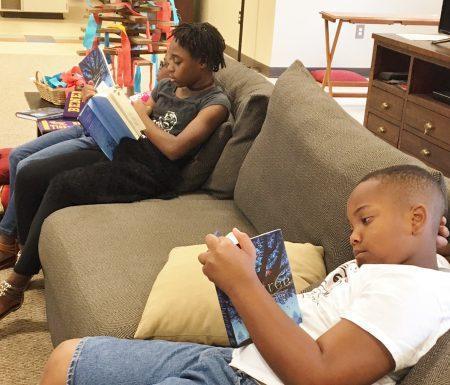 Three Important Learnings
Firmly establish a covenant/ground rules at the very start of camp and refer to it often. Each child had signed a covenant, but when transportation caused a delay for us on that first day, we pushed ahead into instruction without taking the time to really establish rules, understandings, and boundaries. Had we stuck with our original plan, we likely would have had fewer problems and we would have been able to refer students back to the rules, asking, "What did we decide we would do this week?" or "What was the understanding about the use of outdoor space?"
We ran from 8 am to 5 pm in order to help working parents, but the day was long for children and camp staff. Many of them have little structure in the summer and stay up very late at night. We recommend 8 am to 3 pm for future camps, though the need of parents may override this.
We initially thought with only 12 children, we would do instruction time as a group. We quickly learned that even smaller groups were essential. We created groups of 3 and rotated them through 40-minute segments with each teacher.
Questions to Consider in Creating a Camp
How did the campers get to the church?
Our school district provided a bus for these students, picking them up at two locations, and returning them from the church in the afternoons. We also had some parents handle their own transportation.
Who paid for the camp?
Our parish was fortunate to have some funds set aside for major outreach projects this year. We paid each teacher $500, which totaled $2,000. And then we had about another $1,000 budgeted for expenses.
We also applied for and received a Miles of Pennies grant for books and educational supplies from the Church Periodical Association. This $700+ grant from the Church Periodical Association helped us tremendously.
We charged $25 per child and freely offered to cover that. About half of the students paid.
We had hoped to save money on food by using a summer lunch program at the public middle school across the street from our church. The campers ate lunch there for the first three days, but we were so dissatisfied with the quality that we ordered pizza on the fourth day. Fortunately, a special lunch was already in the works for our last day. Breakfast snacks (fruit, granola bars, yogurt) were eaten eagerly as were afternoon snacks. Many of these children were hungry and we made sure they ate while they were with us.
The camp's total expenses ran at about $3,600 or about $300 per child. While we ran over what we had budgeted, we were fortunate to have been given some contributions that offset our costs.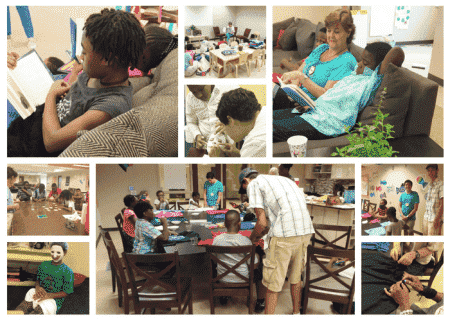 What Happens Next?
We held a debriefing session two weeks after the camp with teachers and volunteers. St. Martin's plans to repeat the camp next summer. We also hope others in our diocese will do the same. Maybe your parish can, too. If you would like to talk with us more, contact the Rev. Susan Heath with the Fellowship of South Carolina Bishops at 803.771,7800 or Allison Askins.
---