"People will find it easy to say, "Hey, my church is blessing backpacks this Sunday – would you like to come?" This could be one of the best evangelism opportunities of the year!"
Churches and the School Year
It's that time of year… They're going BACK! Back to school, that is. Around the country, some students return to classrooms in August, while other start in late August, or the first week of September.
Churches should absolutely honor and bless students and teachers at this important time. One popular method is a "Blessing of the Backpacks" ceremony. This is a very simple event which can make a HUGE impact. Here are our tips and suggestions:
1. Include the Blessing in Your Worship Service
Embracing children and youth is the role of the entire worshipping body. So the Blessing of the Backpacks should be done in front of as many people as possible.  If your church has multiple services, consider having the event at all of them.
As for timing. Don't put the blessing at the very beginning of the service, in case a family runs late and misses it all together. However, DO invite children to bring their bags up front before the service beings. First, this prevents kids (and parents) from having to juggle bags in their seats during worship. Second, the pile of colorful packs makes a wonderful visual in front, reminding everyone how much your congregation cares for children.
2. Invite the Neighborhood
If you have enough lead time, DO encourage your congregants to bring their friends. People will find it easy to say, "Hey, my church is blessing backpacks this Sunday – would you like to come?" This could be one of the best evangelism opportunities of the year! Also, if your church has a connection with a local school or after-school center, invite them too. You might even take out an ad in the local paper. At the very least, publicize the event on facebook and through email. You will be surprised how many people turn out.
3. Use a Prayer or Liturgy for the Blessing
When the blessing time comes, the celebrant can simply call students forward and offer a prayer. Have the students hold up the packs during the prayer. If you are looking for a good prayer, see Blessing Backpacks Prayer by Wendy Barrie. For a short liturgy from a service held at Virginia Seminary, see Blessing of the Backpacks at VTS.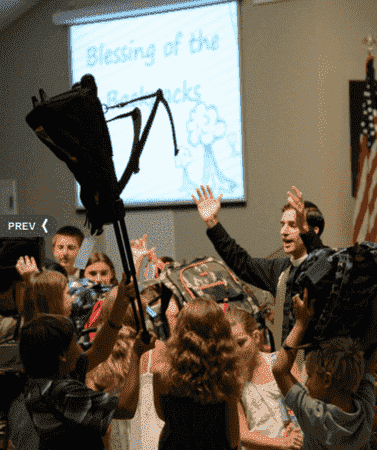 4. Make Bag Tags
Make sure that your students remember the blessing event and how much God loves them. Making "bag tags" is easy, and you can personalize them exactly as you want. Simply print out tags on colored paper or cardstock, and then laminate them with 'luggage tag' laminating pouches.
What to write on the tag? Try a prayer for students. Or a scripture verse. WWJD works great too. Also, include your church name on the tag so the students know how much your community values them. "From your friends at ______ Church" is perfect.
5. Remember Teachers and Adults
Blessing the backpacks is not just for the kiddos. College students, come on down! Adults headed back to school, you too! Teachers, YES! Make this invitation clear in the pre-event publicity, and encourage adults to bring their bags or briefcases. Of course, even if some folks, or kids, forget their bags, still invite them up front during the blessing. After all, it is really a blessing of people – you don't need a bag to get blessed =)
A quick note, we do not recommend this as a time to bless and commission Sunday School teachers. That special moment should be separate and distinct, and probably on a different Sunday.
6. Incorporate Outreach
Some churches have programs of buying backpacks for needy students and filling them with school supplies. If possible, bless those bags during the event as well. Who knows, this might even blossom into an opportunity to invite and welcome those students to church.
Enjoy, have fun, invite, and let those students know how much Jesus loves them!
---
Matthew Kozlowski manages, edits, and writes for Building Faith. He lives in Alexandria, Virginia with his wife Danielle and two young daughters. Throughout his career he has been a teacher, camp counselor, school chaplain, camp chaplain, Sunday school teacher, parish priest, and Alpha coordinator.
Featured photo from Flickr by Kookoo Bear Kids, CC BY-NC 2.0 . Additional photos from St. Mary's Church, by Thomas Winter, all rights reserved.