"In Epiphany, notes encouraging people to 'follow the light' were found on windshields during those cloudy, dark winter days."
Putting Faith in Action
Recently, our church did some re-visioning work for our Christian formation program. One of the outcomes was the following goal: "To build relationships with each other based on shared values and experiences, modeling Christian behavior daily." In other words, to put our Faith into Action.
In addition to various outreach campaigns, the fifth graders had an idea to put blessings on cars in the church parking lot. A background note: our church is located in a busy town, and we have the largest open parking lot in our community. On any given day, many people park in our lot – some parishioners, and many community members who may not know about our church.
Car Blessing
"Car Blessings" at St. James, Marietta, are uplifting original messages of love and faith, informed by the season of our church year, written by our fifth graders, and left under the windshield wipers of the cars parked in our lots on occasional Sundays. The idea came from a news story about a college student who mentors elementary children and encourages them to write poetry, leaving their verse on the windshields of cars in the neighborhood.
Our mission started in early December 2016, so the first "car blessings" focused on Advent. "Be preprayered, for Jesus is coming" was one example of a card written by the fifth graders. As the year progressed, the blessings changed. For example, in Epiphany notes encouraging people to "follow the light" were found on windshields during those cloudy, dark winter days.
Later in Epiphany, the fifth graders presented a lesson to the younger children on the art of writing "Car Blessings" so that everyone could be involved. Then, together, the children headed for the parking lots to distribute their blessings. At that point, St. James parishioners were asking for – and eagerly awaiting – more "Car Blessings!"
We've had so much fun with it, and the younger children have very insightful things to write, too. They take it so seriously! Finally, parishioners have been so appreciative that many have sent thank you notes back to the children.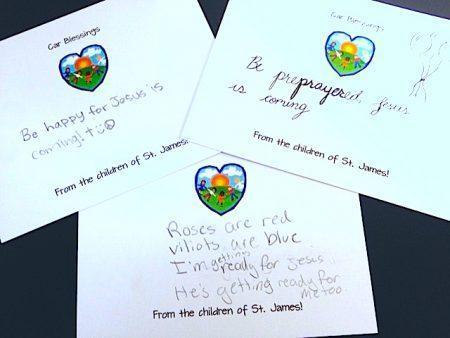 Three car blessings for Advent
Proud fifth graders with their blessings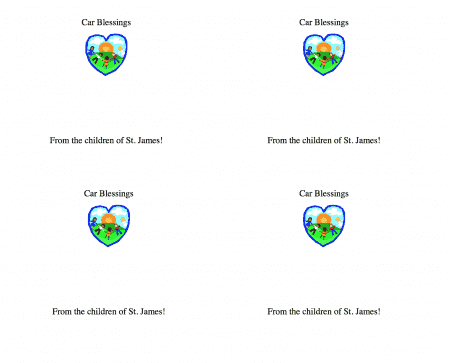 Car blessings template example