"The Ascension is essentially the flip side of Christmas. In December, we celebrate how the divine enters our ordinary human lives. In May, we honor how all that is ordinary, corporeal, and human is gathered up into God's divine life. And especially this year—when we have witnessed the weakness of human bodies in this pandemic—I think we need this reminder. We are destined for glory, however messy or grim our situation looks in the present moment." ~ The Rev. Anne Michelle Turner
Grace Church Ascension Day Airport Adventure
At Grace Episcopal Church in Alexandria, Virginia, our Ascension celebration in 2021 was the idea of our new rector, Mother Anne. What if we gathered for an outdoor service AT THE AIRPORT? Well, not AT the airport, but at the park just north of the airport where the planes fly over just after taking off or before landing (Gravelly Point for those familiar with the D.C. area).
The Details
We invited members of all ages to gather at Gravelly Point at 6:00pm for fellowship and "looking upwards."
Members were invited to bring a picnic and leashed pets.
We closed our time together around 6:45pm with a brief liturgy.
The Prayers
We did not plan an entire liturgy. But Ascension is a high holy feast day in our Anglo-Catholic parish, and we wanted something special to mark this way to gather. We used some prayers that pointed to the meaning of the day—the Collect, of course (we're Episcopalian!), and then one from the New Zealand Prayer Book.
Telling the Story
In between, we invited our group to tell the story of Ascension round-robin style, with every person asked to use the next consecutive letter of the alphabet. (Please note, we had NOT warned them ahead of time that we were going to do this! It might be loving and life-giving first to invite folks to read Luke 24:44-53 and Acts 1:1-11, if you try this method.)
I opened with the easiest sentence ever: "Today, we are going to tell the story of Jesus' "A"-Ascension to God." Some people improvised and added their own spin to the story; they also opened up a little bit of competition. Sentences got progressively longer as storytellers sought more words beginning with their special letters. (See what we did there?) It was fun. It was funny. It told the story with a lot of modern touches, in between planes taking off overhead.
This year, we are gathering together in person both indoors and outdoors on Sundays. And still, we will likely repeat this event, weather permitting. It made the story so much more memorable and visual, and that is always a powerful thing.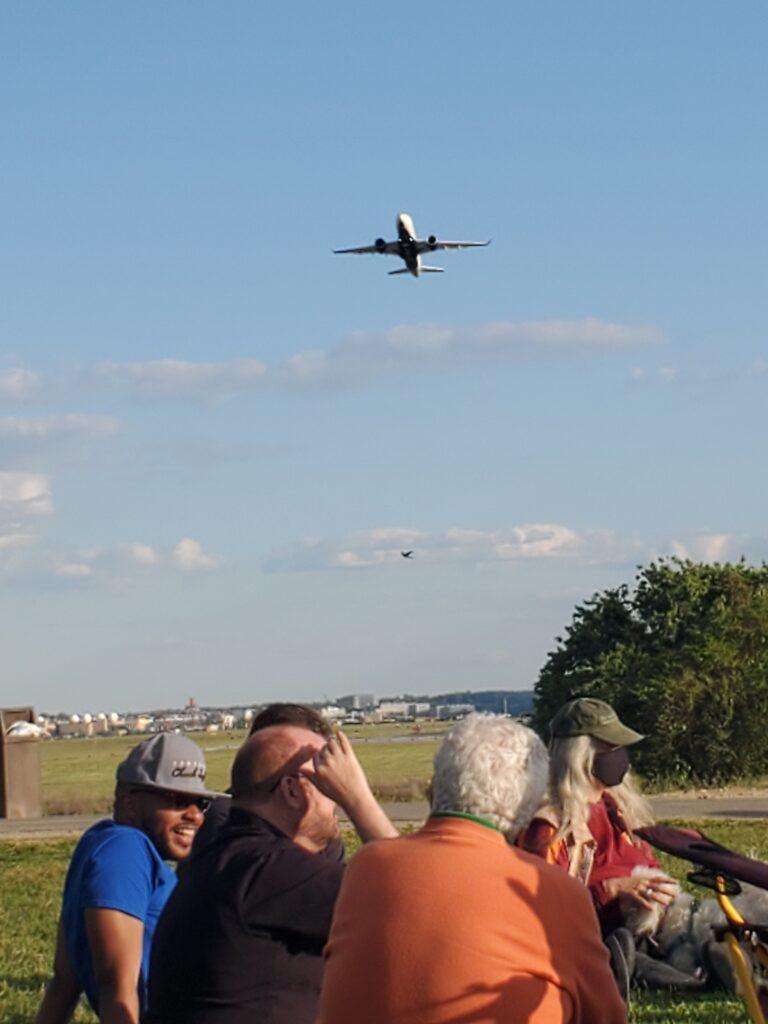 Ascension Day Airport Liturgy
Officiant: The Lord be with you.
People: And also with you.
Officiant:
Let us pray. Almighty God, whose blessed Son our Savior Jesus Christ ascended far above all heavens that he might fill all things: Mercifully give us faith to perceive that, according to his promise, he abides with his Church on earth, even to the end of the ages; through Jesus Christ our Lord, who lives and reigns with you and the Holy Spirit, one God, in glory everlasting. (BCP, p. 226)
Group storytelling with each person using the next letter of the alphabet in at least one word in their sentence. "The story of the "A" Ascension of Jesus."
Officiant: Let us pray (in silence) that we may consciously live in the presence of the Risen Christ.
Pause
Grant, we pray, almighty God, that we, who believe your only-begotten Son, our redeemer, ascended this day to heaven, may also in heart and mind there continually dwell; through Jesus Christ who is alive with you, in the unity of the Holy Spirit, one God, now and for ever. Amen. (from https://liturgy.co.nz/ascension-day-4)
---
All photos provided by author.