We know that engagement with the Bible is critical to faith development at all stages, and a tremendous variety of children's Bibles are available on the market today. However, the quality of these options varies, and of course different Bibles best serve different needs. So, what should you consider in choosing a children's Bible?
Choosing a Children's Bible: What to Consider
How You Plan to Use It
Is this Bible for a child to read on their own, or will someone likely be reading to them? Will a family or group be using it together and talking about it, or will it be more for personal use? If it's for a child to read on their own, something on the child's reading level would be most appropriate, while a more advanced reading level would work well if an adult or older child will be reading it out loud. For families, Sunday Schools, or groups who want to read together, features like conversation-starter questions will be especially helpful, and having multiple such "extras" for each story may be an added benefit. These types of features may carry less weight in choosing a Bible intended for individual use.
Story Bible vs. Full Bible
Younger children will best engage with story Bibles, which are paraphrases of Bible stories condensed and modified to make them engaging and understandable for children. They typically include pictures to support the telling of the story. Of course, eventually children will transition to using a full Bible, which includes the full text of the Bible in traditional format, with few or no pictures. Story Bibles are a great option for children of all ages, and even after they begin using a full Bible, many children will enjoy reading from story Bibles as well. There is no set age at which a child should start to use a full Bible, but in general, when a child is comfortably reading chapter books with few or no pictures, or when they begin to express curiosity about full Bibles, it's appropriate to help them explore an age-appropriate full Bible in a translation that is accessible for their reading level.
How the Pictures Shape the Story
In story Bibles, the images contribute as much to children's understanding of the story as the words do. Because of this, it is important to choose Bibles with images that engage children at their age range and that accurately reflect the story, including portraying Jesus and other characters as dark-skinned. All of the selections here either portray all Biblical characters with the historically appropriate skin color or include a wide variety of ethnicities in the imagery so as to help children see themselves reflected in the stories.
Twelve Bible Recommendations By Age
Here, I've categorized the Bibles by approximate age range, but keep in mind that these ranges overlap and that in some cases, Bibles from a different category would be more appropriate for a child in a particular age range. Top all-around picks in each category are noted in parenthesis.
Toddlers & Preschool
Children of God Storybook Bible (Top Pick)
Desmond Tutu (Zondervan, 2010)
This story Bible includes beautiful full-page illustrations from multiple artists. Each story is given a two-page spread, and includes a question at the end to prompt children to share their thoughts on the story.
Highlights: Pictures include people of many different identities, so children will see someone in the pictures who mirrors them. 56 total stories present a very good selection, especially for this age range. Format will engage children through the early childhood years. Open-ended questions for each story create space for more conversation.
Drawbacks: Though typical of Bibles for this age range, having only 1 picture for each story limits children's ability to follow the narrative through images. Format not as sturdy as some other options in this age category.
The Bible for Young Children
Marie-Helene Delval (Eerdmans Books for Young Readers, 2010)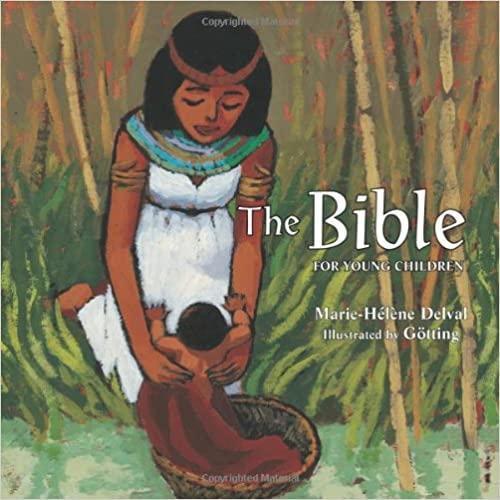 In this story Bible, children's author Marie-Hélène Delval (Images of God for Young Children, Psalms for Young Children) applies her characteristic highly accessible writing style to 9 Bible stories (which actually cover a wider range) that will introduce young children to key stories from scripture and help them begin to see connections between stories.
Highlights: Multiple beautiful, gentle images for each story support children's understanding of the narrative. Large text with plenty of white space makes this a good choice for early readers.
Drawbacks: Fewer stories than many story Bibles intended for this age range. Some families may prefer to avoid the masculine pronouns used for God in this Bible.
Frolic Preschool Bible
Lucy Bell (Sparkhouse, 2017)
This story Bible features cartoon-style pictures and lively retellings that will engage children through the early childhood years.
Highlights: A large selection of stories (20 from each Testament) for a Bible for this age range. Multiple pictures per story. Each story includes a one-sentence takeaway that affirms the message of the story in a way easy for children to understand. Size is easy to manage for small children
Drawbacks: Scripture references are not included. A large amount of small text on each page makes it less accessible for beginning readers.
Deep Blue Toddler Bible
Daphna Flegal (Abingdon Press, 2017)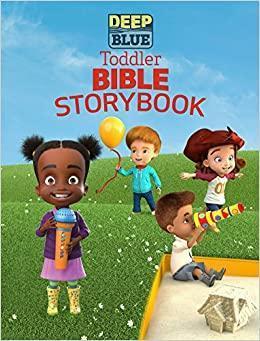 This story Bible board book features vivid, sharply drawn, cartoon-style pictures, and each story has a "Tiny Prayer" that reinforces the message of the story
Highlights: Format is easy for small hands to handle and will hold up well. Lively retellings will engage small children
Drawbacks: Limited range of stories, with only 19 total and only 4 from the Old Testament. Text is very small and dense for a board book, making it less accessible for beginning readers. Style of art may be better-suited for older children. Includes the Resurrection story but lacks attention to stories of the Last Supper or Jesus's death, which other story Bibles for this range handle in an age-appropriate manner.
Preschool and Early Elementary
Shine On: A Story Bible (Top Pick)
(MennoMedia, 2014)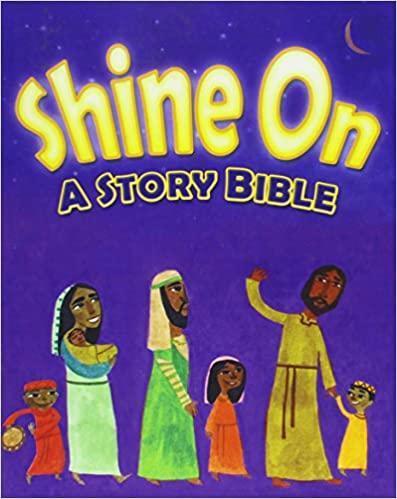 This story Bible features a two-page spread for each story, with illustrations contributed by a variety of artists and multiple "extras" per story. This Bible would be a great pick for introducing children to the concept of a study Bible.
Highlights: Over 150 selections, including non-narrative pieces like Psalms and readings from the prophets. Stories are well-balanced between the Old and New Testaments. Each story includes 3 "extras" to engage children: a fact related to the story, a "Wonder" question, and an invitation for children to connect the story to their lives.
Drawbacks: As noted above, having only 1 picture per story limits the storytelling potential of the images, though this is less important in books for this age range. Some may find the varied illustration styles disjointed.
Celebrate Wonder Bible Storybook (Top Pick)
Brittany Sky (Abingdon Press, 2020)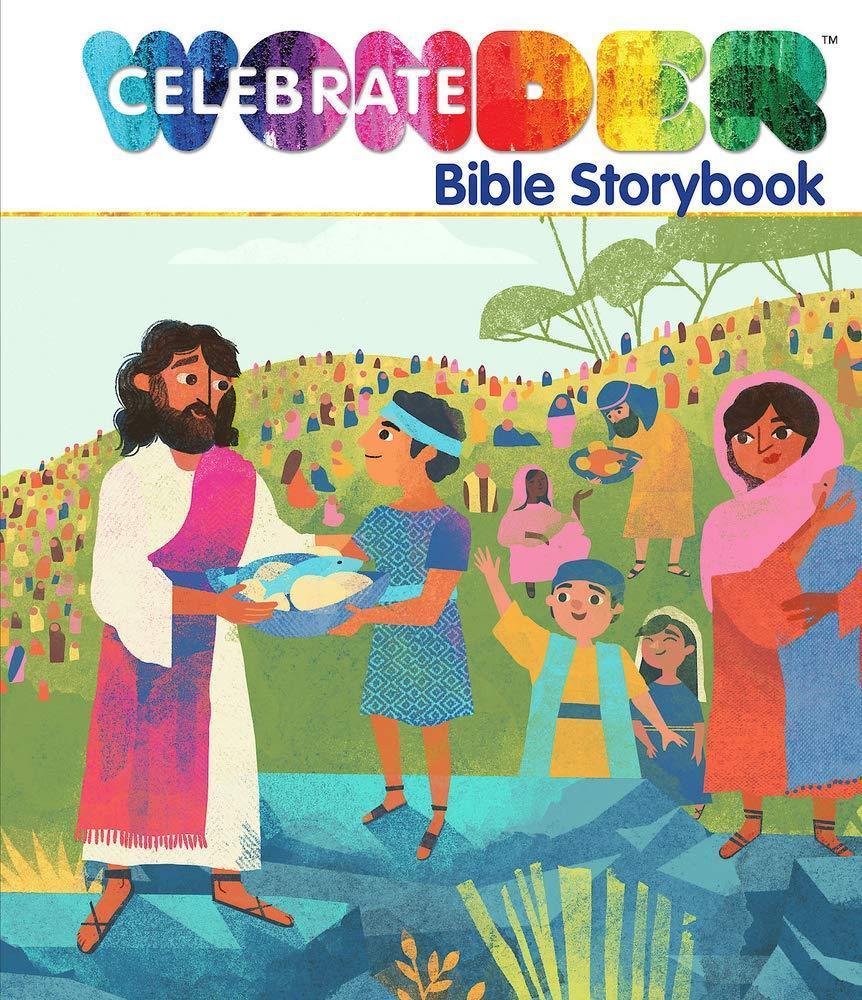 This story Bible features a full two-page spread for each story, with large, colorful pictures and a question to encourage children to further engage with each narrative. This is an excellent selection for children throughout the preschool to early elementary age range.
Highlights: 150 stories, with a good balance between Old and New Testaments. Introductions to each Testament that will help children understand the history and structure of each. Glossary of "Faith Words" helps children understand language commonly used in faith communities. Format will engage children from early childhood through early elementary. Follows the structure of a full Bible, with all stories in biblical order and some stories (like The Last Supper) told multiple times with variations, as they are in scripture
Drawbacks: Quality of questions varies.
Growing in God's Love: A Story Bible
Elizabeth F. Caldwell and Carol A. Wehrheim (Westminster John Knox Press, 2018)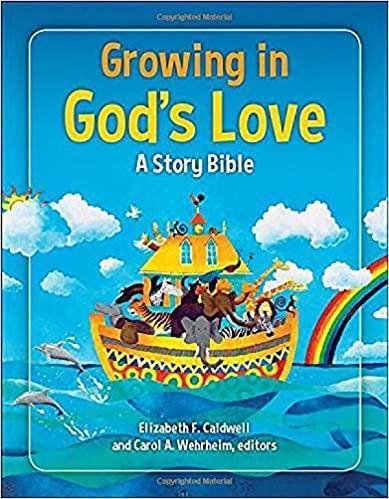 Organized by theme rather than the biblical order of stories, this Bible encourages connections that are easy to miss when stories are presented by book and chapter order. This Bible is a great pick as a read-aloud for smaller children, and most early Elementary children will be able to read it comfortably themselves
Highlights: Large, colorful pictures from a variety of artists. 150 stories, evenly divided between the two Testaments. Introductory content for each themed section helps children understand the bigger picture. Each story opens with an introductory paragraph that provides important context and prepares children for the story itself. Each story has "Hear," "See," and "Act" questions to help children connect with and apply the story. Many stories are told in the voice of a character, helping children engage with the story. Includes multiple stories for books often condensed into a single story in other story Bibles, like those of Esther and Jonah, allowing for more detail in the retelling. Includes lesser-known stories.
Drawbacks: Organizing stories by theme may make teaching the structure of the Bible more challenging. As with a few other Bibles featured here, some readers may find the disparate illustration styles jarring.
Spark Story Bible
Patti Thisted Arthur (Sparkhouse Press, 2009)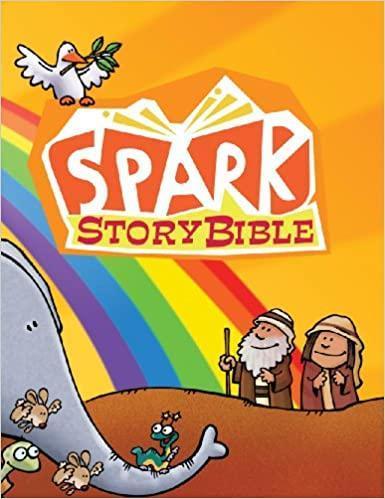 Designed to be used as part of the Spark Sunday School curriculum by Sparkhouse, this story Bible is also a great stand-alone option. Featuring large print, lively retellings, and colorful cartoon-style images, this Bible is more accessible for early readers than many other options in this age category. A question at the end of each story prompts conversation and connection.
Highlights: Enormous selection of stories, including non-narrative selections. Most stories include multiple illustrations.
Drawbacks: Too large and heavy for younger children to handle comfortably. Selections are heavily weighted toward the New Testament. Quality of questions at the end of stories varies. Scripture references included only in Table of Contents, not alongside the stories.
The Family Time Bible
Mary Manz Simon (Beaming Books, 2019)
As the name implies, this story Bible is intended for use by families who want to engage the Bible together, and its design is better-suited for adults and children reading together than for children reading alone
Highlights: 52 total stories. Multiple pictures per story. Many "extras" per story: introductory questions, facts related to the story, thoughts for discussion afterward, a prayer that goes along with each story, and a parent note at the end. "Key Verse" feature is useful for families who like to memorize scripture or who want to introduce children to the language or chapter and verse structure of full Bibles. More options for conversation-starters with children than most story Bibles.
Drawbacks: Quality of Parent Notes varies. Some families may prefer to avoid the masculine pronouns used for God in this Bible.
Early Elementary through Tweens
Read, Wonder, Listen: Stories from the Bible for Young Readers (Top Pick)
Laura Alary (Wood Lake Books, 2018)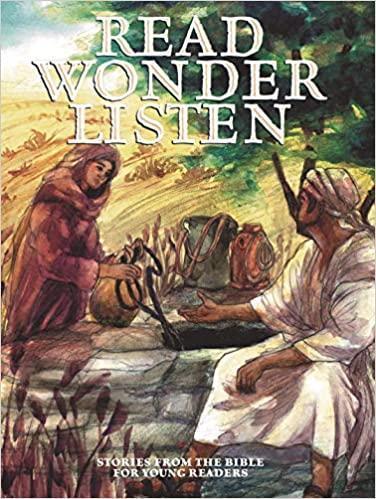 With gorgeous poetic language and full-page images, this story Bible will appeal to a wide range of ages and is an especially great pick for inquisitive children starting to ask more challenging questions about the Bible.
Highlights: Includes stories rarely found in children's Bibles (like the Bathsheba narrative) without compromising the emphasis on the fullness of God's love for all creation. Over 100 stories, with a good balance between the two Testaments. Points to connections between related stories, helping children to develop a sense of the arc of scripture. Tells stories in a way that invites children to ask interpretive questions.
Drawbacks: Some families might miss the conversation-starters that other Bibles have, but the way this Bible tells the stories will itself inspire conversation.
Deep Blue Kids' Bible (Top Pick)
(Common English Bible, 2019)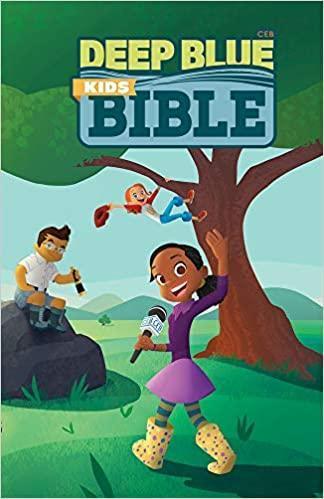 An excellent choice for an early or mid-Elementary child's first full Bible, the Deep Blue Bible is full-featured and comes in the easy-to-read Common English Bible translation. The new Celebrate Wonder edition, intended for use with the Celebrate Wonder Sunday School curriculum, promises to be a great pick, too.
Highlights: 3 characters lead children through the Bible, introducing books and popping up in various notes throughout. Thorough introductions to each book help children develop concepts of structure, theme, purpose, and context. Variety of notes in the text, including some with devotional content, will appeal to children with many interests–the fact-oriented, the inquisitive, and those drawn to inner reflection. CEB is a comfortable translation for many early Elementary children to manage.
Drawbacks: Notes sometimes stop short of inviting children to delve further into the text, providing information without opportunity for reflection. The many types of notes, indicated by pictures alongside them, are hard to keep track of. While intended for children up through age 12, children may grow out of this Bible earlier.
Kids Spark NRSV Bible (Top Pick)
(Augsburg Fortress Publishers, 2009)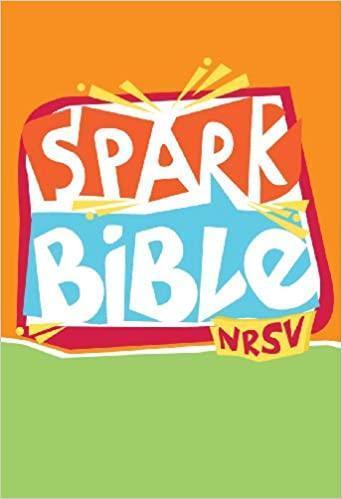 With plenty of features and margins for note-taking, this full Bible is an especially great choice for older Elementary students who may well use it into the middle school years. It's one of the few children's Bibles that helps kids begin to interact physically with a Bible by underlining, adding stickers, and noting their own thoughts on the passages.
Highlights: Introductions to each book give children an overview of the book, highlight some of its key ideas, and often include relevant historical information. Notes encourage children to review what they've read, reflect on it, and make connections to their own lives. Vocabulary notes help children learn unfamiliar terminology frequently used in scripture and in church. Included stickers encourage children to interact with the text and support children who may be less comfortable with written notes. Many notes point to other passages, helping children build a sense of how pieces of scripture connect to others. NRSV translation is used for reading aloud in many churches, so children can easily follow along during services.
Drawbacks: NRSV translation will be a challenge for many children even up through middle school. (The translation is rated at a U.S. Grade 11 reading level.) Format is a bit large for carrying regularly.
Images from Amazon.com