"Yes, replied Jesus, have you never read: 'From the lips of children and infants you, Lord, have called forth your praise?'" -Matthew 21:16
Choosing a Children's Bible
Research shows that Bible reading is a critical part of faith development for children of every age. Whether you are looking for a Bible to read as a family, to use in church or Sunday school, or as gift, there are many options to choose from.
Note: all of the following Bibles are "story Bibles" in that they provide paraphrased versions of Bible stories, rather than full translations of the text. These paraphrases are told at a variety of developmental levels and reading levels. If you are looking for a full-text Bible from a translation such as NIV or NRSV, many publishers offer such Bibles for older children and teens.
11 Reviews of Children's Story Bibles (grouped by age)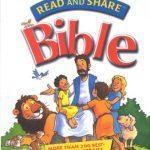 Read and Share Bible
Gwen Ellis (Thomas Nelson Publishers, 2007)
Target age: 1-5
Strengths: Contains good variety of Bible stories, rendered with clever language for children. More than one illustration per story makes for engaging reading aloud and guided learning. Illustrations are charming and appropriate for little ones, and the figures display emotions such as happiness, fear, etc. "I would recommend this Bible for very young children." –Liz Perraud
Weaknesses: Children over the age of 5 will quickly find this Bible too childish.
Top Pick
A Child's First Bible
Kenneth N. Taylor (Tyndale, 2000)
Target age: 2-4
Strengths: A very complete children's Bible for its compact size. Includes 125 stories, and the large print and simple text make for easy reading aloud. The engaging water-color illustrations are warm, joyful, and quite appropriate for young children. Our Building Faith top pick for young children.
Weaknesses: The questions following each story are not helpful. Illustrations show mostly western people as opposed to middle eastern.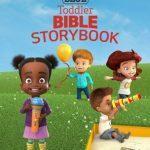 Deep Blue Toddler Bible Storybook
Daphna Flegal (Abingdon Press, 2017)
Target age: 1-4
Strengths: Durable board book with 18 Bible stories (4 Old Testament and 14 New Testament). Includes "tiny prayers" for each story. Writing includes lively dialogue.
Weaknesses: Too much text per page for a board book; small type size. A young reader could not handle this text. The sharply-rendered cartoon illustrations are off-putting, and not comforting for young children.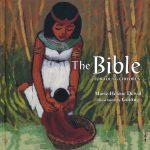 The Bible for Young Children
Marie-Helene Delval (Eerdmans Books for Young Readers, 2010)
Target age: 2-6
Strengths: This Bible storybook is designed to flow in a cohesive way. Large print, simple text, and full-page facing illustrations allow for easy reading aloud. Young readers could also handle this text. The illustrations have a particular and original style, with olive-skinned people artfully rendered.
Weaknesses: Includes fewer stories; and stories are very short, sacrificing detail for the sake of brevity.
Tomie dePaola's Book of Bible Stories
Tomie dePaola (GP Putnam's, 1990)
Target age: 2-10 (can be used in different ways with various ages)
Strengths: A gorgeous book. Tomie dePaola's illustrations leap off the page, while the text – taken directly from the New International Version (NIV) – tells the selected Bible stories word-for-word. Most pictures can be shared tenderly with young children; while text can be used with older children learning to engage the Bible.
Weaknesses: Naturally, some vocabulary and images will be too advanced for young children. Parents and teachers should be selective in sharing and reading aloud.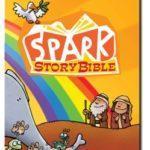 Spark Story Bible: Sunday School Edition
(Augsburg Fortress, 2009)
Target age: 3-7
Strengths: Includes 150 Bible stories in language that is fun and engaging for children. Dialogue and creative story-telling throughout. The colorful illustrations draw young children in, with lively figures who show emotion through their faces and bodies. In short, the illustrations match and highlight the stories. Includes reflection questions at the end of each story.
Weaknesses: The contemporary writing is exciting, but often the extra creativity results in a loss of classic Biblical rhythm. The quality of reflection questions is mixed.
Children of God Storybook Bible
Desmond Tutu (Zondervan, 2010)
Target age: 4-8
Strengths: Good variety of Bible stories follow the basic outline from Scripture, but particularly emphasize themes of love, abundance, and joy. Includes lively character dialogue. Book comes with free audio CDs.
Weaknesses: Tutu's paraphrased translation includes a lot of poetic license, sometimes overdone. The book intentionally features illustrations by 20 artists from all over the world, but this creates an uneven feeling from page to page.
Top Pick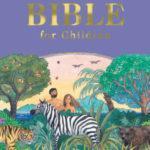 The Lion Bible for Children
Murray Watts, Helen Cann (Lion Hudson, 2002, 2008, 2014)
Available in the United States here.
Target age: 9-12
Strengths: A very complete children's Bible, with about 250 stories. The writing is engaging and imaginative, yet quite faithful to the Scriptural outline of each Bible story. Includes Bible map and an index. Beautiful pen and ink (color) illustrations are richly detailed and not at all childish. The pictures are also full of movement and emotion. Gretchen Wolff Pritchard calls this "the best version of the Bible for confident readers, 9 and up." A Building Faith top pick.
Weaknesses: Not ideal for reading aloud.
The Complete Illustrated Children's Bible
Janice Emmerson (Harvest House, 2014)
Target age: 7-11
Strengths: Extremely complete and well cited children's Bible. Almost every Bible story is covered. For example, citations indicate when a Jesus story comes from multiple gospels. Includes dialogue. Stories stay very close to Biblical text.
Weaknesses: Illustrations show mostly western people as opposed to middle eastern. Illustrations are vivid, but the computer animation is too intense in some instances.
Top Pick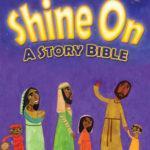 Shine On: A Story Bible
(MennoMedia, 2014)
Target age: 8-11
Strengths: This 320-page Bible includes a selected variety of stories from the Old and New Testaments. Each story has engaging sidebars called Explore, Connect, and Wonder, which invite deeper thought, additional facts, and suggestions for home. The illustrations are rich and eclectic – with contributions from many artists – reflecting people from around the globe with many skin tones.  Dorothy Linthicum says, "This is the Bible I would suggest for older Sunday school classes or families." A Building Faith top pick.
Weaknesses: Not ideal for reading aloud or group story-telling. One large illustration per story is sometimes overly specific to one moment in the narrative. Wide variety of artistic styles can create an uneven feel.
The Children's Illustrated Bible
Selena Hastings (Dorling Kindersley, 1994, 2004)
Target age: 8-12
Strengths: Features the Biblical storyline but concentrates on providing cultural, historical, and archaeological information in abundant sidebars, maps, and timelines on every page. An ideal choice for pre-teens who are more drawn to facts and information. -Gretchen Wolff Pritchard
Weaknesses: Naturally, this book will lack an emphasis on emotional connections. Difficult to use for reading aloud.