"Go tell it on the mountain, over the hills and everywhere! Go tell it on the mountain that Jesus Christ is born!"
Preparing for the Pageant
Does your church offer a Christmas pageant? Whether you worship in a large or small community; lots of people or just a few – there is an option out there for you. Some Christmas pageants are full-scale productions. Participants are invited to plan and rehearse, working toward a long-term goal. Other Christmas pageants are smaller, proving that one can dramatize the Nativity story with a handful of costumes, props, and a willing set of actors.
At Building Faith, we've written a lot about Christmas pageants. Below you will find several helpful articles for inspiration and practical tips. In addition, we've assembled six free Christmas pageant scripts that you can use or adapt. Finally, you'll find a link to professionally written scripts you can purchase for a small amount.
Christmas Pageant Articles from Building Faith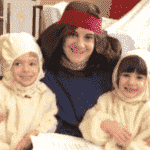 Pageants: The Joy of Children Immersed in Scripture by Gretchen Wolff Pritchard
A poignant and and powerful answer to the question, 'Why do a Christmas pageant?" Gretchen Wolff Pritchard, long-time Christian educator, explains how liturgical drama provides a deep and lasting learning experience for children.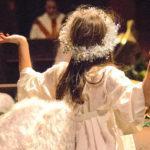 Christmas Pageant Rehearsals and Commitments by Donald Schell
This is part II of the Donald's post on "big" pageants. He offers practical advice for encouraging commitment to the pageant process. Setting reasonable, but firm expectations is the key.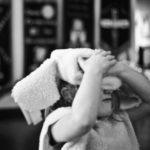 17 Christmas Pageant Survival Tips by Christine Hides
This great article addresses all the little issues to help you smoothly plan a pageant, and pull it off! For example, how will you distribute props, and how will you get them back? Print this out and use it as a checklist.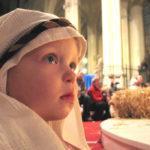 On-the-spot Christmas Pageant by Sharon Ely Pearson
Looking for something on the no-rehearsal end of the spectrum? Sharon explains how to take a few props and willing folks, and bring out the wonder of the Christmas story.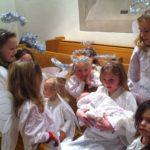 Why We Need Christmas Pageants by Lisa Brown
The drama unfolds, and everyone has a role to play. Lisa describes how pageants bring us all to Bethlehem. The actors, singers, readers, and those who sit and watch, hanging on every word.
Christmas Pageant Scripts
Permission is granted to use these in your church. You may alter them slightly, as needed. Please do not re-publish or sell them.
Christmas Pageant – Matthew Kozlowski (word doc)
This script is for a 10-15 pageant in the "no rehearsal" tradition. (Of course, a rehearsal is needed for the narrator and musicians.) You provide costumes and props, and offer them to children as they arrive. The children sit in the congregation until their 'part' comes, and each group goes up front together (shepherds, angels, stars, etc). Multiple carols provide the breaks for the actors to travel and assemble. Every line of this script except one is spoken by the narrator, and the text comes directly from the Gospels.
Best for: A service where you expect a lot of kids, but you don't know how many/what ages.
Christmas Pageant – Charlotte Greeson (word doc)
This church did a pageant on Epiphany, but the script includes the full Nativity story, and works perfectly for Christmas. Similar to the above script, it is a basic pageant with lines from Scripture, all spoken by a narrator. Music is interspersed. It begins with the words of the prophet Isaiah. There is a lovely introduction and conclusion to frame the entire pageant.
Best for: A small/medium cast of actors, with time for short run-through or rehearsal.
Christmas Pageant – Sharon Ely Pearson (pdf)
Another simple pageant, but instead of just a narrator, there are lines for multiple parts. Of course, the lines are very short. The words are from scripture, but nicely condensed and simply phrased. (Note from Sharon: the words Him and His may be changed to God or God's.)
Best for: A short pageant with a medium cast of actors. Children or adults who like to speak lines. 
Four Full-length Scripts from St. Gregory of Nyssa
These are longer scripts with numerous parts, lots of lines, and plenty of humor. Please provide full attribution and credit to St. Gregory's.
Christmas Eve Script (2012)
Las Posadas y Las Pastorelas
Pageant Script based on Matthew
Pageant Script based on Luke
Full-length Pageant Scripts from Skiturgies
These are well-written, full-length pageant scripts, published professionally and sold at low prices. Many of the pageants have creative twists, interesting themes, and terrific lines. If you are looking to spice up your pageant, this is the resource for you.