"Think ahead about how you will handle prop collection… Offering a candy cane or small gift as people turn in props may help."
Christmas Pageant Checklist
Building Faith is a strong believer in the educational power of Christmas pageants. If you put on a substantial pageant with lines and rehearsals, you likely already have checklists to keep track of every moving piece. However, if you offer a no rehearsal Christmas Pageant or other simpler pageant, you may find the following checklist helpful.
Planning ahead ensures a smooth, organized and lively service that participants, audience, and leadership will all enjoy. With a few weeks left before Christmas Eve, here is everything you need to plan a warm, welcoming, and joyful atmosphere.
1. Obtain a script: Do you have a script and permission to use it? (Building Faith has several options.) At our church, we used one of these scripts, and the result is below, in booklet form. Feel free to use or edit.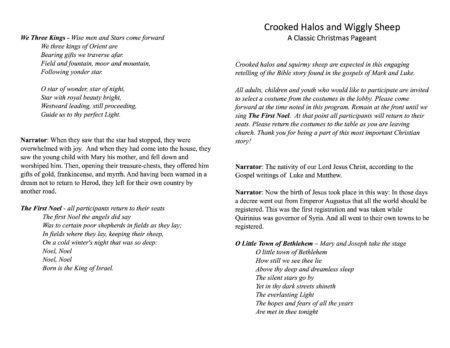 Christmas Pageant Printable pdf
Christmas Pageant (word doc version for editing)
2. Assemble props: This is a great place to invite a volunteer to help. What type of costumes and props does the script call for? Have you estimated how many props you will need, anticipating guests? Who will coordinate, purchase, and gather costumes and props?
3. Determine timing: You and your worship leaders need to know how long the pageant will run from beginning to end. Time your script by reading it aloud and singing the appropriate hymns. Make sure you add buffer time for the reluctant sheep or star! Work with your worship leaders to place it appropriately in the service and determine how it be introduced and concluded.
4. Work with musicians: Have you communicated with the music team about hymns and any transition music? Make sure your musicians have everything they need, including clear cue sheets with number of verses. Remember to thank your musicians early and often!
5. Invite leaders: Do you have a lead youth or adult for each role? These leaders will show everyone when to come forward and where to stand. Schedule a short run through with them before the pageant.
6. Choose your narrator: Choose a narrator with a strong, interesting voice. They will need to practice their lines in the worship space using the sound equipment. Make sure they know when to pause if there will be lots of movement or anticipated applause!
7. Consider a title: Consider a catchy title that conveys the spirit of this family friendly pageant. Last year we used the title "Crooked Halos and Wiggly Sheep: a classic, impromptu pageant" to communicate that this was a child-centered event where all were welcome, and joyful movement was expected. We created our graphic using Canva.
8. Create some publicity: Have you invited the community to this traditional event using posters, personal invitations, the church website, outdoor signs, and social media? Consider spending money on a Facebook Ad. Even $10 can extend your reach by several thousand people.
9. Appoint greeters: This may be your most important set of volunteers! Do you have your friendliest volunteers ready to greet worshippers and explain the pageant? Make sure they know when to draw a child into the pageant and when to say, "That's okay, you can join us when you're ready."
10. Plan prop distribution: Have you identified a central, visible location for passing out props? If you are using a table, consider a festive covering.
11. Plan for prop collection: Do you have a way to collect props when the pageant is done? Create signage and make sure volunteers passing out props give kind reminders. Expect that a few young children may not be able to part with their props. Think ahead about how you will handle this in a way that encourages guests to come back. Offering a candy cane or small gift as people turn in props may help. Be sure to say "thank you!"
12. Create written instructions: Does your order of worship or bulletin have clear directions for those participating in the pageant? Directions should include a brief explanation of the event, instructions on when each part comes forward and when to sit down, and the location of prop distribution and collection. In the script above, you can see how we included all directions in the script itself.
13. Don't forget photographs: Do you have someone to take pictures of the event? Will you give parents time to take photos? Be mindful not to post pictures with children's faces online without permission.
14. Promote future ministry events: Have you identified a future program or event to invite pageant guests to? This could be a Sunday School Open House, January service project, or a cocoa and movie night.  Consider creating postcards to give everyone at the pageant. If you do announcements, specifically mention your next event.
15. Collect contact information: Do you have a method for guests to sign in so you can contact them in the new year?
16. Create a clean up plan: Have you found volunteers to help with putting away props and decorations after the service? You'll want to be sure to have these put away quickly, especially if other worship services will be using the space.
17. Remember the thank you's: Don't forget to think ahead about thanking all the volunteers who helped to make your pageant a success with a card or small gift!
Photo credit: Shy Sheep (cropped) via Flickr (CC BY-NC-ND 2.0)