As many church buildings are closed and continue to offer worship over Zoom and other online platforms, we can still celebrate the birth of Christ throughout the twelve days of Christmas together.
Many congregations have a nativity crèche (a model or tableau representing the scene of Jesus Christ's birth) displayed in their sanctuary or outside during the season of Christmas. Many homes also set up a crèche during Advent, leaving baby Jesus out of the scene until Christmas Day and placing the three Magi and their camels in other rooms of the house, slowly traveling closer each day until their arrival on Epiphany, January 6th. Angels and shepherds with their sheep often surround the scene with the donkey that accompanied Mary and Joseph on their journey to Bethlehem.
A Little Nativity History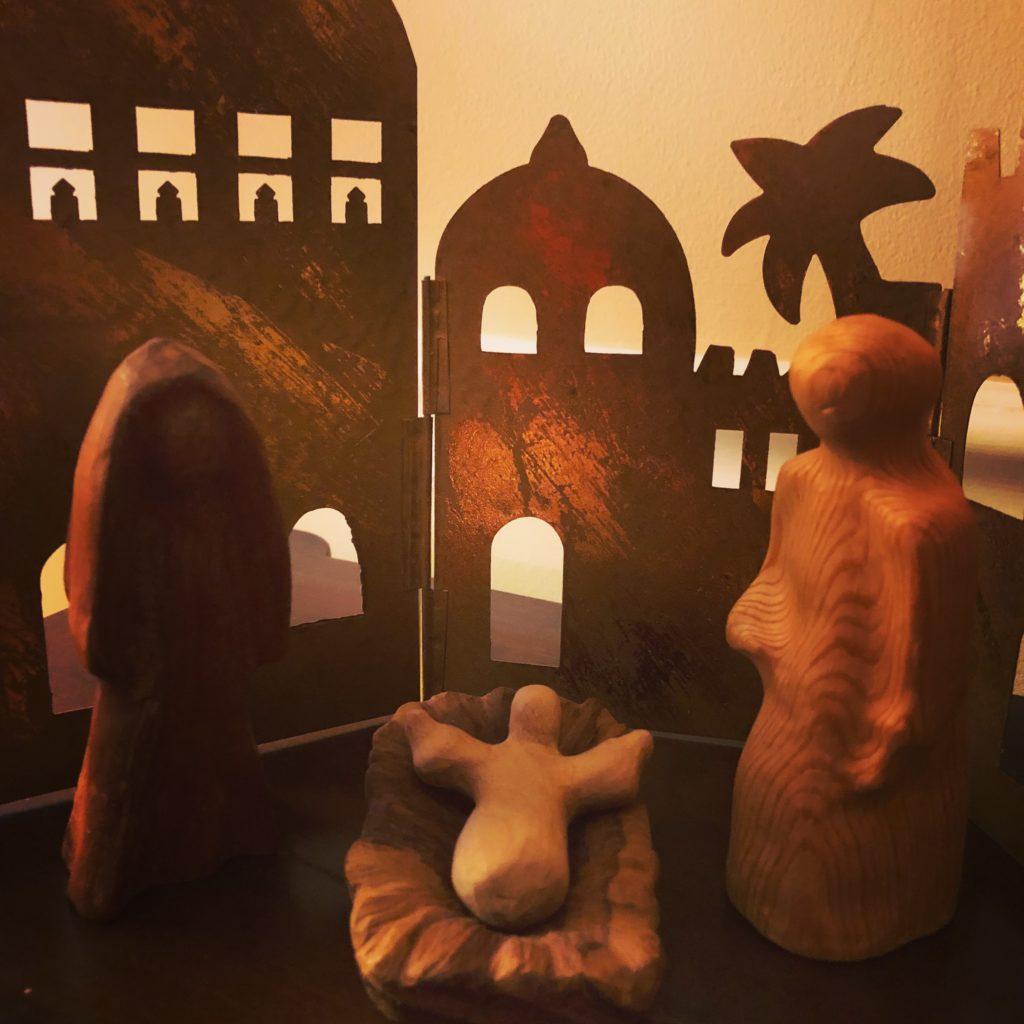 The earliest representation of the nativity can be seen in a fresco found in the catacombs of St. Priscilla, second century B.C.E., portraying the Mother and Child, the three wise men, and St. Joseph or perhaps the prophet Isaiah, and above, a star with eight points. The nativity of Jesus has been a major subject of Christian art since the fourth century with depictions based on the narratives in the Bible from the Gospels of Matthew and Luke, and further elaborated by written, oral, and artistic expressions. Tradition attributes the introduction of the nativity scene to the vast array of Christmas customs to St. Francis, who in 1223 in the village of Greccio* near Assisi on Christmas Day, (as told by St. Bonaventure) took a manger and filled it with hay, tied an ass and an ox near it, and with a crowd of people from all over the neighboring countryside celebrated the Mass (Holy Eucharist or Holy Communion) in front of the manger. Over time, statues, rather than living people and animals, were used, which eventually led to the in-home nativity scenes that are so much a part of our Christmas today.
Sharing Crèches
This year we can be creative in sharing our crèches.
Photos & Videos – Invite families and members of your congregation to take a picture of their nativity scene at home and/or ask them to record a story about where their figures came from and how they display them at home. You can also encourage members to take photos of where they see crèches displayed in public places as they walk through their neighborhood or drive around town. These photos and video stories can be emailed to an appointed "crèche coordinator" who can merge them into a slide presentation, movie with Christmas music, or share a few each day over your church's social media platform. If your church has a traditional crèche with an interesting story, invite a long-standing member or leader to share that story in a recording to be included in your church's collection of crèche stories.
Stories on Zoom – Another option is to gather together in real time over Zoom and invite individuals and families to share a favorite figure from their nativity scene by holding it up for all to see. Each can be a storyteller and share why they chose that particular person or creature as their favorite, perhaps telling the part it plays in the story of Jesus' birth.
Set Up Outside – Even during this time of pandemic, we can set up, display, and share our outdoor nativity scenes or tabletop crèches. Each are visible reminders of Jesus' birth even when we can't gather together in-person. Nothing can keep us separated from Christ!
*Note: The word crèche is the French word for a manger, which comes from the Italian word greccio, the namesake of the legendary town visited by St. Francis.
Adapted from an activity in the Christmas chapter of Faithful Celebrations: Making Time for God from Advent through Epiphany edited by Sharon Ely Pearson (Church Publishing, 2018).
Featured Image: Ely Family Creche, a Christmas gift to my parents from my dad's parents on their first Christmas in 1950.