How can we invite all generations to come together and engage honestly in conversations regarding loss and grief? More importantly, how can ministry leaders assist people of all ages to engage in lament as an act of worship rooted in Christian hope? Below is a short activity that can be adapted for any group, or for individuals, as we learn to bring our lament honestly, openly to God and to one another.
Reflecting on Graffiti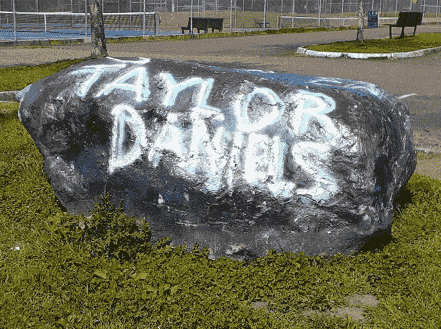 Each morning, I drop my son off at high school and drive past this huge landscaping rock near the front entryway. For several days, I drove mindlessly past it, but one day, it grabbed my attention. I wondered: why hasn't anyone cleaned this vandalism up? Later, I realized that the name on this rock actually belonged to a sixteen-year-old who died tragically in a car wreck this past summer. Suddenly, this rock jumped out at me, the pain and agony of his friends etched in the sprayed-on letters of this rock. No one dared clean up this graffiti that had become a way to remember this classmate who died way too soon.
In response, I thought about what I would write on my own rock if I had a chance. Instantly, my anger and loss and disappointment came to mind. In reflection, I realized that graffiti is not random art. It's lament. It's crying out to God in grief with raw emotions. It's not being afraid to express anger and disappointment to God.
And we have seen graffiti this year. We have heard the cries of lament for racial injustice.
We have heard the mourning and grief amidst this pandemic.
And the graffiti continues, as we experience continuing pandemic realities, war, and immigration crises.
And I wonder: What does God think of graffiti?
Then I am reminded of Job, who expressed lament (Job:3, 29-42). And I remember Jesus, crying out in lament, praying for God to take his suffering away (Luke 22:42). And I hear the Psalmist David who said to God: "I cry out to you all day long…" (Ps 22:1-2)
These laments were not outrage, but rather, cries of hope in God, awaiting the God that promises to make "all things new" (Isa 43:2; Rev 21:5), but being bold and honest enough to ask God: "How long?!"
Making Your Own Graffiti of Lament
We, too, can use graffiti as lament. You can do this on your own or with a group. You can meet in person, or on Zoom. Each person just needs paper and coloring supplies (markers, crayons, paint, colored pens, etc.). If working with a group, you might reflect together with the following prompts and/or show some of the images from this article.
Where have you seen graffiti before?
What is your typical reaction to graffiti?
Why do you imagine that people create graffiti?
Reflect in Honesty
Take a deep breath. Invite God into your space. Listen to your body, to the sights and sounds around you. What do you feel? What do you hear and see? Reflect on this past year. What grief and losses come to mind? What do you wish you could spray paint on your own graffiti rock for God and all to see around you? Don't be afraid of your emotions and feelings. Jesus, our God in the flesh, wept over the loss of his friend Lazarus (John 11:35). Jesus himself experienced great suffering and loss. Pour out your heart to God, who is ready and able to hear our honest cries (Ps 10:7; 18:6; 1 Pet 3:12). God will not turn away. Nothing is too heavy, or too burdensome for our God (Jer 32:27).
Visio Divina with Romans 8
Slowly, take in the words of Romans 8. Perhaps, listen to them in a Bible app, or have someone in your group read parts of the verse slowly, so you can absorb them with all of your senses and emotions. If you are alone, read small chunks, and then use your graffiti art to express what you see, hear, feel, and sense as you listen to God's Word for you today.
In Romans 8, Paul describes the whole world groaning in lament, praying God's kingdom come in the midst of suffering. So, use your wall of graffiti to write down the names or things that break your heart and cry out to God in this space. Where do you hear the groaning?
No worries if you are not an artist! Graffiti is not about being pretty or perfect. It's about being raw and honest before God. Offer up your graffiti to God as you hear God's Word for you in Romans 8.
I consider that the sufferings of this present time are not worth comparing with the glory about to be revealed to us. . .
For the creation waits with eager longing for the revealing of the children of God. . .
For the creation was subjected to futility, not of its own will but by the will of the one who subjected it, in hope that the creation itself will be set free from its bondage to decay and will obtain the freedom of the glory of the children of God. . .
We know that the whole creation has been groaning in labor pains until now; and not only the creation, but we ourselves, who have the first fruits of the Spirit, groan inwardly while we wait for adoption, the redemption of our bodies. . .
For in hope we were saved. Now hope that is seen is not hope. For who hopes for what is seen? But if we hope for what we do not see, we wait for it with patience. . .
Likewise the Spirit helps us in our weakness; for we do not know how to pray as we ought, but that very Spirit intercedes with sighs too deep for words. . .

Romans 8:18-26
This is God's Word for us. May we continue to offer our graffiti of lament to God in hope.
---
Featured Image by Liza Pooor on Unsplash.