"Moms of different ages heard about what we were doing and soon we were joined my moms of elementary, high school, and college-aged children… Two grandmothers and one great-grandmother began attending. Soon, we were sharing our experiences across generations."
Ministering to Moms
Among the many delights of my work in the United Methodist Church is offering support to families. One of the trends going on in my part of the world is that young parents – particularly moms – are coming to church hungry not only for Christian formation opportunities for their children, but also to figure out how to live as Christian parents at home.
A group of young moms came to me over two years ago, wanting help in discerning how to live as Christian mothers. Out of our conversations, I developed a study I called "Mom's of the Bible."
Focusing on Scripture
The Bible has a lot to share about mothering (as it does about all stages of life), but spending intentional time with the stories  of the biblical moms helped us to realized that we are dealing with many of the same issues in our lives as mothers; rivalries between our children, parental favoritism, the yearning for children we cannot have or have lost, passing on our faith, holding on to our faith when our life circumstances challenge everything we have known or experiences in our journey with Jesus.
I wrote a two-page guide for each study, with background on the text, reflection questions, and opening and closing prayers. We began with Eve, and laughed and cried with the biblical moms in chronological order until we stood with Mary, the Mother of  God at the foot of his cross. It took us 18 months meeting every other Tuesday in the nursery, so that young children could play while we studied – and many other wonderful things that developed along the way:
The Group Expands
Moms of different ages heard about what we were doing and soon we were joined my moms of elementary, high school, and college-aged children. One of us had a child married during this time together. Two grandmothers and one great-grandmother began attending. Soon, we were sharing our experiences across generations.
The moms whose children were no longer very young got to know the youngest members of our congregation. They volunteered in the nursery on Sunday mornings in order to continue their relationship with these children, and to let the younger moms have time for uninterrupted worship with the congregation.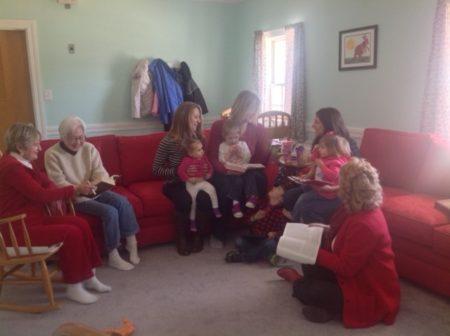 The kids bonded with one another. Play dates were arranged with comments such as, "It is such a relief to know my child has a friend whose family says grace before meals like we do." We babysat for each other's children during hospitalizations and the arrival of new babies.
Our concern for and delight in each other moved beyond our study time. We meet once a month on a Friday evening without our children, just to hang out. Experienced moms answer questions and share experiences of everything from potty training to bullying to the pressure on kids to be academically successful. We are a community of care and nurture.
Sharing Turns to Caring
As the group grew closer together as Christian mothers within a community of faith, we began to look for opportunities to serve the larger congregation and the communities around us. We went on a "coffee fast" during Advent and donated the money we saved to the United Methodist Church's No More Malaria Campaign. We made and served the soup and bread during our Lenten soup suppers, and volunteered together to serve the community meal offered by the combined churches in our area.
After the first 18 months, we began exploring other topics; images of God as mother in Scripture, the basics of Christian faith, and a fascinating few weeks looking at the Ten Commandments alongside United Methodist Social Principles. The faith journey we share together continues.
Study Guide Available
If you would like Elizabeth's study guide, including Bible background information and discussion questions, please contact her: drelizabethsmumc(at)gmail(dot)com.
Elizabeth will send you both guides – "Real Housewives of the Old Testament" and"Real Housewives of the New Testament" – for a $20 donation to the Imagine No Malaria fund. Click here to donate.
---