Looking for the basics? Read Pauli's previous article Why Hybrid Is Not Just for Cars and Superhero Movies Anymore: Hybrid formation & discipleship basics.
Wait…you mean I have to buy stuff??
Well, sort of…you need the right equipment to bring it together. Check with your regional authority — diocese, etc. — to see if grants are available to help defray technology costs.
The Basics:
1. A microphone—we need to be able to hear each other
2. A camera—we need to be able to see each other
A useful tip: successful events are 90% audio, 10% video and everything else. As long as you can hear each other well, that's the most important thing.
A Word About Feedback
Feedback happens when a microphone can hear the same thing twice. For example, when you speak into a microphone and a speaker in the room broadcasts your voice loud enough so that the same microphone can hear it. Do your best to avoid feedback at all costs.
Solution 1: A Modern Laptop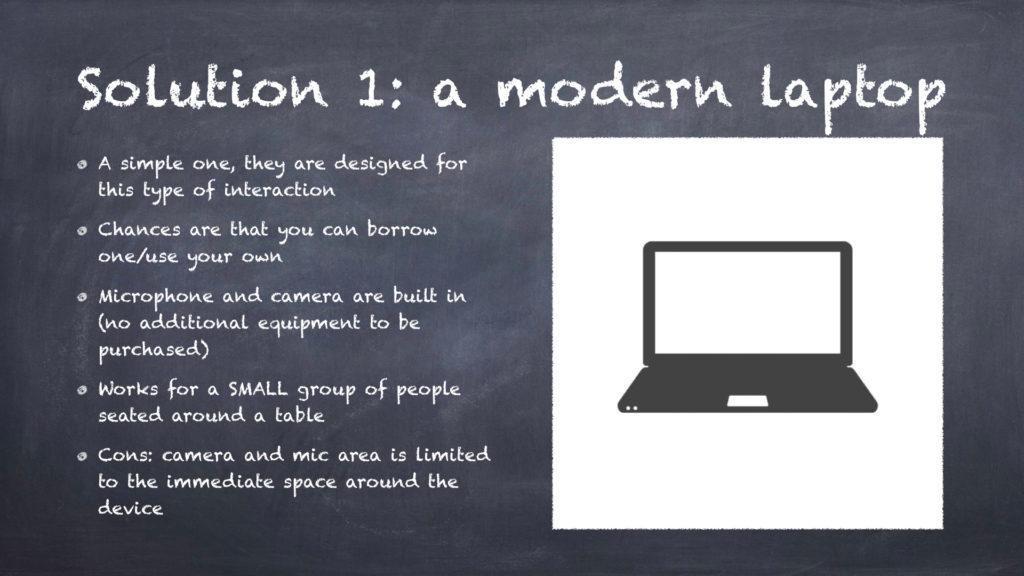 – A simple one, they are designed for this type of interaction
– Chances are that you can borrow one/use your own
– Microphone and camera are built in (no additional equipment to be purchased
– Works for a SMALL group of people seated around a table
– Cons: camera and mic area is limited to the immediate space around the device
Add-on 1: webcam and tripod
– Extends the range of your video
– Most include a built-in microphone
– A tripod lets you mount the camera in a stable position
– Recommendation: Logitech c920s webcam (pictured) and Basic Tripod
Add-On 2: omnidirectional microphone
– An omnidirectional microphone can help you pick up more sound and extend the range of how far people can sit from each other
– Helps enforce social distancing
– Con: need to be careful of feedback
– Recommendation: Blue Yeti microphone
Solution 2: Video Conferencing System
– Designed for this purpose
– Usually an all-in-one device that connects to your computer
– Cons: expensive. Requires you to sit closer to the device
– Recommendation: Logitech BCC950
Solution 3: Individual Devices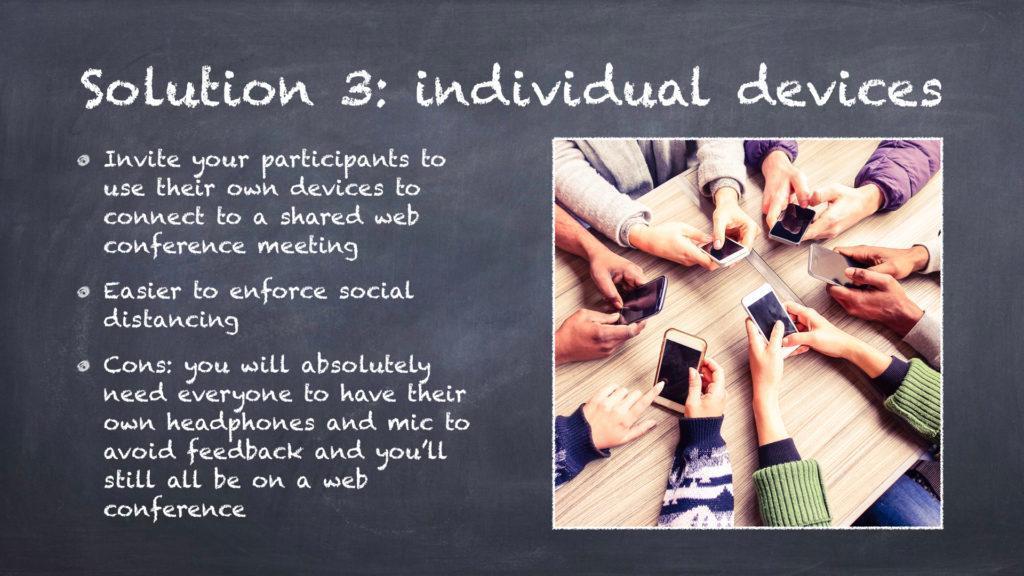 – Invite your participants to use their own devices to connect to a shared web conference meeting
– Easier to enforce social distancing
– Cons: you will absolutely need everyone to have their own headphones and mic to avoid feedback and you'll still all be on a web conference
Product Purchasing Links
If you use these exact links, your purchase will support The Saint James School, an Episcopal middle school that serves an under-resourced neighborhood in Philadelphia, providing free tuition to all students.
A PDF of these recommendation is available here. Free to use with attribution to the author, Pauli (Paul E.) Reese.
---
Photo by Roberto Nickson on Unsplash.