"Our activities provide a flexible program that can complement other curricula throughout the year."
What is Illustrated Children's Ministry?
Illustrated Children's Ministry creates illustrated faith resources for the church and home, encouraging creativity and active engagement in faith formation. While we started by creating illustrations of Bible stories for pastors, our scope quickly grew, and Illustrated Children's Ministry now provides other worship resources, curriculum, and tools for churches to help equip parents for faith at home.
Our Audience
Any group that is looking for a creative resource for exploring faith through reflection, conversation and art could benefit from our resources. For example, our coloring sheets and posters are completely intergenerational. While coloring is thought of as a resource for children, our engaging designs easily translate for youth and adults.
Churches can use Illustrated Children's Ministry resources for Sunday school, children's moments, and worship activities.  Additionally, churches use our products to keep children engaged during the service.  Finally our resources are perfect for youth group activities or intergenerational events such as potlucks, pancake breakfasts, and more.
Families and households can use Illustrated Children's Ministry to explore faith at home. So often, faith talk remains at church. Our family resources allow faith conversations to continue throughout the week in meaningful ways.
Mission groups have enjoyed our large coloring posters during mission trips. Working together around a table to complete a design provides a wonderful way to break through language barriers and cultural differences.
Home school environments will find our resources as a great addition to a home school curriculum. Our activities provide a flexible program that can complement other curricula throughout the school year.
Retirement homes and preschools: We've had some retirement homes who have purchased our giant coloring posters for their residents! Additionally, preschool programs may find our large coloring posters and smaller coloring sheets a fun and engaging fine motor activity.
Custom Designs: Furthermore, we can create custom designs to meet any organization's needs.
Launching Illustrated Children's Ministry
When I took a break from parish ministry, after almost 15 years of youth ministry, I wasn't sure what lay ahead. Last fall, I decided to start this business and see if it would go anywhere. As the mailing list grew into the thousands, it seemed like I had a potential business.
Through a combination of good advice from friends, and being fairly well-connected online – and once we had our first giant 4'x3' coloring posters for sale – I knew we had something. Over 200 churches used our giant Advent Coloring Posters this past year, and over 400 churches used our Illustrated Lent posters.
A Testimonial
The Rev. Meg Rift, Director of Christian Educational Ministries at Fair Oaks Presbyterian Church in Oak Park, IL reflects on using Illustrated Children's Ministry:
We first used Adam's coloring pages at Advent, with children, youth, and adults (at a Session meeting we couldn't wait to get coloring!). We also used the Family Advent packet, and the wandering Wise Men were a hit!
We ordered the Lent drawings, but then our church chose a theme for Lent that didn't incorporate the drawings. No problem! We bought the digital files so we have them to use whenever we need them. I went on a weekend retreat with a friend and brought copies of the drawings for us to color as part of our relaxation. She ended up coloring "Believe" and turned it into a Confirmation gift for her confirmands. Inspiration!
We just pre-ordered the summer packet. To be honest, I don't know when/how we will use them, but I know that we will. Perhaps for quiet time in Vacation Bible School, a summer night with youth, personal time on Senior High Mission Trip, or group coloring on a Sunday morning. Adam's work is always inspirational, meaningful, and fun!
How to Purchase
You can browse our store at gumroad.com/illustratedcm. But we also sell our products directly from our website: Illustrated Children's Ministry (This is a special promo link for Building Faith readers).
Check us out on Twitter @IllustratedCM, Instagram, Pinterest and especially our Facebook Page. Our Pinterest boards highlight our available resources with direct links to purchase from our website and Gumroad. If you follow us on Pinterest, you also will have access to special promotions in the future.
Subscribe to the Newsletter: Free Stuff and Special Promotions
The best way to stay informed about our products and promotions is our email newsletter. Our subscribers receive updates about new products, promotional offers, and free giveaways throughout the month. Additionally, when you sign up for our newsletter, you'll receive our Illustrated Children's Ministry Sample Pack, which includes five FREE Bible story illustrations, a coloring sheet, and samples from our previously released resources. It will really help give you a better sense of the quality of work we produce. You can sign up here.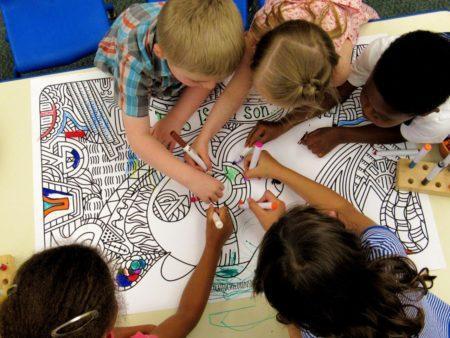 Resources for Summer
An Illustrated Earth: Celebrating God's Creation. This is a 12-week curriculum that could be used for summer Sunday School classes, VBS programs and more. These go along with our giant 3' x 2' Illustrated Earth Coloring Posters. The curriculum will be available on May 16; the posters can already be pre-ordered.
An Illustrated Earth for Families (available May 16th): This can both be used as a companion or a standalone resource to families. It will consist of coloring sheets, devotionals connecting to our An Illustrated Earth curriculum and more.
Coming up… "An Illustrated Summer for Churches." This is our worship resource for churches. We will be creating illustrations of Bible stories from the Revised Common Lectionary texts for this summer. We will also be creating children's Worship Activity Sheets for use during worship. These can all be purchased as a pack, or separately.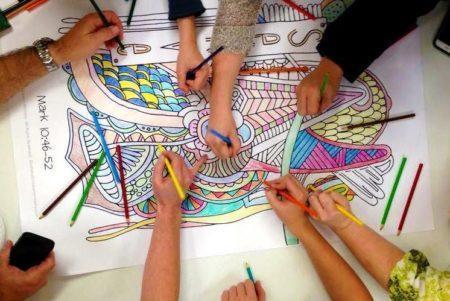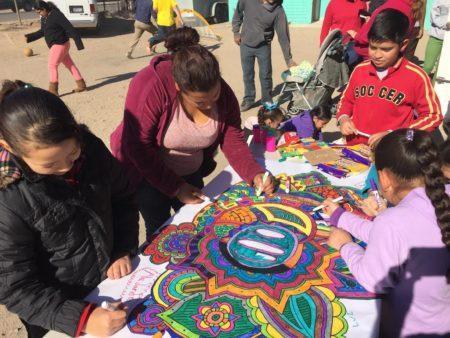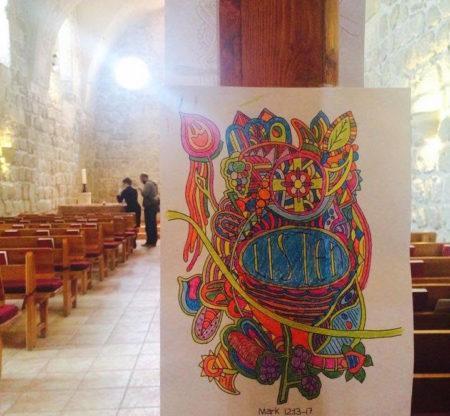 Did you enjoy this article? Consider subscribing to Building Faith and get every new post by email. It's free and always will be. Subscribe to Building Faith.