"The ministry of an acolyte is built upon a formative system of development that is changeless, consistent, powerful, and transformative. We seek to reclaim the role of acolyte as a religious seeker, and indeed a minor order of the church."
Remember the Acolytes!
Despite the changing landscape of our churches' membership, one worship-based ministry gets little attention: the acolyte. Whether children or adults, the mentoring and training of acolytes for liturgy is a formational experience. In short: faith is formed through acolyting.
One caveat: Liturgical ministers (such as acolytes) are not 'roles,' because the liturgy is not a stage production, but rather a "work of the people." All the ministers  – lay and ordained – serve the worshipping assembly, and in so doing, they serve God.
A Brief History of Acolytes
The word acolyte is derived from the Greek word akolouthos, meaning companion, attendant, or helper. This ministry has its roots in the Old Testament, where the prophet Samuel is seen assisting Eli, the Levite priest. Similarly, Elisha is seen assisting Elijah the Prophet.
Flash forward to early Christian times. Acolytes are mentioned as a minor order (a transitory step leading to the orders of deacon, priest, or bishop) beginning in the third century. At first, acolytes assisted deacons at the preparation of the table. Later they carried candles in processions. In Rome they carried fragments of the bread consecrated at the Mass to other churches.
In the late middle ages, when candles began to appear upon altars, acolytes lighted the altar candles. Eventually lay servers (sacristans) performed these duties as part of their training for the priesthood. After the Reformation many of these duties were taken over by lay clerks. However, later in the nineteenth century the clerks faded and their duties were largely taken over by lay "acolytes" and sacristans or altar guilds.
Acolytes Today
Today we see acolytes dressed in robes of red or white, quietly carrying torches, crosses, alms basins, and cruets of water & wine. A vital part of worship, acolytes blend into the background and help our liturgies flow smoothly.
We may see acolytes doing any or all of the following, depending on the church denomination and worship style:
Carrying torches or a cross (crucifer)
Holding the Altar Book open before the presider at the Eucharist
Bearing the Gospel Book in procession and at the proclamation
Carrying the vessels to the Lord's Table
Washing the presider's hands (lavabo)
Bringing additional vessels to the altar after the consecration of the bread and wine
Clearing the altar after Communion
Basically, acolytes are like good waiters(!) who tend to all the details of a meal, often quietly working without being noticed at all.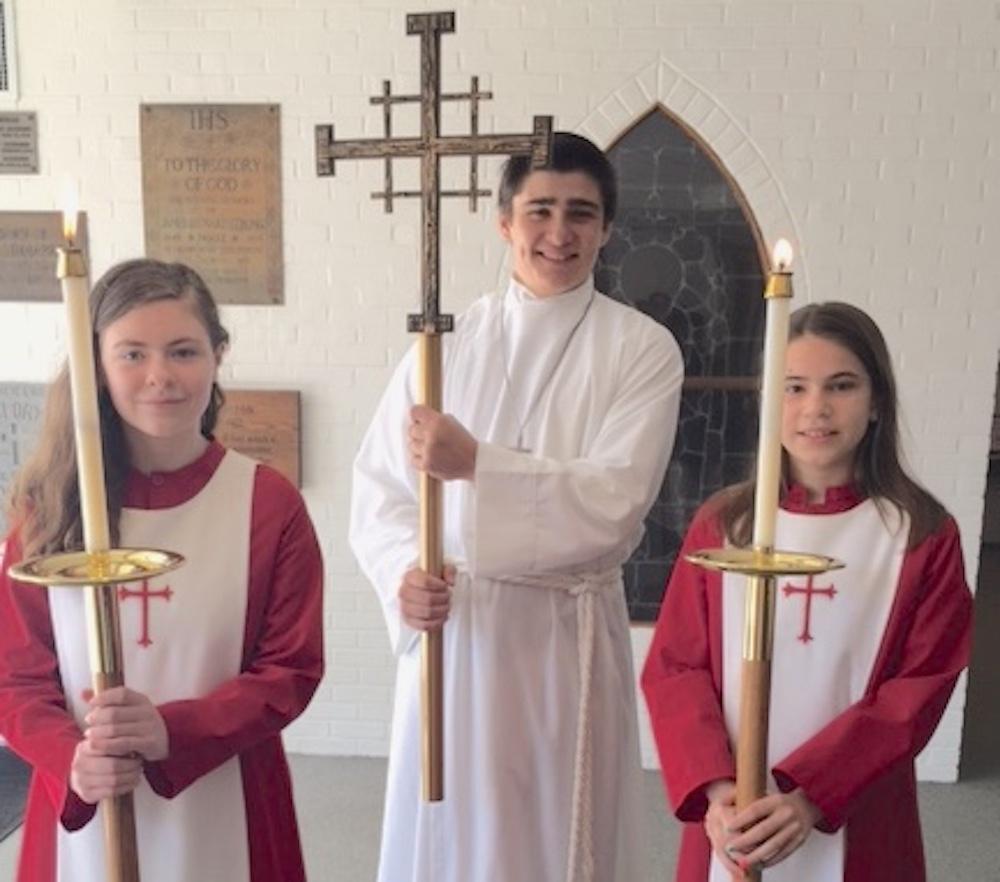 Acolyting by the Numbers: Survey Results
Acolytes come in all shapes and sizes, and many churches encourage young people to take on this ministry. I recently conducted a survey to learn more about the ministry of acolytes in Episcopal congregations. Is there an average age? How are they trained? What roles do they take in worship? Here is what I learned from over 95 responses given in just two weeks:
50% of congregations have between 5 and 10 acolytes involved in worship services
90% of acolytes serve as crucifers, torchbearers, light and extinguish candles, assist the clergy at the altar, offer the lavabo bowl, carry alms basins, and carry the Gospel book in procession. Other roles include serving as a thurifer (40%), boat bearer (25%), banner bearer (55%), or ringing the sanctus bells (30%).
Acolytes often take the role of the bishop's chaplain during bishop visitations. Other roles in much smaller numbers include refilling chalices, packing communion kits, carrying flags, and closing the altar rail.
Reflecting the diversity of the vestments worn in our churches, 66% of acolytes wear albs and cinctures while the remaining 34% wear cassock and cotta.
The age in which a majority (47%) of acolytes begin their ministry is 10 years old (4th grade) or 6th grade (12 years old) at 21%. 4% begin in kindergarten!
Clergy (30%) or lay mentors (36%) typically lead training, with most training lasting one hour on an annual or as-needed basis.
Mentoring & Training Acolytes
My survey revealed that those who mentor acolytes typically create their own training materials and methods. The results also showed that there is a need for ideas on retaining and recruiting new acolytes, especially due to the busy lives of young people (and their families). The basics are still sought after: glossary of terms (with illustrations), description of roles, step-by-step training modules, tools and tips for how to schedule, and how to hold an "installation."
In 2018, a new book entitled I Serve at God's Altar: The Ministry of Acolytes by Roger Speer and myself will be published from Church Publishing. Roger is also illustrating the book, offering a visual exploration of the Episcopal liturgy and its history. We will offer a simplified theology of how God is met in worship and how that affects the acolyte's discernment for ministry, as well as a Rule of Life. The book will also explore how to build empowered acolytes that bond together, grow together, and support each other – a model of Christian service and community. And yes, the practical stuff such as how to light the candles and carry the cross will be included in our tips for training and mentoring.
The Enduring Ministry of Acolytes
The ministry of an acolyte is built upon a formative system of development that is changeless, consistent, powerful, and transformative. We seek to reclaim the role of acolyte as a religious seeker, and indeed a minor order of the church. May we all continue to appreciate and lift us acolytes: this vital, yet quiet, ministry in our worship settings.
---
---
Sharon Ely Pearson has been involved in Christian formation with all ages for 40 years on the local, diocesan, and church-wide level. She now serves as an editor and the Christian Formation Specialist for Church Publishing Incorporated with numerous books also written under her belt. The first female acolyte at her childhood church at the age of 16 (as women were just being "allowed" to serve at the altar), she and her husband John mentor acolytes (4th grade and up!) at St. Matthew's Episcopal Church in Wilton, Connecticut. Typically a Eucharistic minister on Sunday mornings, Sharon has also been known to don an acolyte surplice and scapula in order to  carry a torch alongside a novice acolyte-in-training.
Top picture from St. Matthew's Episcopal Church in Wilton, Connecticut. All rights reserved.