"Peace I leave with you; my peace I give you. I do not give to you as the world gives. Do not be troubled and do not be afraid."
-John 14:27
Children's Books on Peace
Peace as a concept might be hard to describe. These three books will help children (and adults) explore themes of peace – in the world, and in our own communities.
God's Dream, by Archbishop Desmond Tutu
A picture book for the very youngest of children that beautifully describes the world God has dreamed for all people. This world is full of love for one another, and includes hand-holding as well as saying sorry.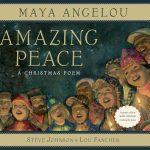 Amazing Peace, by Maya Angelou
This is a Christmas poem for elementary-aged students, but appropriate for all times of the year. Angelou describes a community that is full of peace, joy and hope. A full review can be found at Storypath.
Peace is an Offering, by Annette LeBox
This poem for young children describes peace using ideas that they can understand: peace is found in the ordinary kindness of our neighbors.
Prayers for Peace
These prayers – from a variety of sources – can be used at home or church.
For Peace in the World
​Almighty God, all thoughts of truth and peace come from you. Kindle in the hearts of all your children the love of peace, and guide with your wisdom the leaders of the nations, so that your kingdom will go forward in peace and the earth will be filled with the knowledge of your love, through your Son, Jesus Christ our Lord.
-As printed in the Lutheran Book of Worship​
For Peace
O God, it is your will to hold both heaven and earth in a single peace. Let the design of your great love shine on the waste of our wraths and sorrows, and give peace to your Church, peace among nations, peace in our homes, and peace in our hearts; through your Son, Jesus Christ our Lord.
-As printed in the Lutheran Book of Worship
A Prayer for Peace from Taizé
Lord Christ, at times we are like strangers on this earth, taken aback by all the violence, the harsh oppositions. Like a gentle breeze, you breathe upon us the Spirit of peace. Transfigure the deserts of our doubts, and so prepare us to be bearers of reconciliation wherever you place us, until the day when a hope of peace dawns in our world. Amen.
-Brother Roger of Taizé, as printed in the Presbyterian Book of Common Worship
For the Human Family
O God, you made us in your own image and redeemed us through Jesus your Son: Look with compassion on the whole human family; take away the arrogance and hatred which infect our hearts; break down the walls that separate us; unite us in bonds of love; and work through our struggle and confusion to accomplish your purposes on earth; that, in your good time, all nations and races may serve you in harmony around your heavenly throne; through Jesus Christ our Lord. Amen.
-As printed in the Episcopal Book of Common Prayer
Interfaith Prayer for Peace
Eternal God, Creator of the universe, there is no God but You. Great and wonderful are Your works, wondrous are your ways. Thank You for the many splendoured variety of Your creation. Thank You for the many ways we affirm Your presence and purpose, and the freedom to do so. Forgive our violation of Your creation. Forgive our violence toward each other. We stand in awe and gratitude for Your persistent love for each and all of Your children: Christian, Jew, Muslim, as well as those with other faiths. Grant to all and our leaders mutual respect in words and deed, restraint in the exercise of power, and the will for peace with justice for all. Eternal God, Creator of the universe, there is no God but You. Amen.
-Composed by Christian, Jewish and Muslim clergy for use during the First Gulf War in 1991. Printed in An American Prayer Book (2008).
Other Resources
Still looking for more ideas on peace? These four resources might be right for you. The first is a podcast for adults, while the second is a resource for teachers, the third is an international program, and the fourth is a TED talk.
Podcast: Shalom in the City is a podcast series with Osheta Moore in which she explores how to live life as a peacemaker, in your own context. Each week is about "living wholeheartedly in a brokenhearted world," in small ways, through what you read, how you interact with your community, and how you parent. This is a podcast for women who notice a need in their home, their neighborhood, or their community and ask, "How can I help?"
Website: Teaching Tolerance is a website of resources dedicated to reducing prejudice, improving intergroup relations and supporting equitable school experiences for all children. Materials, from lesson plans to one-off ideas, podcasts, and magazines, are free, supported by the Southern Poverty Law Center.
Program: Kids 4 Peace operates international camps, leadership programs and a year-round program for Palestinian, Israeli, and North American kids. Their programming maintains the intention of developing relationships to break down stereotypes and foster mature relationships between youth rooted in spiritual values of equality and respect.
TED Talk: One Day of Peace. Jeremy Gilley produced a brilliant TED talk  in 2011 based on his mission to create one day of peace.
---
Did you enjoy this article? Consider subscribing to Building Faith and get every new post by email. It's free and always will be. Subscribe to Building Faith.