"God didn't send a warrior or an emperor? Or even just a really strong person? He sent someone smaller than her!" My eight-year-old son spoke incredulously, pointing to his youngest sister. "That is not a good idea."
The Story of Epiphany Through The Eyes of Children
Last year, equipped with puppets, I sat down to tell my three children the story of Epiphany, the day we remember the three magi and their travel from afar to worship the new king. The first scene took place at Herod's palace. "If you are looking for a king, a palace is a good place to start." I told them. I moved the Magi puppets back and forth, saying in an affected deep voice, "We followed the star to find the new king!"
My kids rewarded me with laughter when I made the Herod puppet say, in a confused voice, "What new king? I'm the only king!" Then we talked about the Magi's journey following the star to a small town called Bethlehem where they found the new king, Jesus, a baby, sitting on his mother's lap.
"The new king was a baby?" My son asked again. He could simply not fathom starting a kingdom with an infant. My children echoed something I have felt in my own heart when I consider the birth of Jesus. We try to meet power with power, influence with influence and force with force. But God, in planning how to enter the human story, to rescue all of God's children, centered the plan around supreme weakness: a newborn infant, utterly incapable of caring for itself, let alone others.
God's Plans Do Not Rely on Strength
When I consider all the brokenness of the world, I am tempted to believe we need a strong commander, someone who will stand up to evil, and I try to emulate that strength. In the same way, when I face my human limitations, I believe I am not useful to anyone, because who wants a flawed person on their team? What Epiphany teaches us is that the Ruler of the Universe chose vulnerability over might, that the counter-cultural nature of God's kingdom is part of the original plan, not an accident.
In 1 Corinthians, Paul explains, "God chose what is foolish in the world to shame the wise; God chose what is weak in the world to shame the strong." We try to mitigate our imperfections but God chooses to work through seemingly flawed plans and people to bring about his purposes in the world. Epiphany is the ultimate reminder that God's plans do not rely on strength but rather on the unexpected gifts of a baby.
We will always naturally look for formidable leaders, those who meet human standards of assertiveness and power. What Epiphany reminds us, adults and children alike, is the world's schemes are not how God works. The Kingdom of God is based on a baby who came to be our Lord, not one the world would choose but one who came not to be served but to serve (Matthew 20:16).
Download Epiphany Puppets & Lesson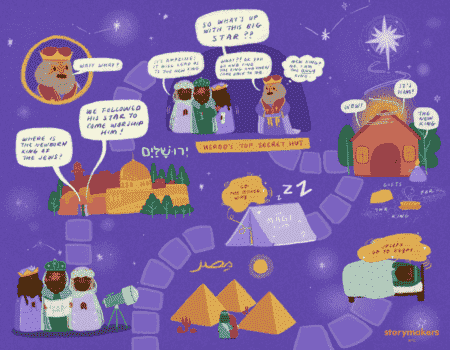 The team at StoryMakers is offering a free download of Epiphany puppets and a lesson plan for you to use. You can follow along with the story map as you tell the story of the ruler who ushered in God's upside-down kingdom, where the weak and foolish are included– on purpose– to redeem our world.
---