"Cry out for insight, and raise your voice for understanding… then you will understand the fear of the Lord and find the knowledge of God."
-Proverbs 2:3-5
Formation Resources Online
If you do ministry at church, school, or home, you probably have some favorite websites to help you along. Today we offer you two more to bookmark. Both of these sites are curated by trusted professionals with years of Christian Formation experience. Check out our descriptions below, and enjoy these tremendous sites.
1. Worshipping with Children
Carolyn Brown started this website to encourage and equip churches to bring children into the worshipping life of the congregation. The site literally represents years of work, all made available for free, and all focused on engaging children. Whether your church has children in worship, Sunday school, or both – this site is for you. Carolyn's context is the Presbyterian Church USA, but the website is absolutely ecumenical and helpful for Christians of all denominations.

Content Summary: One part of the site contains articles and posts on a variety of topics, such as the signature article: Why Children Belong in the Sanctuary, or practical posts such as What Goes into Worship Bags?
But the largest section of the site is a Sunday by Sunday series of guides for teaching and worshipping, all organized according to to the Revised Common Lectionary. The post for each Sunday provides the readings and themes of the day, and so much more. For each Sunday, Carolyn offers a comprehensive collection of talking points, illustrations, prayers, songs, hymn suggestions, activities, questions, worksheets, books, and almost anything else you can think of, all related to Scripture readings.
The posts are all catalogued on the website, by date and by Scripture reading. For those who like to plan ahead, you can click on any Sunday of the year and start mapping out children's lessons and/or worship. The amount of material that Carolyn Brown has shared on this site is simply astounding. We hope it will help you as you minister to the children in your midst.
2. Healthy Church Resources
Amy Cook started this Pinterest board to collect the best ideas, activities, and articles from around the web, all related to Christian Formation. Amy's context is the Episcopal Church USA,  but the board is absolutely ecumenical and helpful for Christians of all denominations.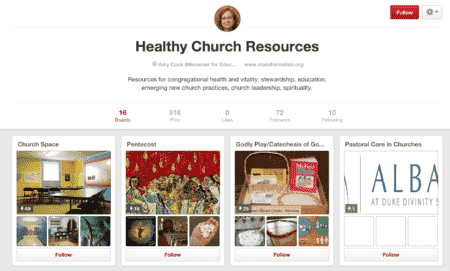 Content Summary: The board is divided into subtopics, with helpful and descriptive titles such as "Special Needs in Churches," or "Pageant Scripts." There is something for everyone: whether you are church staff, volunteer, clergy, lay, big church, small church, ministering to children, youth, adults… you get the idea.
For example, in the "Church Vitality" section, you'll find links to big picture articles about church growth. These would be perfect for a leadership retreat. Over in the "Lent and Holy Week" section, you 'll find out how to make a Holy Week passport so that children can keep track as they move through the week. The common theme is that all of Amy's links are GOOD; you don't have to worry about sorting through mediocre content. She's already done it for you! As with most Pinterest boards, the site is always evolving, and Amy adds new categories each season.
Being a Pinterest board means that you need to be signed into Pinterest to see it. Sorry about that! But Pinterest is totally free, easy to use, and not at all a hassle. Take the plunge and sign up for a free account; you will be happy you did.
---
Did you enjoy this article? Consider subscribing to Building Faith and get every new post by email. It's free and always will be. Subscribe to Building Faith.