"The children had no trouble finding words to tell God how wonderful God is and to thank God for the gifts God gives us. We wrote words like wonderful and amazing on arms raised in praise."
Teaching Prayer, Discovering Spirituality
How to teach children about prayer? At St. Andrew's when we gather for Children's Chapel, we sometimes take a deep dive into one part of worship. This year, for the five weeks of Lent, we took a deep dive into prayer.
Church prayers can seem abstract, or even unrelated to our daily living. We wanted our children to understand prayer to be meaningful to their lives. So we didn't just talk about different types of prayer. We created a wall where the children illustrated their understanding of the five different prayer topics we explored.
Building Our Wall of Prayer
Our prayer wall started with five 3-panel display boards covered in purple paper. Each week one board was brought into Chapel. This way, the children could watch their prayer wall grow.
Week 1: The Lord's Prayer
The first panel of our prayer wall displayed the words of the Lord's Prayer, with each line typed on a strip of paper. The strips were separated by enough space for images to be placed that reflected the children's response to the line.
Choosing from among a variety of images found online, each child was invited to add an image of their choice to represent a line. Of course, I had in my mind which images would match up with which line. But children will always defy expectation. The images they chose, and the way they talked about their choices, opened my mind to see prayer differently.
They weren't content to stop at one image per line, though. As soon as we "finished," hands shot up in the air. "But Mrs. Kat! What about the clouds! We should put the clouds on the line about heaven!" And so the board filled up with more and more images.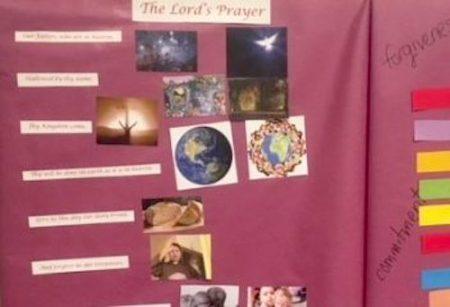 Week 2: Petitions
For week two, we used a board labeled "Ask and it shall be given." We talked about what that meant. Did it mean that God was like Santa Claus or a magic genie granting wishes? No! What did it mean?
Combing through passages about spiritual gifts and God's hopes for God's people, I had printed words including love, faith, peace, and courage on colored pieces of paper. I read them all out loud so that our non-readers would know what their choices were. When I read the word "patience," a fourth grade girl exclaimed, "Oh, I need that one!" Prayer doesn't stay in church; I had more than one copy of each word, so she got to take "patience" home with her.
All the words I had come up with ended up on the board, but apparently we were not done yet. They had ideas that I had not thought of. Grabbing a marker, I added their suggestions, which included forgiveness, understanding, taking care of each other, commitment, food, health and playful.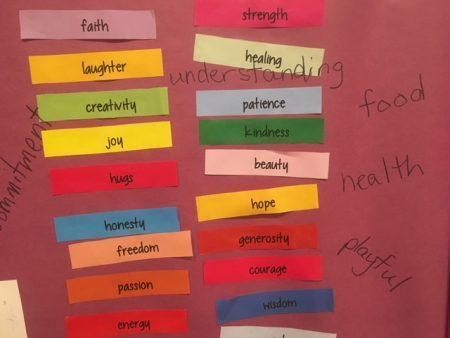 Week 3: For Those We Love
The third week was "People we love." The children had no trouble sharing why we pray for the people we love. We pray for them to be happy, to be safe, for God to be with them, and for them to be good.
Red and pink hearts then adorned the third panel, with the names of people we love and want to pray for. There were lots of moms, dads, and sisters and brothers, along with "frog and snake," and a couple of dogs.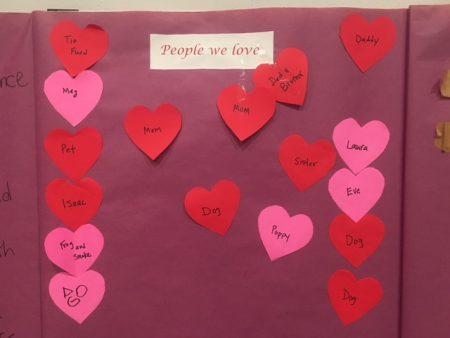 Week 4: Healing
On the fourth week, we talked about healing. After talking about Jesus' ministry of healing and remembering some stories about Jesus' work, the children discussed what kinds of things might mean a person needed healing prayers. "If they're sick." "If they're sad." "If they miss their dog that died."
We then used Band-Aids to write the names of people for whom we wanted to offer healing prayers and stuck them to the fourth panel.
Week 5: Thanksgiving and Praise
The final week was "thanksgiving and praise." One of our favorite Chapel songs is "Awesome God," so after singing that song, the children had no trouble finding words to tell God how wonderful God is and to thank God for the gifts God gives us.
We wrote words like "wonderful" and "amazing" on arms raised in praise. The children who helped tape the arms on the panel placed them so the words weren't sideways. "We need to be able to read them," explained one child. "Yes, of course," I replied.
Pray Without Ceasing
The prayer wall now sits at the back of our Children's Chapel. This past Sunday, a child who hadn't been with us in a while asked about it while we were waiting for other children to arrive. I explained about the different types of prayers we had talked about. He asked if he could put a Band-Aid up for his grandfather who is sick.
With this boy's help, I came to the realization that the prayer wall should be part of our prayers every week. So we'll keep baskets of hearts and Band-Aids and out-stretched arms at the back of the Chapel, and our prayer wall will keep growing.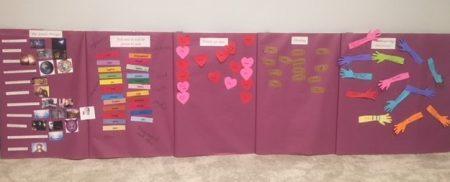 The Finished Product!
---
Kat Mercer is the Children's Ministry Coordinator at St. Andrew's Episcopal Church in Kansas City, MO. Kat has worked with programs for children, youth, families and adults at the congregational and diocesan level, and is an enthusiastic advocate for intergenerational formation and supporting families in faith formation at home.