"Our debates were crafted using the information from theology lectures and worked out in our small groups… Arguments ranged from Clement of Alexandria to Kelly Clarkson."
Editors Note
In the summer of 2015, Wylie Greeson attended SUMMA, a one-week theological debate program that offers high school students tools for reasoning and knowledge in depth of the Christian theological tradition. The camp is hosted by the Beecken Center of the University of the South, Sewanee, Tennesee. We caught up with Wylie to ask him about his experience.
How would you describe SUMMA in 2-3 sentences?
SUMMA was like church camp, but it was a little more mature. I felt the structure respected my intellect. In crafting debate arguments, I would use camp songs and ideas, but I had to support them with Scripture and the writings of theologians.
Each day we had a mixture of lectures, along with small group and independent work. Through this process we were taught basic Christian theology, as well as how to debate and how to craft our own debate arguments. Everyone was assigned a question for which we had to create our pro and con arguments, and we debated at the end of our week together. Like any good camp, we also had free time, campfires, and excellent food.
What made you interested in SUMMA – what was the draw?
I really miss Camp Bratton-Green in Mississippi, where I used to go to camp. I haven't been able to attend there since we move to Virginia. SUMMA gave me an opportunity to feel connected to the larger church and to have an overnight experience.
What was an average day like?
We had regular "camp" stuff, like meals and evening fun activities, such as a talent show or kickball or bowling. During the day, we started with a debate lecture and then a theology lecture, both presented by the Rev. Dr. Christoph Keller. The we had a discussion seminar that was formed of 2 debate groups. Each group was led by 2 adults who were professors or church leaders. We would discuss the theology lecture, and in our debate group we would plan our debates.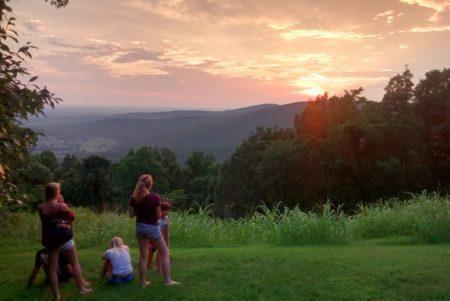 Can you tell us about some of the other campers you met? 
There were about 40 campers. Everyone at SUMMA was Christian, from a variety of denominations. Religion wasn't a big topic of down-time conversation! The group was petty evenly divided between girls and boys, with a lot of kids from Arkansas, but some coming from Washington State and California, Mississippi… and me, a Mississippian-living-in-DC.
My roommate was a high school sophomore named Jack. He's from Georgia, plays the banjo, and is a photographer. We learned that we were both swimmers. Our counselors were all college students. A few of them had done previous years of SUMMA, and a few were Sewanee students. Like my counselor, Cody, who plays the ukulele and taught me to play a bit.
What theological topics, or what theologians, did you work on?
We all debated the same topic: "Is euthanasia morally justified?" Our debates were crafted using the information from theology lectures which we worked out in our small groups, and during independent work time. Arguments ranged from Clement of Alexandria to Kelly Clarkson, and of course, touched on Basil, Augustine, and Ignatius.
Theologians weren't our only source material. My own debate arguments included Dante and various scientific facts. At the end of our debates, the professors and church leaders gave us our score and a debrief on what we did well and what we could have improved upon. 
---
Wylie Greeson is sophomore at T.C. Williams High School in Alexandria, VA, where he swims, plays xbox and bugs his mom to buy him a ukulele. 
Did you enjoy this article? Consider subscribing to Building Faith and get every new post by email. It's free and always will be. Subscribe to Building Faith.