This past Saturday, October 4th, was the feast day of Saint Francis of Assisi. It is a tradition to bless animals on this date, as St. Francis is the patron saint of animals.
Many churches and schools hold blessing ceremonies. This year, my family and I decided to do some extra blessings – at the local dog park.
We arrived at the dog park bright (dim) and early, and got ourselves all set up.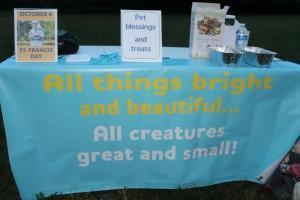 I ordered the banner from an online supplier. The other signs are just inexpensive plastic picture frames with printed flyers inside.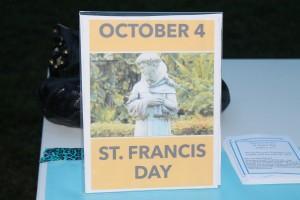 As people walked by, we would tell them, "Good morning! We're wishing everyone a happy St. Francis Day." Many folks knew about St. Francis and the animal blessing tradition. They were excited to see us. One person asked, "Why did you decide to come all the way out here?" We replied, "Well, you gotta go where the dogs are."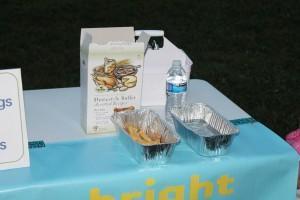 Treats and water. "Would your pet like a treat, a medal, a blessing?"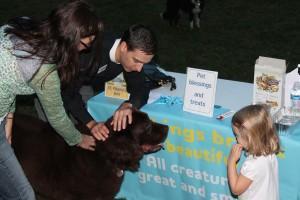 One of our first customers: Hercules!
Everyone received a St. Francis medal and a card. Two folks came by and said they had cats at home, so we gave them medals to take back to the kitties.
Maria was a huge help, making sure (she's persistent) to give a treat, medal, and card to every person/pet.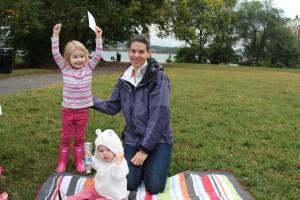 My extraordinary wife Danielle, and the girls.  Thanks for getting up early with me, family!
Most of the folks lived close by, and it was nice to make connections with them. Many were quite pleased to see "the church" out in the park.
Grace says, "See you next time!"
The Rev. Matthew Kozlowski manages, edits, and writes for Building Faith. He lives in Alexandria, Virginia with his wife Danielle and two young daughters. Throughout his career he has been a teacher, camp counselor, school chaplain, camp chaplain, Sunday school teacher, parish priest, and Alpha coordinator.