A half-day retreat at a local farm and a bus trip to a Christian music theater worked…but how were we to educate about and celebrate Advent?
Christ Memorial Presbyterian Church in Columbia, Maryland meets for monthy integenerational events, in addition to our ongoing LOGOS midweek ministry. We call our time together GIFT (Generations In Faith Together), and they are intentionally designed to grow intergenerational Christ-centered community.
Last year we stumbled into "Advent at Home in Community" as a way to gather together during a period of building renovation, and it worked! The three components of this program were Christmas tree ornaments, weekly scripture passages, and random acts of kindness.
Christmas Tree Ornament Kits
The idea for home-made ornament kits came from a church member who had made them in a previous church. She gathered the supplies and printed the instructions and pictures of finished ornaments. Volunteers gathered one evening to assemble the kits of four ornaments packaged together for each family, one ornament for each week of Advent. Kits (in simple brown lunch bags) were distributed the first Sunday of Advent. We underestimated the additional kits needed for grandparents! The instructions included encouragement to take pictures and post in our Facebook Group.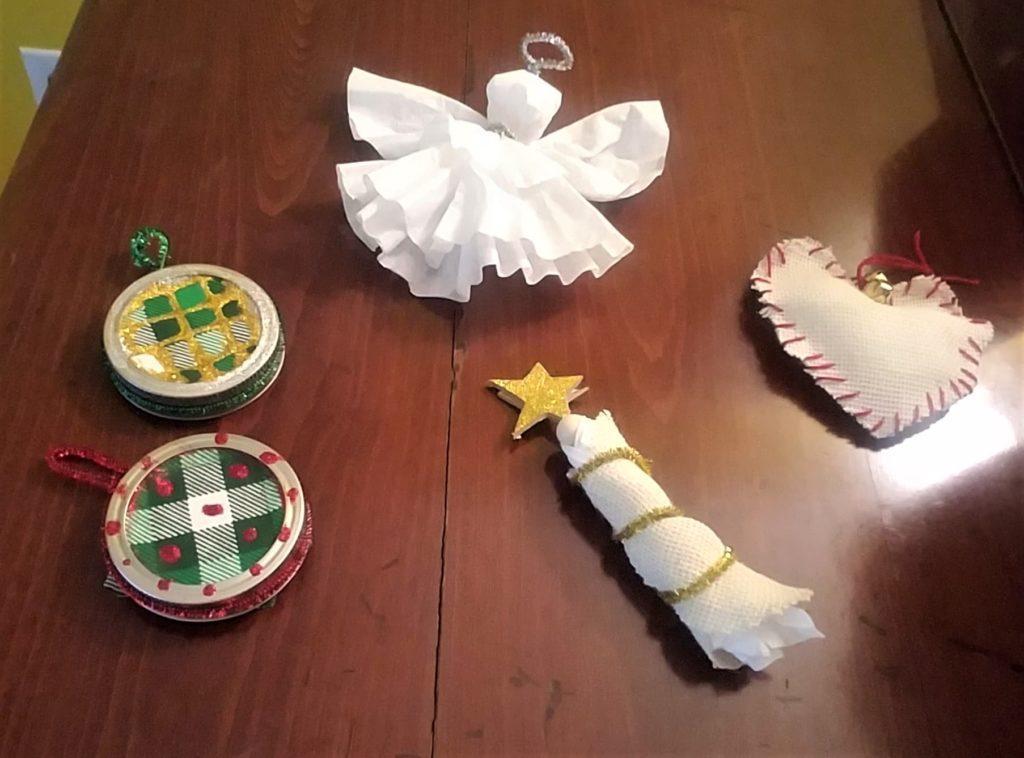 Weekly Scripture Passage & Discussion
In addition, we offered a weekly scripture and devotional reading excerpt from "I am Mary" by Rev. Carol Howard Merritt for older youth and adults to discuss. We posted the readings from "I am Mary" each Sunday evening on our Facebook Group with conversation starters posted during the week. The discussions were lively and deep. There were "thumbs up" clicks from others who didn't comment but were obviously engaged. Here are a few example discussion prompts:
As a child of Mary, might Jesus have inherited some of her character and personality? Like what?
The word "blessed" is used often in this passage. What does it mean to you? Have you ever considered "blessed" an over-used or mis-used word?"
What about Mary's upbringing may have prepared her for this calling?
Random Acts of Kindness
Each day, a "random act of kindness" idea was posted for all ages to do. Folks were encouraged to share pictures and comments, although these were done more quietly and with no pictures posted at all. Our list included:
Donate nonperishable food to a food pantry.
Leave a kind note on a neighbor's car.
Clean up after yourself and someone else, without being asked or expecting thanks.
Give someone a hug.
The Response
We set up a closed Facebook Group to provide community and communication during "Advent at Home in Community". Over 50 people joined including college students, relatives, and church members who had moved away. The response to this experiment was positive and perhaps the deepest we've explored Advent in years. We're wondering if we'll do something similar again even when our building is back together!
Click here for a pdf of the ornament instructions.
---