These sensory and interactive elements help them to truly view themselves as part of the story and as people of God.
Our special Holy Week activities for children enable us to enter and explore the great mystery with all of our senses and with the luxury of extra time for questions and for exploration. We see that our children's narrative understanding is richer; many also attend some of the evening service and have been more fully able to participate and understand how the different pieces of the story fit together.
Maundy Thursday: Foot Washing, Meal, Prayer Garden
We observe Maundy Thursday with our children in a program before the evening service. For each of the three parts, we start with a retelling of scripture and follow with a participatory action to connect Jesus' story with their own lives.
We tell the story of the Last Supper, and talk about Jesus washing his apostle's feet – and then wash each other's feet. We share a simple meal and create a garden together in the chapel.
The emotions run a full spectrum—it's usually a bit gleeful during the foot washing. Later on, though, as the children work to arrange plants and shells, rocks and candles into a garden, the mood changes and becomes more contemplative. We sit in silence after we have created the garden, with children and parents leaving as they feel ready. The dim light and the smell of the flowers make the chapel feel very special, and older children often spend a long time praying and being present in the garden.
For story and materials list for Maundy Thursday, click here.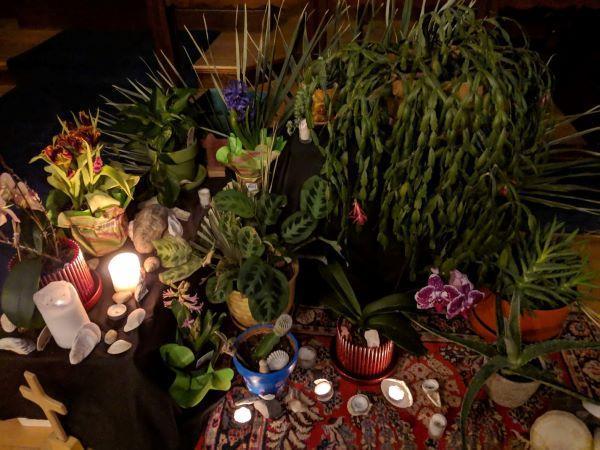 Good Friday: Stations of the Cross, Hot Cross Buns
On Good Friday, we have an interactive Stations of the Cross, followed by a snack of hot cross buns. Each year we do this slightly differently, and last year we moved it out of the church itself. For the stations, I created stations, using those from the Church of England, Diocese of Gloucester and colored posters from Illustrated Children's Ministry. We designed the stations so that children and parents could travel independently and spend as much time as they wanted at individual stations. Children were able to enter more fully into the story, and also to ask and talk about difficult questions as we worked our way through. I added a station for the resurrection, as I believe it is important to remind children of hope and of the miracle that is coming. We all whispered alleluia together before enjoying our hot cross buns.
The Easter Vigil: Stories by Campfire
In the past, we haven't created a separate experience for children before the Easter Vigil; it has a lot of storytelling and action already!
Last year, I arrived early for the Vigil, as my godchildren were being baptized. I was met at the door by one of our regulars asking me, "Where are we going to do our thing?" He was disappointed that we were not gathering…but it made me think later—why not? This year we will be building a pretend campfire in the darkened chapel and hearing the stories of God saving God's people.
While it is not yet complete, I have attached this year's Vigil program, Sacred Stories on Easter Eve.
---
Anne-Marie Miller is the Director of Family Faith Formation at St. John's Episcopal Church, Bangor, a mom to three awesome kids, and an oncology social worker. She also volunteers with the youth and Christian education ministries of the Diocese of Maine.