The list of skills ministry leaders have learned during the global pandemic is incredibly long. We've pivoted, podcasted, and car paraded our way through a year of both grief and joy. Among many things we have learned, one item rises to the top of the list as the news brings us hope that the end of the pandemic is within reach: your ministry purpose is always the solid foundation from which to build.
Staying Grounded in Purpose
In the early months of the pandemic I began to imagine pandemic ministry as a teeter totter, pivoting back and forth between online and gathered ministry. Digital tools that enabled the pivot became the platform, or board, of the teeter totter. The base on which it is all built is the unchanging ministry purpose or "why."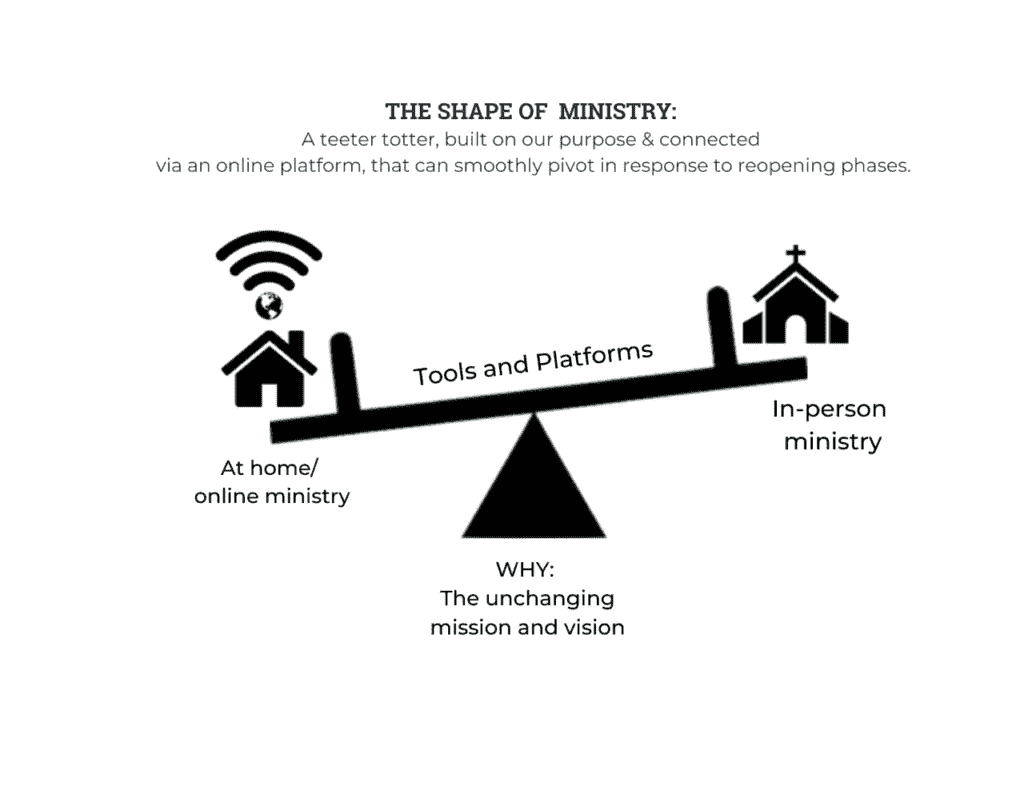 When our staff sat down last May to try to imagine the upcoming program year we reminded ourselves of our stated mission: "Grounded in the congregation's baptismal promises, we nurture and guide faithful Christians who know, love, and serve God and neighbor." When everything changed, our purpose remained the same.
Our ministry purpose is also our vocation – the work God calls us to. Theologian Frederick Buechner said, "Vocation is the place where our deep gladness meets the world's deep need." Many have noticed that the pandemic has prompted a collective search for meaning in the midst of hardship. Ministries of faith formation must focus on our vocation, sharing the good news of Jesus Christ with those who are desperately seeking hope.
Questions for Reflection
Covid-19 has been an opportunity to focus on what is most important: connecting with God and one another. As we reflect on the past year and look forward to the year ahead, here are the purpose related questions I am asking:
KNOW: How does our ministry invite people to notice God's love and presence in our lives and the world here and now? What do we need to let go of to focus on what matters? The pandemic has taught us how to create sacred space to encounter God both online and outside the church building.
LOVE: How do we invite reflection both individually and as faith communities on how to love God and love our neighbors as we live out our faith in our lives? The last year has revealed that our lives and well being are interconnected with one another.
SERVE: How are we equipping people of all ages to use their gifts for the creation of God's vision for this world? In the past year all of us have gained new skills that can be used to create new and reimagined ministry in our churches and communities.
On her recent Dare to Lead podcast, Brené Brown spoke with psychologist Susan David about the continuing mental health challenges people of all ages will face as we emerge out of the pandemic. The realization that people's need for hope and well being will last much longer than I thought informs my planning for fall. The important lessons learned about remaining grounded in purpose are at the forefront of my mind.
As we pause to reflect on ministry learnings this past year, my prayer for faith formation leaders is that out of hardship and change, innovative ministry will grow and reach those hungry for meaning and hope. May God's purpose for your ministry be a blessing and a guide.
---
Photo by Javier Sanchez Mingorance on Scopio.